New York Governor Andrew Cuomo lashed out at President Donald Trump on Tuesday, slamming him for saying people are fleeing the state due to higher taxes.
"The president is divorced from facts," Cuomo told CNN's New Day co-host John Berman.
Cuomo was responding to a Monday tweet from Trump, in which he said: "People are fleeing New York State because of high taxes and yes, even oppression of sorts. They didn't even put up a fight against SALT—could have won. So much litigation."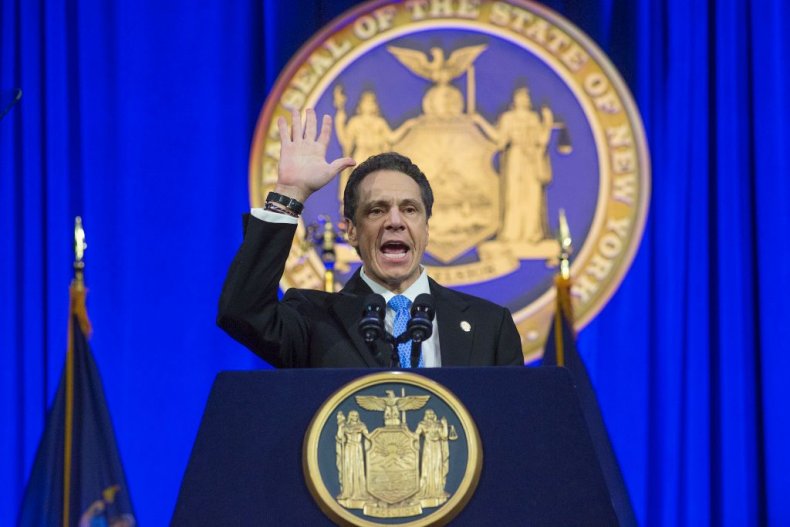 SALT is an acronym for State and Local Tax deductions, which were overhauled as part of the president's 2017 tax cuts. Under Trump's tax code changes, a $10,000 cap was set on the federal deduction for state and local taxes.
Cuomo in February launched a nationwide campaign against the president's cap on SALT deductions. "The elimination of the #SALT deduction (state and local tax) was an economic attack on Democratic states," the New York governor wrote on Twitter at the time.
Speaking to New Day on Tuesday, Cuomo said: "You can run him the tape of the shows I've done with you, talking about SALT." The governor pointed out that Trump "was the one who proposed" the tax change.
"Why would you have assaulted the state of New York with a tax reform policy that raised our taxes?" he asked. "This SALT reform, by the way, again it was pure politics. Fifteen states had their taxes effectively raised by the SALT deduction, ending of local and state tax deductibility," he explained. "All Democratic states. It's all politics, all the time with him."
Cuomo has long been a staunch critic of the SALT reform.
Trump "understands: You hurt New York, you hurt California, you're hurting the economic engines of this nation," the governor told WCBS Newsradio 880 earlier this year after meeting with the president directly to discuss the issue.
Following Cuomo's meeting with Trump, Judd Deere, a deputy press secretary at the White House, said that the president "talked about the positive impacts of the Tax Cuts and Jobs Act on the American economy, and the president listened to the governor's concerns regarding SALT," according to Market Watch.
The president's controversial tax cuts have been harshly criticized by Democrats, who have characterized them as a financial break for the wealthy while the middle class and underprivileged Americans suffer. Under the tax reform, corporate income taxes dropped from a top rate of 35 percent to 21 percent. Although a short term economic boost has been noted, analysts have argued that the stimulus has already begun to fade.