Trump, Russia, WikiLeaks Conspired to Swing 2016 Election in 'Act of Unprecedented Treachery,' DNC Alleges in Lawsuit
President Donald Trump's campaign, along with WikiLeaks and Russia intentionally conspired to interfere in the 2016 election to help the billionaire real estate mogul claim the White House, according to a lawsuit filed by the Democratic National Committee in federal court Friday.
The suit claims the DNC is entitled to millions of dollars in damages after the Trump campaign, Russia and WikiLeaks were behind a massive computer hacking of the committee's servers. DNC emails were released to the public by WikiLeaks in the heart of the 2016 campaign and were often used by Trump as a way to deride former Democratic nominee Hillary Clinton.
"During the 2016 presidential campaign, Russia launched an all-out assault on our democracy, and it found a willing and active partner in Donald Trump's campaign," DNC Chairman Tom Perez said in a statement to The Washington Post. "This constituted an act of unprecedented treachery: the campaign of a nominee for President of the United States in league with a hostile foreign power to bolster its own chance to win the presidency."
The DNC asserts that the hacking disrupted its ability to reach voters, raise campaign funds and even resulted in death threats toward employees. The lawsuit also names the members of the Trump campaign who have been charged by special counsel Robert Mueller's investigation.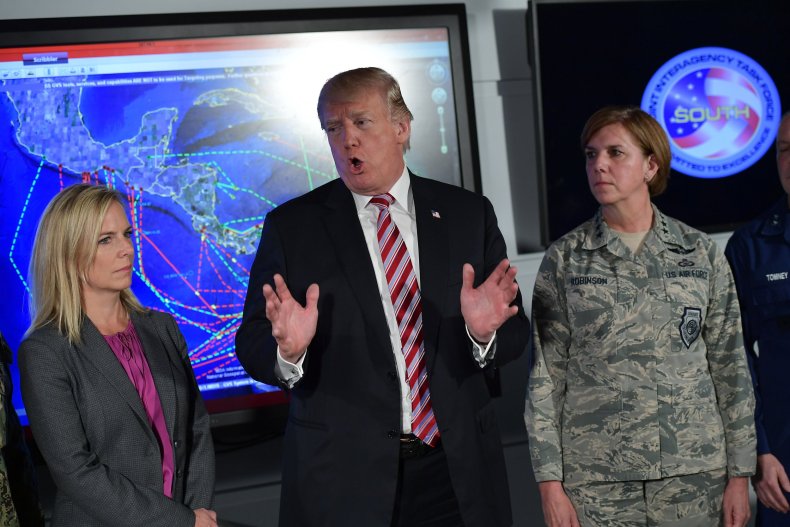 The suit stands in firm contrast to repeated denials by Trump and his administration of any collusion between the campaign and Russia to claim the election.
WikiLeaks has been accused of ties to Russia, and that the Kremlin was its source for the emails. The organization's founder, Julian Assange, has denied any ties to Russia.
Russian President Vladimir Putin has also denied his nation had any role in the hacking or meddling in the 2016 election.
Russia's denials stand opposite of an indictment handed down by Mueller's probe in February. Thirteen Russians and three Russian entities were accused in the indictment of running and funding a social media campaign aimed at discrediting Clinton.
Clinton has also blamed Russia and WikiLeaks, as well as former FBI director James Comey, for her loss in the election. She said in May of last year, " Russian WikiLeaks raised doubts in the minds of people who were inclined to vote for me but got scared off ."