Trump's Claim Doctors Are Inflating COVID Numbers is 'Facebook Junk' Says Top Scientist
Donald Trump has sparked fury among doctors after claiming they overreport COVID-19 deaths for financial gain, while Ashish K. Jha, dean of the Brown University School of Public Health, dismissed the president's claim as "Facebook junk."
At a rally in Wisconsin on Saturday, the president said systems for reporting COVID-19 related fatalities in the U.S. are "a little bit backwards."
Trump told the audience: "You know some countries they report differently. If somebody's sick with a heart problem, and they die of COVID they say they die of a heart problem. If somebody's terminally ill with cancer and they have COVID, we report them. And you know doctors get more money and hospitals get more money. Think of this incentive."
He went on: "We're going to start looking at things."
The U.S. continues to lead the world for confirmed coronavirus cases, as it has done for months, and studies have shown the COVID-19 pandemic has taken a physical and mental toll on healthcare workers. According to Johns Hopkins University, over 225,000 people have died of COVID-19 in the U.S., and more than 8.6 million cases have been reported.
Under the Coronavirus Aid, Relief and Economic Security Act, hospitals get a Medicare add-on payment of 20 percent for COVID-19 patients to cover the extra costs of treating such patients.
However, Ashish K. Jha, dean of the Brown University School of Public Health, said the president's claim were "Facebook junk." He said on Twitter that although hospitals get a bump in funds if a patient has pneumonia due to COVID, making up false diagnoses could see doctors fined and jailed.
Jha said the idea that patients are documented as dying "with" COVID not "because of" the disease is "clinical nonsense." There is no evidence of a higher reimbursement for, for instance, car accident victims with COVID-19, and billing those patients as COVID-19 pneumonia is also fraudulent, he said.
Jha said: "Let's ignore the noise and misinformation about COVID billing, etc. While doctors and nurses are dying on the frontlines, our leaders aren't working to get them protective equipment. Instead, they are falsely accusing our frontline providers of fraud. It's reprehensible."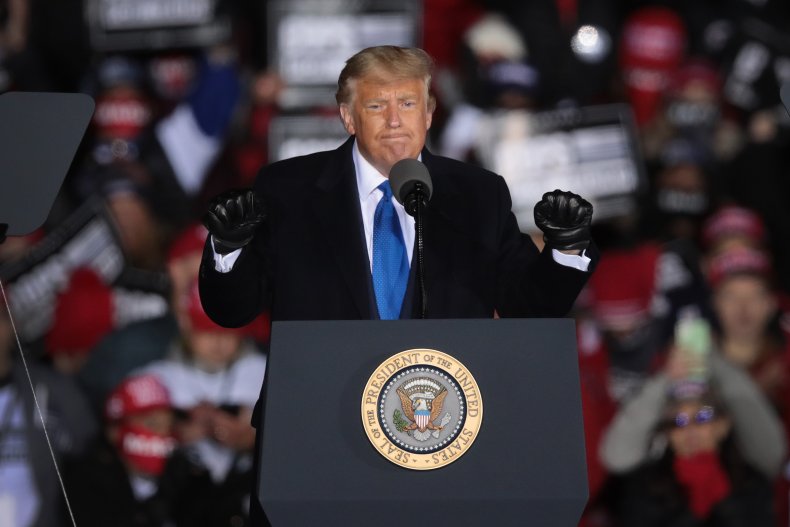 A number of professional bodies made statements against the president's claims. Dr. Jacqueline W. Fincher, president of the American College of Physicians, described Trump's comments in a statement on the organization's behalf as "a reprehensible attack on physicians' ethics and professionalism."
She said in the statement on the organization's website that the false claim that deaths are overcounted "undermines the work by physicians and public health authorities to remind the public of the seriousness of the pandemic and to recommend steps to reduce transmission of the virus, cases, and deaths."
Fincher said several recent studies suggest that the COVID-19 death toll is likely "much higher than the terrible toll of 220,000 deaths officially attributed to the virus."
The American College of Emergency Physicians [ACEP] said in a statement on their website it was "appalled by President Trump's reckless and false assertions that physicians are overcounting deaths related to COVID-19," stating that health care workers "have risked their lives day in and day out for almost a year battling the greatest public health crisis in a generation—all while watching countless patients die alone, going to work without sufficient protection equipment, and struggling with crushing anxiety about getting sick or spreading the virus to their loved ones."
It said: "To imply that emergency physicians would inflate the number of deaths from this pandemic to gain financially is offensive, especially as many are actually under unprecedented financial strain as they continue to bear the brunt of COVID-19. These baseless claims not only do a disservice to our health care heroes but promulgate the dangerous wave of misinformation which continues to hinder our nation's efforts to get the pandemic under control and allow our nation to return to normalcy."
The American Medical Association said on Twitter: "Let's be clear, physicians are not inflating the number of COVID-19 patients." It pointed to research published in the JAMA journal and in CDC reports that indicate the U.S. had significantly more deaths in 2020 than in previous years.
Individual doctors also spoke out against the president's claims. Dr. Robert Davidson, an emergency medicine physician in Michigan and executive director of the Committee to Protect Medicare coalition of doctors and health care workers, tweeted: "As a doctor, this is such an insult. We report deaths how they occur. If you did your damn job we wouldn't be reporting so many #COVID19 deaths."
Dr. Uché Blackstock, an emergency medicine physician in New York and founder of Advancing Health Equity, tweeted: "For the first time ever, last spring I was scared to go to work. I was scared of being infected, infecting my family, of what was happening to my patients and whether hospitals had the capacity to care for them. This is what HCWs [health care workers] are concerned about, not cheating the system."
Newsweek has contacted the White House and Facebook for comment.
This article has been updated with information about the statements from the American College of Physicians, and the American Medical Association.