Trump Does Not See NFL Players Kneeling 'Through A Racial Lens' Claims White House Legislative Chief
The White House legislative affairs director has insisted President Donald Trump does not see the issue of NFL players kneeling to protest police brutality towards African Americans "through a racial lens."
Following an outpouring of rage from the president this weekend, which saw the Republican lash out at players who kneeled during the national anthem and rescind an invitation to the White House for an NBA player, Marc Short insisted Trump was not exacerbating racial tensions.
Speaking in an interview with Fox News Sunday, Short was asked whether or not Trump was once again on shaky ground over race, following the backlash against his comments over the violence at a white supremacist rally in Charlottesville in which the president appeared to blame "both sides" for what happened.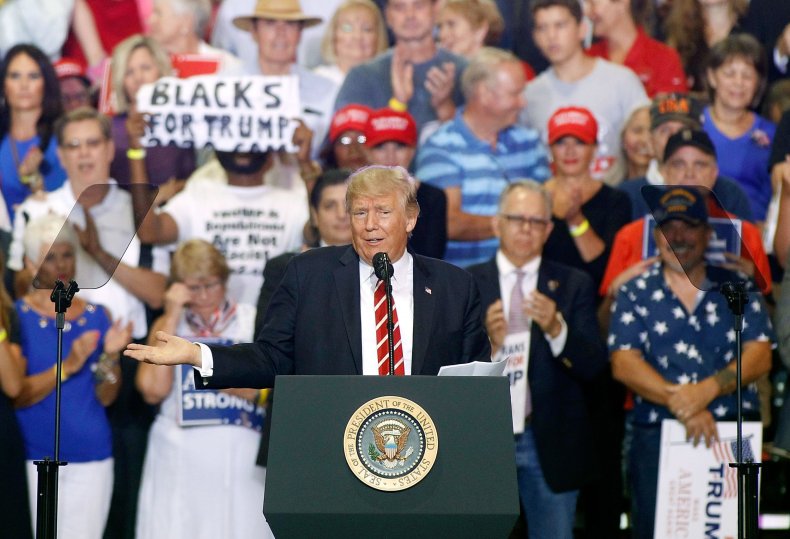 "I don't think he's re-opening racial wounds, Chris," Short told Fox News host Chris Wallace.
"They have a First Amendment right to do that, but NFL has a right to fire those players," he added, underlining Trump's comments made on Friday at a rally in Alabama.
"Wouldn't you love to see one of these NFL owners, when somebody disrespects our flag, to say, 'Get that son of a b***h off the field right now. He's fired. He's fired,'" Trump said, a day before he rescinded a White House invitation to NBA star Stephen Curry in a tweet Saturday, after the player suggested he was not sure he would attend.
"You know, some owner is going to do that. He's going to say, 'That guy that disrespects our flag, he's fired.' And that owner, they don't know it [but] they'll be the most popular person in this country," Trump added at the rally.
The mother of Colin Kaepernick, Teresa Kaepernick, tweeted in response to the president's outburst: "Guess that makes me a proud bitch!" a comment that received more than 40,000 likes at the time of publishing.
But Short claimed the president was not reversing his invitation to Curry over a racial issue, instead telling the Fox host he had made the Twitter comment because Curry suggested he may not accept the invitation.
They're trying to make a political issue out of this," Short told Fox News Sunday.
"The president is not looking at this through a racial lens," he added, after he was questioned over the issue of race, which has been highlighted in recent weeks over the Charlottesville violence and the president's much-criticized response to what happened.
Once again, the president has faced a backlash over his comments, with a number of sports figures expressing their support for NFL colleagues and criticizing Trump, including Kobe Bryant and LeBron James, as well as NFL commissioner Roger Goodell.