Trump Does 'Tomahawk Chop' With Brave Fans At 'Wonderful' World Series Game in Atlanta
Former President Donald Trump and his wife Melania Trump attended the World Series game between the Atlanta Braves and Houston Astros in Georgia on Saturday night—where they joined fans' in doing the controversial "Tomahawk chop," an open air salute.
In a statement earlier Saturday, Trump announced that he would be attending Game 4 at Truist Park in Atlanta and was "looking forward to a wonderful evening watching two great teams."
"Thank you to the Commissioner of Baseball Rob Manfred, and Randy Levine of the great New York Yankees, for the invite," Trump said.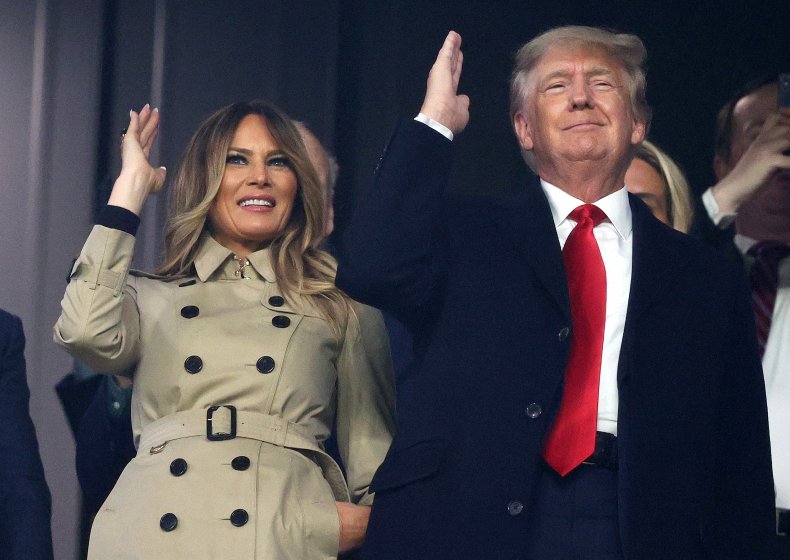 However, Major League Baseball (MLB) denied inviting Trump, saying instead that the former president requested to attend the game in a statement to Yahoo Sports' Hannah Keyser. Earlier this week, Atlanta Braves CEO Terry McGuirk said Trump "called MLB and wanted to come to the game. We were very surprised. Of course we said yes."
Former NFL star Herschel Walker, a candidate in Georgia's Senate race who Trump endorsed last month, joined the former president and first lady at the event. Republicans are hoping to unseat Senator Rapheal Warnock, a Democrat, in the 2022 midterm election and the football star is currently the favorite candidate to secure the GOP nomination.
During the game, Trump and his wife were seen performing the "chop" alongside a stadium of chanting Brave fans. Several advocacy groups have called the longtime tradition racist, accusing it of mocking Native American individuals and groups.
But Braves fans reject the criticism and have continued to perform the "chop" at recent games, including 3 of the series.
Trump's appearance at the game comes six months after he called for a boycott of MLB after the organization decided to move its July 13 All-Star Game out of Georgia to protest the state's new restrictive Republican-led voting laws.
"Baseball is already losing tremendous numbers of fans, and now they leave Atlanta with their All-Star Game because they are afraid of the Radical Left Democrats who do not want voter I.D.," Trump said at the time. "Boycott baseball and all of the woke companies that are interfering with Free and Fair Elections."
MLB Commissioner Rob Manfred defended the decision to move the game from Georgia as one that demonstrated "our values as a sport."
"Major League Baseball fundamentally supports voting rights for all Americans and opposes restrictions to the ballot box," Manfred added.
Newsweek reached out to Trump representatives for comment.