On NFL Protests, Trump Doesn't Have The Support Of American Voters, New Poll Shows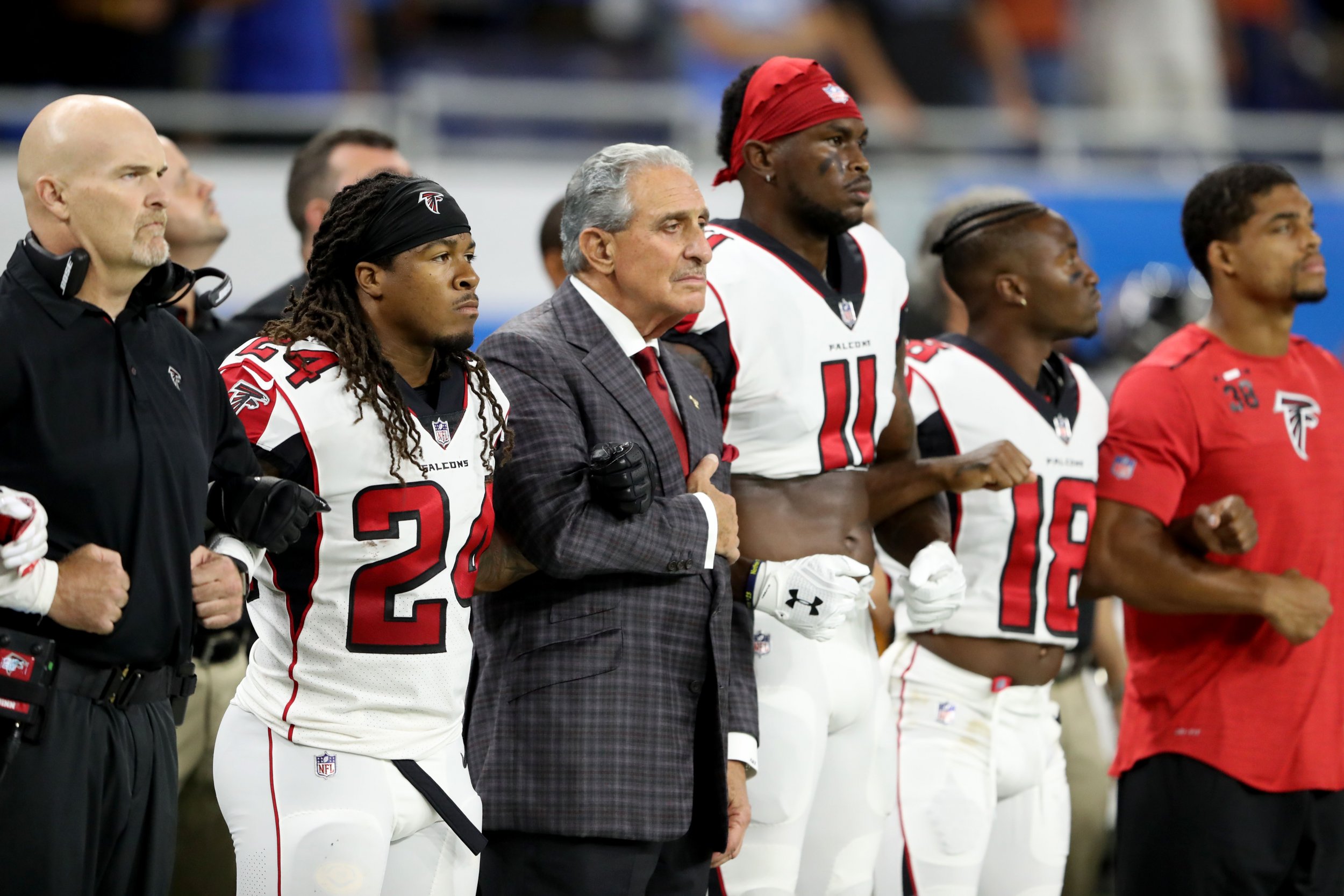 After further review: The majority of voters backs NFL protesters over President Donald Trump, who has criticized players who take a knee to protest police brutality during the national anthem, a new poll shows.
The USA Today/Suffolk University poll, taken between Wednesday and Sunday last week, found that 51% of people thought the NFL protests were appropriate, while 41% felt they were inappropriate.
In addition, most voters also felt President Trump's comments about the players who took a knee was inappropriate, and disagreed with his call that the "sons of bitches" be fired.
Of the 1,000 voters surveyed, 68% said they thought Trump's calls to fire players and asking NFL spectators not boycott games were inappropriate, compared with 27% who backed Trump's position. Broken down by party affiliation, one-third of Republicans and nine of 10 Democrats thought Trump was being inappropriate.
The poll comes after two supercharged weeks after Trump, at a speech in Alabama, said, "Wouldn't you love to see one of these NFL owners, when somebody disrespects our flag, to say, 'Get that son of a bitch off the field right now. Out. He's fired. He's fired!'"
Trump then took to Twitter to express further displeasure with players who took a knee.
"Very important that NFL players STAND tomorrow, and always, for the playing of our National Anthem. Respect our Flag and our Country!" he tweeted.
That led to even more players kneeling during the national anthem, now protesting Trump along with police brutality. Many teams locked arms in solidarity with their right to speak the minds.
The fight over the anthem has broadened beyond the NFL, as players from other leagues have criticized the president. NBA star LeBron James, who has about the same number of Twitter followers as the president, called the Leader of the Free World a "bum" for disinviting the NBA Champion Golden State Warriors to the White House because the team's star, Stephen Curry, criticized him.
"U bum," he tweeted. "@StephenCurry30 already said he ain't going! So therefore ain't no invite. Going to White House was a great honor until you showed up!"