Trump Doesn't Realize Alexandria Ocasio-Cortez Hates Him More Than Joe Crowley Does
President Donald Trump was quick to note congressman Joe Crowley's stunning loss in the New York primary to liberal activist Alexandria Ocasio-Cortez, calling the senior Democratic representative a "big Trump hater."
What escaped Trump is that Crowley lost to a self-described Democratic socialist who hates the president even more.
Bronx-born Alexandria Ocasio-Cortez, 28, was an organizer for Bernie Sanders before challenging Crowley for New York's 14th District—which she won on Tuesday night.
She ran on a left-wing platform that included such policies as universal Medicare, the abolition of Immigration and Customs Enforcement (ICE), and tuition-free college education, significantly to the left of traditional Democratic positions and wholly contrary to the Trump agenda. Now, she'll take that platform to the midterms in November.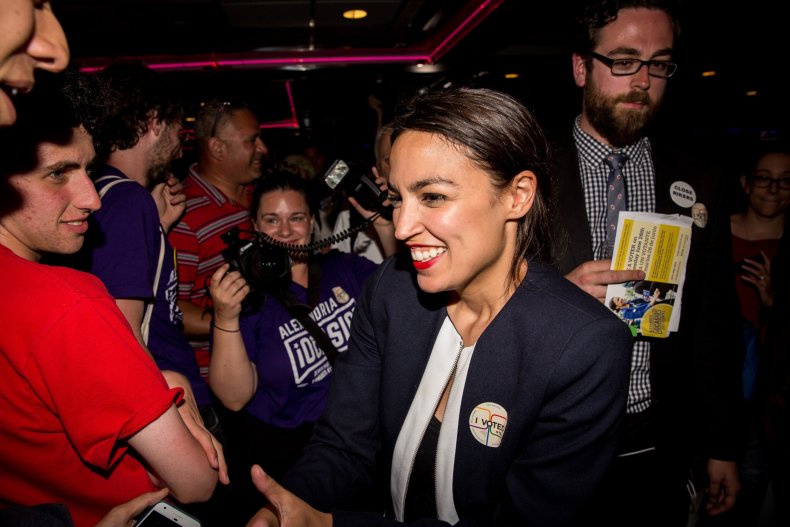 Crowley, who had not faced a challenger in 14 years, was expected to win and eventually take over for Nancy Pelosi as Democratic House leader. He has been a vocal critic of the Trump administration and made it a defining characteristic of his primary campaign. Crowley calls himself "a leader in the fight against Donald Trump."
But Ocasio-Cortez and her team put their victory down to a strong grassroots effort that focused on issues that matter to the working class in their daily lives. They also seized on local discontent with the current Democratic establishment, of which Crowley was a senior figure.
Trump, however, seems to think her triumph was about Crowley's outspoken criticism of him.
"Wow! Big Trump Hater Congressman Joe Crowley, who many expected was going to take Nancy Pelosi's place, just LOST his primary election," Trump tweeted after the result.
"In other words, he's out! That is a big one that nobody saw happening. Perhaps he should have been nicer, and more respectful, to his President!"
Ocasio-Cortez had pointed the finger at Crowley for having corporate and Wall Street donors backing his campaign. In January, she accused him of being "funded by the same people who financed the Trump presidency."
She also believes centrist Democrats play up their anti-Trump beliefs "to avoid talking about Medicare for All, criminal justice reform, DREAM Act, and income inequality as much as possible," according to a January tweet.
In April, Ocasio-Cortez launched a coded attack on Crowley, tweeting: "Wall St. Dems who rather run as anti-Trump than FOR Living Wage, Public College & Medicare for All."
And she also accused Crowley of "arguing to basically retain fascist agencies" because he does not want to abolish ICE, which Trump is using to enforce his draconian immigration policy at America's southern border.
"One of the biggest dangers of this administration is the erosion of norms, which is pretty typical for authoritarian regimes," Ocasio-Cortez told Vogue.
"This is one of the problems when it comes to immigration. My opponent has literally called ICE 'fascist,' yet he refuses to take the stance of abolishing it, which, to me, is morally incomprehensible. Words mean something, and the moment you have identified something as fascist, that with it carries a moral responsibility to abolish it.
"That's what I'm talking about when we say that norms have been eroded: that we literally have elected officials arguing to basically retain fascist agencies. And that's on the left."
She took aim at Trump from time to time, accusing him of criminalizing all migrants and of human-rights violations. But she made a point to not put too much emphasis on Trump during her campaign, because she believes the psychodrama and gossip distract from what matters most—the issues.
The decision not to make her campaign about Trump but to instead focus on such issues as health care and immigration was strategic, and it paid off.
"Democrats who spend more time talking about Trump and Russia than this are going to lose," she tweeted during the campaign. "Families are in real crisis. Congress actually has the power to change our lives for the better. If we're not proposing new & ambitious solutions, then why bother running?"
Neither the Ocasio-Cortez nor Crowley campaign responded to requests for comment.
After losing, Crowley congratulated Ocasio-Cortez in a tweet: "I look forward to supporting her and all Democrats this November. The Trump administration is a threat to everything we stand for here in Queens and the Bronx, and if we don't win back the House this November, we will lose the nation we love."
This article was updated to include Crowley's tweet and more comments made by Ocasio-Cortez​.