Trump Dominates Dallas CPAC 2024 GOP Presidential Straw Poll With 70%
More than 8 months after he lost the 2020 election, former President Donald Trump was able to celebrate another Conservative Political Action Conference (CPAC) win on Sunday after he topped the 2024 Republican presidential nomination straw poll at the Dallas event.
CPAC, made up of mostly right-wing Trump supporters, held two 2024 presidential straw polls: one with Trump and one without. Released in the afternoon, the results showed Trump capturing 70 percent of ballots cast, with Florida Governor Ron DeSantis coming in second at 21 percent. None of the other possible candidates made 1 percent in the anonymous straw poll.
Trump's win marked an improvement from the 55 percent he drew in the Orlando CPAC straw poll in February.
DeSantis easily won the Republican primary ballot straw poll without Trump, capturing 68 percent of ballots cast. Mike Pompeo, who served as secretary of state under the Trump administration, came in second with 5 percent, followed by Donald Trump Jr. at 4 percent.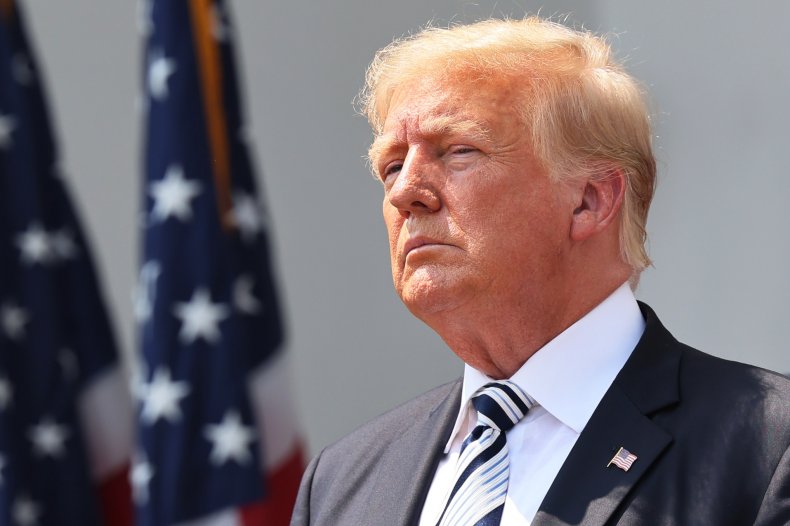 Over the past few months, the ex-president has repeatedly indicated that he would not be launching a bid anytime soon due to "campaign financing" regulations.
An official announcement would trigger election laws that will regulate how he can spend and raise money, and impose an obligation to file annual financial disclosures containing details about his personal and business finances.
Most Republican voters are supportive of him seeking the White House again, according to polls. In May, 66 percent of Republicans said they'd like to see Trump run in a Quinnipiac University survey. Only 30 percent said they opposed the idea.
Trump has vowed a return to politics since leaving the White House and remains arguably the most prominent figure of the Republican Party. He has held two campaign-style rallies—in Florida and Ohio—over the past month, with a focus on promoting 2022 congressional candidates running on his "America First" agenda.
While it's tradition for ex-presidents to maintain silence about their successors, Trump has launched frequent attacks on President Joe Biden and his agenda in cable news interviews and public appearances.
Newsweek reached out to Trump representatives for comment. This story will be updated with any response.