President Donald Trump is once again being mocked for his latest claim he "never understood" wind power Saturday at a Turning Point USA conference, with social media users comparing his comments to Don Quixote's famous fear of windmills.
Trump described windmills over the weekend as "noisy" and declared they frequently "kill birds" including bald eagles. The president — and Russian President Vladimir Putin — have both repeatedly criticized wind energy by pointing to statistics that show wind turbines kill thousands of birds each year in addition to the debunked claim they cause cancer. But as literary-minded Twitter users noted Monday, Trump's acknowledgment of how little he knows about wind energy bares a striking resemblance to Miguel de Cervantes' would-be knight character, Don Quixote.
Quixote imagined himself fighting giants as he attacked windmills 400 years earlier in the world-famous Spanish novel.
The eponymous hero and his loyal servant Sancho Panza's exploits are detailed in the 1605 literary classic which used the famous phrase, "Tilting at windmills" to reference someone attacking imaginary enemies. Don Quixote depicts a scene where the chivalrous but delusional lead character describes windmills as "hulking giants" and mistakes their blades as "long arms."
"The truth is that President Don Quixote is tilting against #windmills NOT because of bald eagles, but because wind power cuts into the profits of his planet-destroying fossil fuel donors. It's all just hot air from a blowhard," wrote a popular Twitter user who goes by Brooklyn Dad Defiant, in response to a Newsweek article detailing Trump's anti-clean energy rant.
"Don Trump has surpassed Don Quixote as the craziest person in history named Don to make an enemy of windmills," actor Ken Olin responded Monday. Other Twitter and Facebook users noted that Vice President Mike Pence may have to play the role of Sancho Panza.
Speaking Saturday at the Turning Point USA conference in Florida, Trump said, "We're going to have an economy based on wind, I never understood wind, you know I know windmills very much. I've studied it better than anybody. I know it's very expensive - they're made in China and Germany, mostly. Very few are made here, almost none. They're manufactured-tremendous fumes, tremendous gases are spewing into the atmosphere, you know we have world, right? So, the world is tiny compared to the universe."
Trump's personal feud with wind turbines dates back to at least 2012 when he described them as "horrible-looking structures" in a personal vlog. He has reiterated his concerns about wind turbines killing birds "by the thousands," and often uses bald eagles — the national bird of the U.S. since 1782 —in his ornithological tales.
A peer-reviewed 2014 study conducted by federal scientists and the environmental consulting firm West Inc. found that wind turbines kill fewer birds each year than cats and cell phone towers. "We estimate that on an annual basis, less than 0.1% ... of songbird and other small passerine species populations in North America perish from collisions with turbines," lead author Wallace Erickson of Wyoming-based West Inc. told USA Today at the time.
The Audubon Society issued a 2016 report which said wind turbines kill an estimated 140,000 to 328,000 birds each year in North America.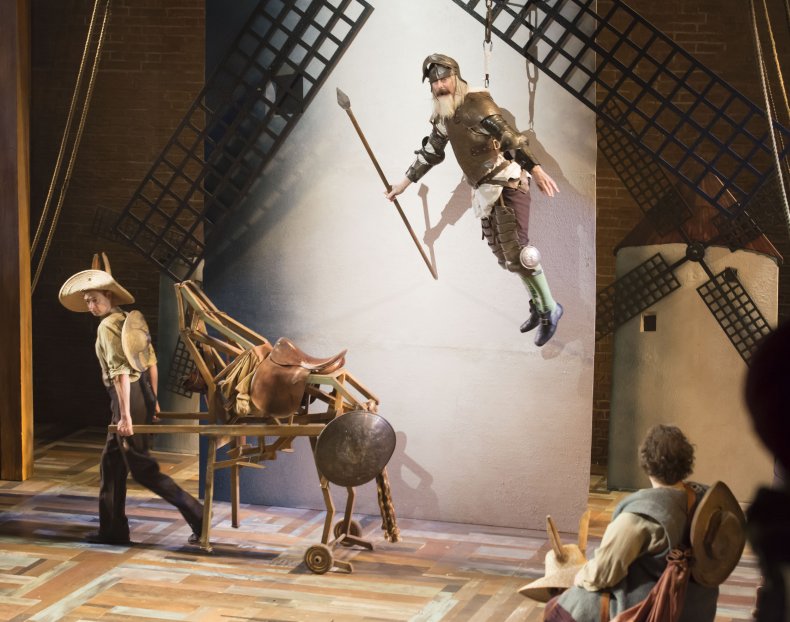 "Don Quixote led me to believe a crazy old man tilting at wind mills was a lot more endearing than it actually is," another appalled Twitter user remarked as "Don Quixote" began trending on the social media platform. Others were less thrilled about the reality of the comparison between the "Dons."
"It's a little on-the-nose for our real life Don Quixote to be both named Don AND a fighter of windmills," responded Media Matters for America journalist Parker Molloy.