Trump Says Don Jr. is 'Innocent' After Meeting With Russian to Get Hillary Clinton Dirt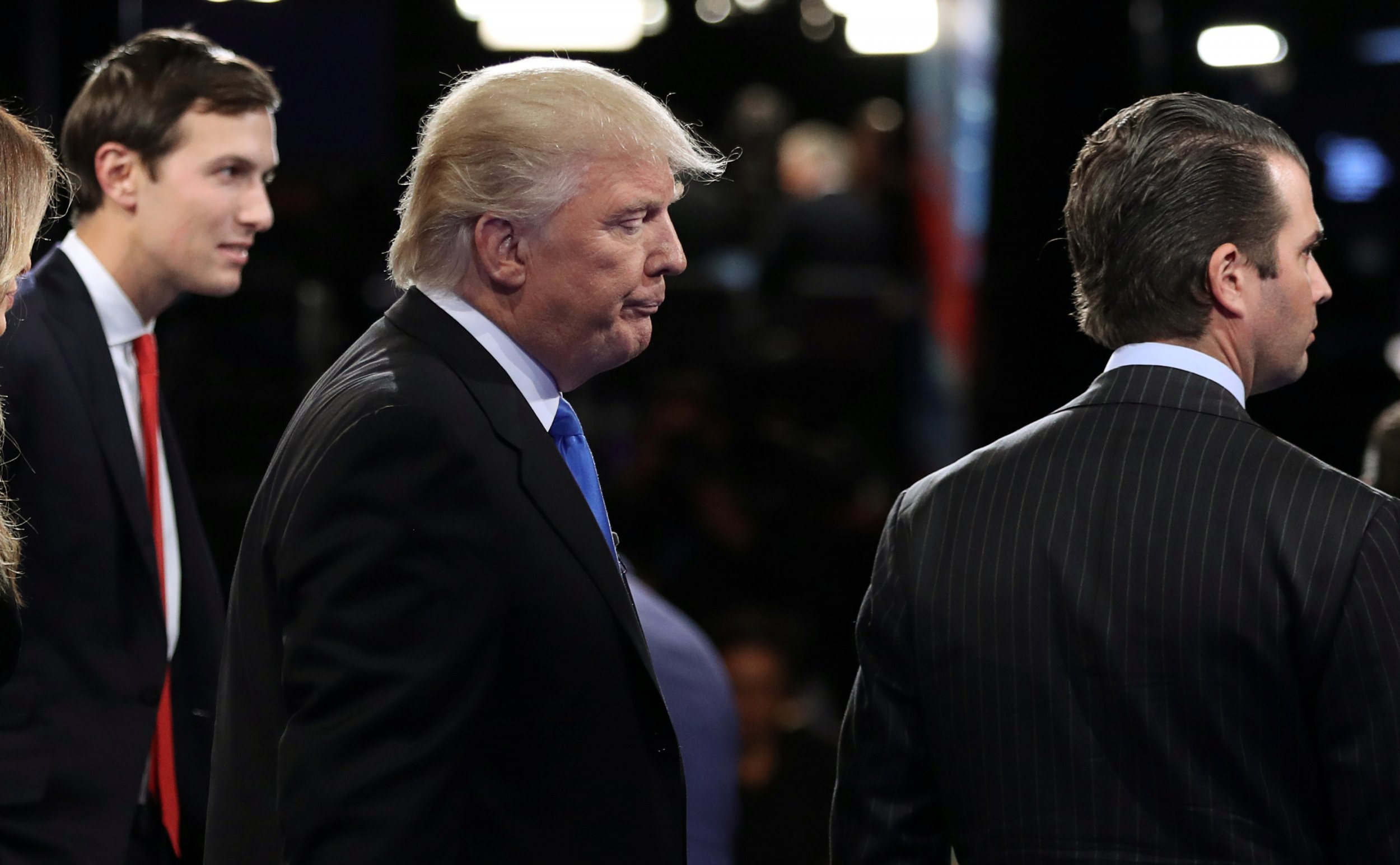 President Donald Trump has defended his eldest son Donald Trump Jr. against accusations a meeting he held with a Russian government source to get damaging information on Trump's election rival Hillary Clinton is treason.
"He was open, transparent and innocent," President Trump tweeted early Wednesday, saying his eldest son "did a good job" during his appearance on the Fox politics show Hannity Tuesday night.
The president said the American government's Russia investigations are "the greatest Witch Hunt in political history. Sad!"
The president's statement followed Trump Jr.'s public release of an email chain Tuesday. The emails show Trump Jr. held a meeting with a Russian source in June 2016 after being told the information they had on Clinton "is part of Russia and its government's support for Mr. Trump."
Trump Jr. responded to the message saying "If it's what you say I love it."
The incident adds to questions about alleged ties with Russia and the Trump campaign, which are currently of multiple probes including by Congress, the FBI, and by Special Counsel Robert Mueller.
Trump's most senior intelligence advisers all agree with American intelligence findings that Russian President Vladimir Putin ordered a misinformation campaign and the hacking of U.S. political parties to interfere in the 2016 election.
Ahead of Trump Jr.'s appearance on Hannity Tuesday Trump tweeted his son is "a great person who loves our country!"
Read more: The man Trump Jr. expected to provide Hillary Clinton dirt dismisses claims as "made up"
"My son is a high-quality person and I applaud his transparency," President Trump said in a statement read out earlier by White House Deputy Press Secretary Sarah Huckabee Sanders during a press briefing Tuesday.
Early Wednesday Trump also tweeted a video of a Fox News commentator claiming Trump Jr. "is the victim here."
Yet the president's son constantly changed his story about the nature of the meeting over the past four days after a story about it appeared in The New York Times Saturday. Trump Jr. issued a statement that it was primarily about Russia's decision to end a program that allowed Americans to adopt Russian children.
That statement was signed off by President Trump himself, according to sources familiar with its drafting who spoke with the Times Tuesday. That story changed in subsequent statements that culminated in the release of the original email chain setting up the meeting.
Yet the president applauded his son's "transparency" Tuesday only after the meeting's details were revealed by the media. Over the weekend Republicans cast the meeting as a Democrat plot.
Republican and Democrat commenters have both said what Trump Jr. did could be considered treason. Conservative Bill Kristol tweeted that revelations that President Trump signed off on "Don Jr.'s false statement Sat." meant that "this was an attempted WH cover-up."
Former Watergate prosecutor Nick Akerman told The Independent that Trump Jr.'s emails showed the Trump campaign was "involved with treason, that they were involved in campaign spending violations and other things as well as false statements to the government."
Even Vice President Mike Pence has held himself at more than arm's length from the scandal. "He was not aware of the meeting," said VP Pence's spokesman Marc Lotter Tuesday in a statement. "He is also not focused on stories about the campaign—especially those pertaining to the time before he joined the campaign."
Trump Jr. defended his decision to set up the meeting with a representative of the Russian government on Hannity. "For me this was opposition research," Trump Jr. told host Sean Hannity.
"I don't think my sirens went [off] or my antenna went up" at the time of the meeting, he said, "because it wasn't the issue that it's been made out to be over the last nine months, ten months."
Trump Says Don Jr. is 'Innocent' After Meeting With Russian to Get Hillary Clinton Dirt | U.S.