Trump Donated to Project Veritas Before Organization Tried to Trick Washington Post With Outrageous Roy Moore Claim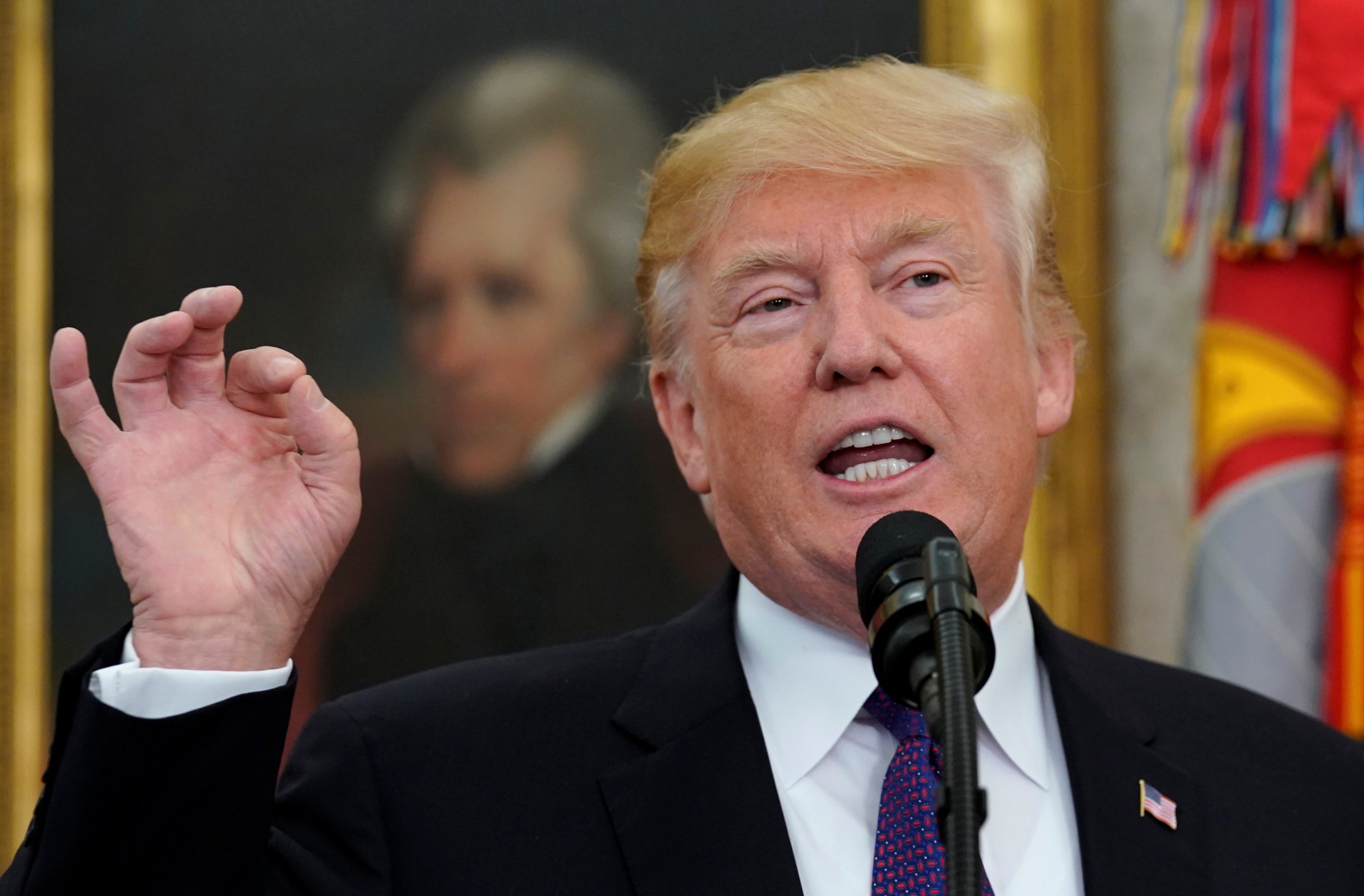 President Donald Trump donated to an agency with a history of trying to take down liberal organizations, an agency that is now accused of trying to dupe The Washington Post with a fake Roy Moore claim in an undercover operation.
The newspaper found out that a woman was lying after contacting reporters with a false claim that she'd become pregnant after having sex with Alabama Senate candidate Roy Moore when she was a teenage girl. She claimed he then took her to get an abortion. In her interviews, she appeared to try and get reporters to make promises the story would eliminate Moore's chances of being elected, the Post reported.
Reporters and researchers for the Post traced the woman back to Project Veritas, a controversial group known for its undercover "sting" operations that often target liberal ideals or groups. The organization has been behind controversial and edited videos that have targeted CNN and Planned Parenthood.
The controversial group also has ties to the commander in chief.
About a month before Trump announced his candidacy for president, his charity, the Trump Foundation, gave $10,000 to Project Veritas.
The March 2015 donation likely helped fund filmmaker and conservative activist James O'Keefe in creating a video claiming to show Hillary Clinton supporters were paid $1,500 to cause violence during Trump's rallies, which were often interrupted by protestors and fights. The video was released in October 2016.
Trump mentioned the videos and its claims while debating Clinton, but never mentioned that he donated to the organization that made them. "They hired people. They paid them $1,500, and they're on tape saying be violent, cause fights, do bad things," Trump said, citing the video by O'Keefe.
The Post found the woman, who said her name was Jaime Phillips, had posted a GoFundMe fundraising page, asking for cash and flaunting that she had a new job where she'd work to "combat the lies and deceit of the liberal MSM [mainstream media]."
The woman reached out to reporters at a time when the newspaper was being accused of paying sources to come out against Moore, who is facing allegations he sexually assaulted a number of women and young teenage girls.
While reporters saw Phillips go into the New York office of Project Veritas, officials with the group, including O'Keefe, would not answer questions about whether the woman worked for them.
Instead, O'Keefe posted a video Monday evening showing employees of the newspaper talking about the Post and its thoughts on President Trump. The undercover video was attempting to show a "hidden agenda" but didn't appear to hold any bombshells.
It showed one reporter talking about the difference between editorials and news articles on the president and his thoughts on how other outlets cover Trump. The footage also showed the paper's director of product talking about how they came up with the slogan "Democracy Dies in Darkness" and that without Trump, traffic to the website would probably drop significantly.