Trump Donor Contacted Russian Official to Boast About Campaign Connections, Proposed Switzerland Meeting
A Russian-born American Trump campaign donor contacted a Russian official during the 2016 elections and boasted about his access to the candidate and the campaign, according to emails obtained by the Dossier Center, an investigative project funded by former oligarch-turned-Putin-critic Mikhail Khodorkovsky.
Simon Kukes, a Texas-based oil executive who is a naturalized U.S. citizen, wrote an email to the vice president of Russia's state-run railway firm in July 2016, at the height of the campaign for U.S. president, claiming that he was actively involved in developing a strategy for the Trump campaign.
"I will be in Switzerland July 20th till August 2nd. Let me know how you are doing, and whether you want to meet," the businessman, who donated almost $300,000 dollars to the Trump campaign, wrote in an email to Vyacheslav Pavlovsky, vice president of Russian Railways and a former Russian ambassador to Norway.
Kukes also referred to "very interesting projects" for Russia and the U.S., and expressed hope that at least one of these projects would materialize, according to excerpts of the letter published by NBC News and The Guardian. Kukes also sent a picture to Pavlovsky of himself posing with Trump ally Rudi Giuliani in which both men are wearing "Make America Great Again" hats.
Kukes became a U.S. citizen in 1982 and subsequently worked for energy companies Phillips Petroleum and Amoco. He returned to Russia in 1996, where he spent the next two decades working in the oil industry. In 2003, he became the head of Yukos, the Russian oil company that formerly belonged to Khodorkovsky, whose organization published the email between Kukes and Pavlovksy. Khodorkovsky had been arrested by Putin on charges many believed were politically motivated and sent to a Siberian prison camp for 10 years. Today, Khodorkovsky is based in London and frequently funds opposition activities.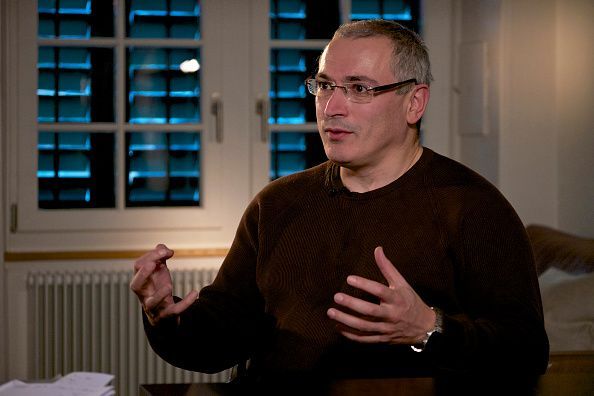 Kukes returned to the U.S. in 2016 and donated to the Trump campaign shortly after Russian-linked lawyer Natalia Veselnitskaya met with Donald Trump Jr. and other Trump campaign officials in Trump Tower in New York. Kukes told reporters that he is a private citizen and had donated to Trump for business reasons. He is now working in the oil industry in the U.S. again.
Kukes, who had never made political donations prior to Trump's run for office, is not the only Russia-connected businessman who donated to Trump's campaign. Special counsel Robert Mueller, whose team is investigating whether members of the Trump campaign collaborated with Russia to influence the outcome of the 2016 election, is investigating payments by Leonard Blavatnik and Andrew Intrater, both of whom are billionaires who were born in the former Soviet Union and are now U.S. citizens. Kukes had previously worked with both Blavatnik and Intrater in Moscow.
Experts say it is likely the payments from Kukes are also being investigated by Mueller's team.
Trump Donor Contacted Russian Official to Boast About Campaign Connections, Proposed Switzerland Meeting | World