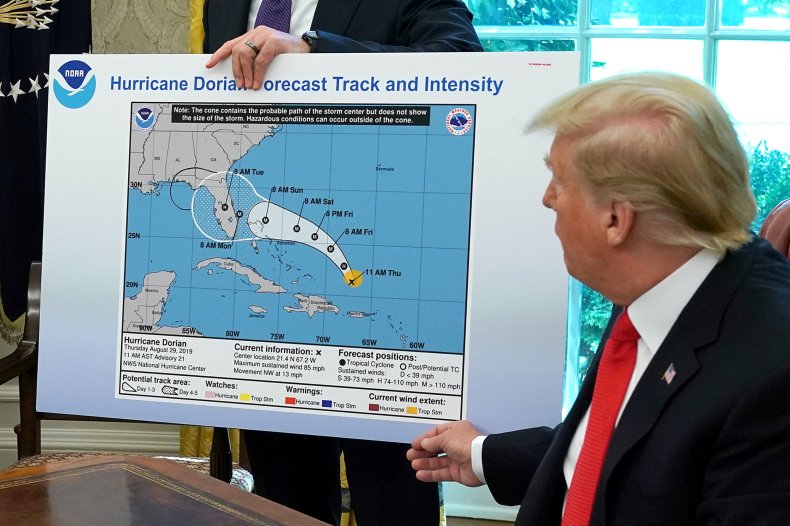 As weather analyst Dennis Mersereau noted on Twitter Wednesday, it is a federal crime to knowingly issue a "counterfeit weather forecast" or other weather-related warning that "falsely" implies the forecast is a publication of the U.S. government. Violators could face up to $5,000 in penalties and potentially 90 days in jail. However, President Donald Trump likely won't face any penalties an apparent alteration on the map shown Wednesday.
Speaking about early forecasts from the National Weather Service that predicted a direct hit on Florida from Hurricane Dorian, Trump displayed a map that appears to have been altered with a Sharpie.
"We got lucky in Florida, very, very lucky indeed," he told reporters. "We had actually our original chart was that it was going to be hitting Florida directly... And that would have affected a lot of other states."
That's when Secretary of Homeland Security Kevin McAleenan revealed the early National Weather Service map from August 29, showing a possible trajectory for the storm encompassing lower Florida, the Panhandle and a small portion of southern Georgia.
A crudely drawn bubble that doesn't appear in any of the National Weather Service's projections — Newsweek reviewed the agency's archived Dorian forecasts — was tacked onto the map, including some parts of Alabama in the storm's then-projected path.
When a reporter asked whether or not a Sharpie was used to alter the map, Trump replied, "I don't know, I don't know."
On Sunday, Trump tweeted out a warning for residents in the path of the impending storm, including the states of Florida, South Carolina, North Carolina, Georgia and Alabama in his message. The National Weather Service just minutes later issued its own tweet, reassuring Alabamians that there were no storm-related weather events expected to occur from Dorian's approach.
"Alabama will NOT see any impact from #Dorian," the agency said. "We repeat, no impacts from Hurricane #Dorian will be felt across Alabama. The system will remain too far east. #alwx"
Trump also insisted during the press gaggle that "other, better maps" included Alabama in the potentially storm-affected areas.
After Dorian was originally trained on Florida, the hurricane's latest path may see Georgia and the Carolinas bear the brunt of the mainland damage. The Bahamas suffered immensely after Dorian stalled over the island, blasting residents with Category 5 winds up to 185 mph and devastating rains.
A spokesperson for the White House did not respond to a request for comment.