Trump Doubles Down Against Mail-In Voting As Postal Service Says It Can Handle Influx of Ballots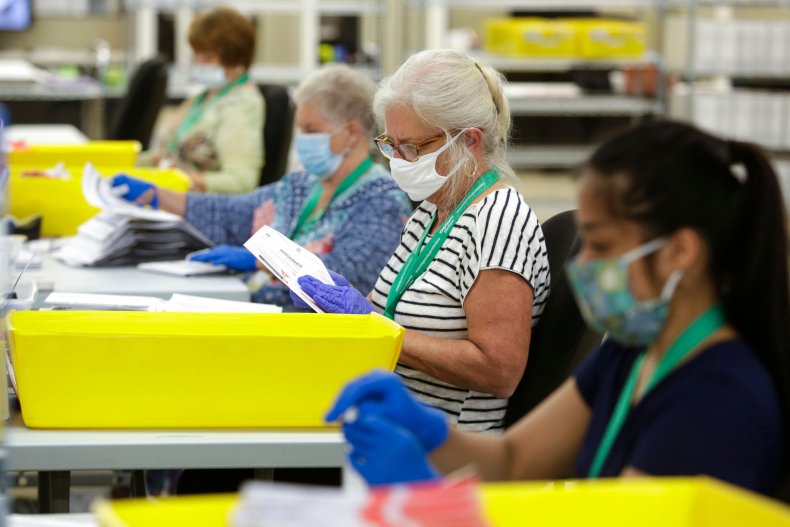 The Trump administration doubled down on its objections to mail-in voting, citing delays in counting and the potential for fraud, despite election officials and others insisting that the process can be handled securely.
"(President Donald Trump)'s been unmistakably clear that when you have mass mail-out voting ... the consequences are real," White House Press Secretary Kayleigh McEnany told reporters Tuesday. "It is rife with fraud and with delay and that's what the president stands firmly against."
Trump's campaign has been increasingly hammering on proposals to expand mail-in voting. In a Tuesday morning email, the campaign identified "universal mail-in voting" among its priority issues of the day.
After weeks of speaking out against mail-in voting, Trump tweeted Tuesday that he's urging his supporters in Florida to "request a Ballot & Vote by Mail!"
"Whether you call it Vote by Mail or Absentee Voting, in Florida the election system is Safe and Secure, Tried and True," he tweeted.
Late Monday evening, Trump tweeted that Democrats in Nevada were trying to use mail-in voting to steal the election away from the GOP and appeared to threaten legal action this week if the state expanded vote-by-mail options.
"Post Office could never handle the Traffic of Mail-In Votes without preparation. Using Covid to steal the state. See you in Court!" he tweeted.
The U.S. Postal Service this week assured it is capable of handling the influx of mail from increased ballots this fall.
"The Postal Service has ample capacity to adjust our nationwide processing and delivery network to meet projected Election and Political Mail volume, including any additional volume that may result as a response to the COVID-19 pandemic," the federal agency said in a statement.
The fight over mail-in voting comes as states are increasingly looking to ways to make elections safer for Americans during the ongoing pandemic, which has left more than 150,000 people dead and continues to see case spikes throughout the country.
Trump has sought to defend the use of "absentee" voting where voters request absentee ballots because they won't be able to vote in person on Election Day, while slamming some states' use of a more comprehensive "vote by mail" option where ballots or ballot applications are mailed to all voters to see if they would rather mail in their votes.
Under various state laws, more than 75 percent of voters would be able to cast mail-in ballots through one of the two methods this fall if they wanted to.
Trump, McEnany and several other members of the administration and key political allies all have records of requesting absentee ballots in past elections that they have then mailed in to cast their votes.
"You proactively request an absentee ballot," McEnany said. "There's a difference there and the president repeatedly makes the difference."
Trump has suggested that he could try to limit vote-by-mail efforts through executive order, but McEnany declined to elaborate on what authority he might have to do so when asked during Tuesday's briefing.
"I'm not going to engage in a hypothetical in what the actions would be or what they would be based upon but just once again I'll underscore the president's concerns in delays," she told reporters, citing reports of issues in Pennsylvania New York and Nevada, in particular. "The president's very concerned about delays and outright fraud."
During an interview with Axios that aired on HBO Monday night, Trump said that mail-in voting could significantly delay election results.
"You know, you could have a case where this election won't be decided on the evening of Nov. 3. This election could be decided two months later," he told reporter Jonathan Swan.