Trump Doubles Down on Discrediting Dr. Fauci, Says His Pitching Is 'More Accurate Than His Prognostications'
President Donald Trump continued to discredit the nation's leading infectious disease expert, Dr. Anthony Fauci, on Tuesday morning. In reference to Fauci's botched ceremonial first pitch during the Major League Baseball's season opener in July, Trump tweeted that the doctor's "pitching arm is far more accurate than his prognostications."
The errant Opening Day pitch by Fauci, who leads the National Institute of Allergy and Infectious Diseases, went viral after he completely missed his target, Washington Nationals pitcher Sean Doolittle.
Trump's comments were made in response to another Twitter user's post that quoted a CNN article published Monday. The latter focused on Fauci's displeasure with a Trump campaign ad that misleadingly quoted him, suggesting he approved of the White House coronavirus response, which he has frequently criticized. The quoted bit in the tweet read: "Fauci praised the White House coronavirus task force's round-the-clock effort to respond to the pandemic, which he says included numerous White House meetings and late-night phone calls."
In the CNN article, Fauci clarified that he had not agreed to being featured in a Trump campaign ad that praised the president's handling of the coronavirus.
Fauci told CNN, "In my nearly five decades of public service, I have never publicly endorsed any political candidate. The comments attributed to me without my permission in the GOP campaign ad were taken out of context from a broad statement I made months ago about the efforts of federal public health officials."
The clip in question had been from a Fox News interview Fauci did in March, where he discussed the tireless efforts from health officials of various federal agencies to curb the spread of COVID-19 in the U.S.
Trump took the opportunity to fire back at the doctor and insinuated that Fauci's projection of the ongoing global health crisis is inaccurate. Fauci has advocated for the wearing of face masks and greater government intervention amid the pandemic—both of which Trump has resisted to varying degrees.
Newsweek reached out to the National Institute of Allergy and Infectious Diseases for comment but did not hear back before publication.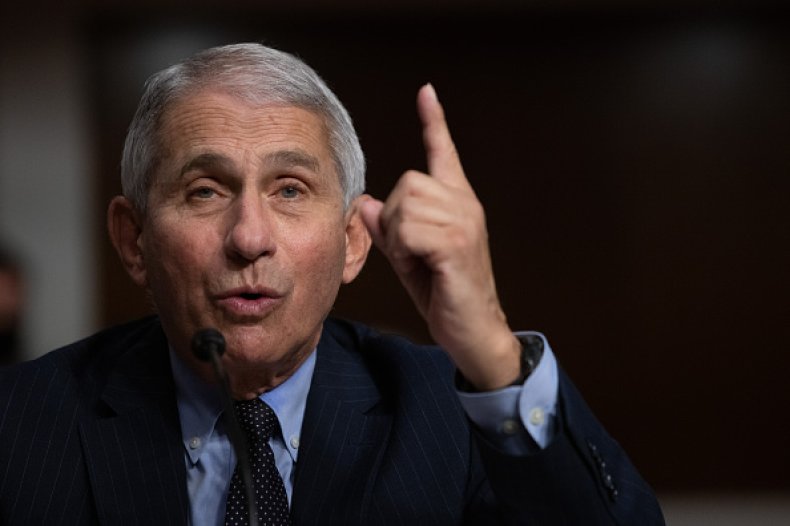 "'No problem, no masks'. WHO no longer likes Lockdowns - just came out against. Trump was right. We saved 2,000,000 USA lives!!!" the president tweeted.
Many, like Trump, were quick to call out the World Health Organization for supposedly reversing its position on lockdowns after special envoy on COVID-19, Dr. David Nabarro told British magazine The Spectator that "We in the World Health Organization do not advocate lockdowns as the primary means of control of this virus."
Although Nabarro did not say lockdowns were mistakes, he emphasized the negative consequences they may have.
"The only time we believe a lockdown is justified is to buy you time to reorganize, regroup, rebalance your resources, protect your health workers who are exhausted, but by and large, we'd rather not do it," Nabarro said.
Trump withdrew the U.S. from WHO earlier this year amid the pandemic — a move that drew criticism from many.
On Monday, Trump used the statement to validate his decision in severing ties with the organization and call on Democrat governors who have yet to completely reopen their respective states.
"The World Health Organization just admitted that I was right. Lockdowns are killing countries all over the world," Trump tweeted. "The cure cannot be worse than the problem itself. Open up your states, Democrat governors. Open up New York. A long battle, but they finally did the right thing!"
The president also claimed his administration helped to save 2 million lives on Tuesday, but coronavirus statistics paint a different picture. As of Tuesday, October 13, a tracker from John Hopkins University shows that 215,089 Americans have died from COVID-19.