Trump Doubles Down on Testing Negative for COVID Ahead of 2020 Debate With Biden
Former President Donald Trump is doubling down on his assertion that he did not have COVID-19 before the first presidential debate with then-Democratic nominee Joe Biden last year.
"The Fake News continues to push the false narrative that I had Covid prior to the first debate. My Chief of Staff Mark Meadows confirmed I did not have Covid before or during the debate, saying, 'And yet, the way that the media wants to spin it is certainly to be as negative about Donald Trump as they possibly can while giving Joe Biden a pass,'" Trump said in a Monday statement.
In Meadows' new memoir, the former chief of staff wrote that Trump had tested positive for the virus three days before the September 29, 2020, debate. But he said a repeat—which was completed with the newer Binax rapid antigen test—came back negative before Trump was scheduled to attend the event.
The Trump administration did not disclose the first positive test to the public. Three days after the debate, Trump announced that he and first lady Melania had contracted COVID-19.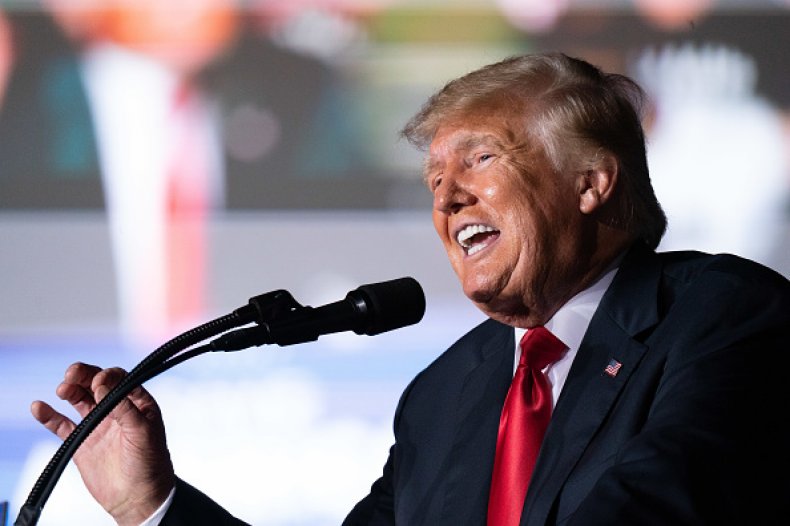 On Monday, Trump also took aim at his successor and brought up previous unsubstantiated claims that the election was fraudulent, saying Biden is "not supposed to be in office in the first place!"
"Biden goes around coughing on people all over the place, and yet the Corrupt News doesn't even cover it," the former president said. "They continue to shield Biden, who has been a disaster not just on Covid, where we have more deaths this year than last, but on the Border, the Economy, Inflation, Afghanistan, Gas prices, and everything else. Probably because he's not supposed to be in office in the first place!"
When the allegations first came to light, Trump denied claims that he had COVID "prior to, or during, the first debate."
In Meadows' book, the former Trump official said the commander in chief took the second, negative test as "full permission to press on as if nothing had happened."
Meadows said he decided not to reveal the results of the positive test at the time because he "didn't want to alarm the public if there was nothing to worry about—which according to the new, much more accurate test, there was not."
Asked whether he thought Trump put him at risk during the debate, Biden told reporters last week, "I don't think about the former president, thank you."
Update 12/6/21, 11:09 p.m. ET: This story has been updated with more background and information.