Trump Down 8 Points Among Suburban Men and Women This Year, a Key Bloc in His 2016 Victory
President Donald Trump has lost significant support among a key demographic that helped him get elected in 2016: suburbanites.
Both suburban men and women have turned away from Trump in the past year, according to a Gallup poll released Wednesday. The survey found the president's approval rating among suburban women fell from 38 percent to 30 percent over the course of 2020, while his approval among suburban men dipped from 50 percent to 42 percent.
The suburbs powered Trump's electoral victory four years ago. Exit polls from CNN showed he had a 4-point edge over Hillary Clinton in suburban areas across the United States.
Trump's decline among suburban women has been well documented since 2016. Today, polling in swing states shows the president losing this demographic by historically wide margins. Recent surveys from The New York Times and Siena College found Democratic nominee Joe Biden ahead by 23 points among suburban women in battleground states.
In the final months of the campaign, Trump has attempted to focus his attention on this key voting bloc. Amid nationwide demonstrations against police brutality and racial injustice, he reframed his candidacy as a defense of "law and order" and vowed to protect the suburbs. On Tuesday night, during a rally in Michigan, Trump tried to win over suburban women by promising to get their husbands "back to work" if re-elected.
But during a rally in Johnstown, Pennsylvania, earlier this month, Trump laid bare his problem with female voters with a plea asking them to vote for him.
"Suburban women, they should like me more than anybody here tonight because I ended the regulation that destroyed your neighborhood. I ended the regulation that brought crime to the suburbs, and you're going to live the American dream," he said.
He added: "So can I ask you to do me a favor? Suburban women, will you please like me? Please. Please. I saved your damn neighborhood, OK?"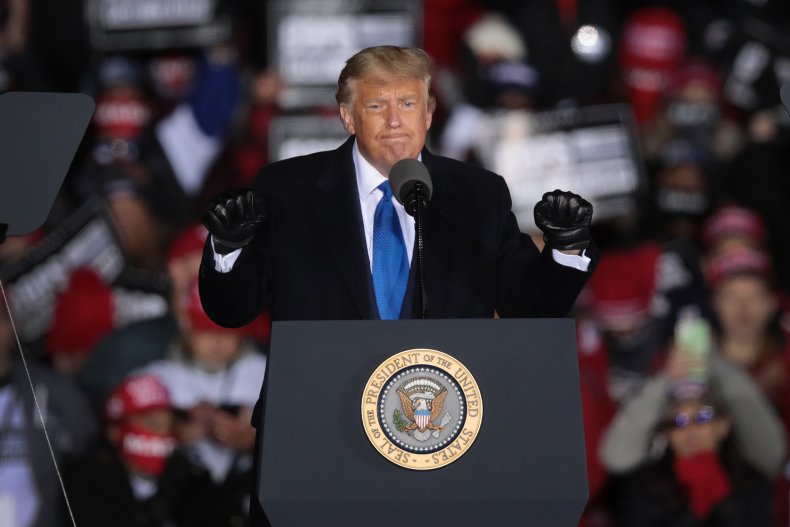 A few weeks later during an interview on 60 Minutes, Trump accused journalist Lesley Stahl of misrepresenting the statements he made during the rally and asserted that he wasn't begging for votes.
"I said kiddingly, 'Suburban women, you should love me. I got rid of a regulation that would bring low-income housing into suburbia that would destroy suburbia,'" Trump said. "And I said that in a joking way. The way you have it is...like I'm begging. I'm kidding."
The Gallup survey analysis was based on data from two periods in 2020: early January to mid-May and late May to mid-October. During the earlier time frame, Gallup interviewed more than 9,000 U.S. adults in nine polls. In the later period, more than 7,000 adults were interviewed in seven polls.