Trump Being 'Driven Nuts' Not Knowing Who Mole Is: Ex-Federal Prosecutor
Donald Trump not being able to identify a possible informer within his organization is driving the former president "nuts," according to a former federal prosecutor.
Trump's Florida home, Mar-a-Lago, was raided by the FBI on August 8 investigating a potential breach of the Espionage Act and other alleged crimes. Agents seized 11 sets of classified documents from the property and removed 20 boxes of material.
Two senior government officials told Newsweek that intelligence for the raid was provided by a confidential human source, or informant, based within Trump's team.
On his Truth Social website, Trump demanded the release of the "completely unredacted" affidavit that was used to justify the Mar-a-Lago raid. He wrote: "In the interests of TRANSPARENCY, I call for the immediate release of the completely Unredacted Affidavit pertaining to this horrible and shocking BREAK-IN."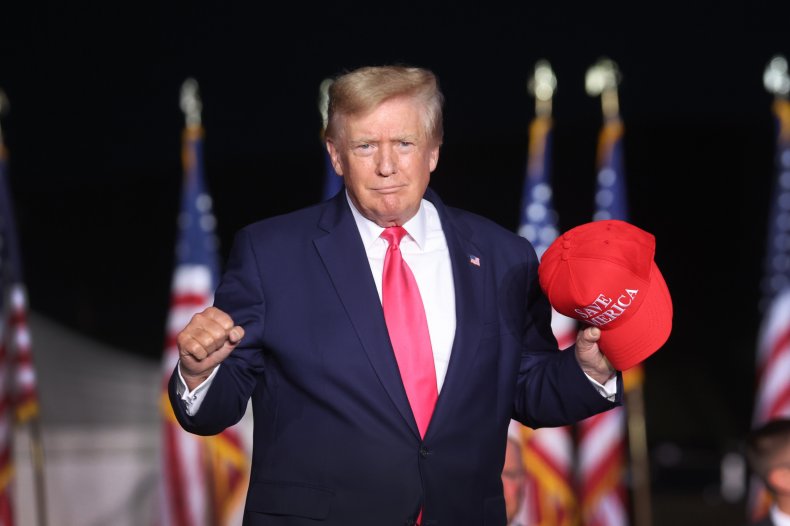 This was rejected by the Department of Justice (DOJ), which said publishing the document would "cause significant and irreparable damage to this ongoing criminal investigation." The DOJ added that the affidavit contains "highly sensitive information about witnesses" who are involved with the case.
On Twitter, Ron Filipkowski, a former federal prosecutor turned expert on the American right, suggested that Trump wants the affidavit released in the hope it helps him identify an informant.
He reposted Trump's message, adding: "Let me translate this. It is absolutely driving him nuts that he can't figure out who the informant is, and he wants an unredacted affidavit that could give him clues to figure it out. His lawyers will get one after he is indicted, just like everyone else in America."
Last week, Rolling Stone reported Trump's inner circle is hunting a suspected "rat" within their midst, with the former president asking whether visiting Republicans were "wearing a wire."
Two sources close to the investigation told Newsweek that the raid was aimed at recovering top secret documents containing intelligence "sources and methods," which could potentially include human sources working for the United States Government.
Trump told Fox News on Monday that he thinks "terrible things are going to happen" if anger over the Mar-a-Lago raid isn't abated. The former president said he'd offered his assistance to the Justice Department "because the temperature has to be brought down in the country."
Both the FBI and Department of Homeland Security (DHS) have warned of an increased threat to law enforcement officers across the U.S. since the Mar-a-Lago raid.
FBI Director Christopher Wray said in a statement: "Violence and threats against law enforcement, including the FBI, are dangerous and should be deeply concerning to all Americans.
"Every day I see the men and women of the FBI doing their jobs professionally and with rigor, objectivity, and a fierce commitment to our mission of protecting the American people and upholding the Constitution. I am proud to serve alongside them."