'Trump Hell Hour': Drudge Report Reacts to Michael Cohen Guilty Plea, Paul Manafort Verdict
The influential conservative news site The Drudge Report posted a scathing headline Tuesday after President Donald Trump's former campaign manager Paul Manafort was convicted on eight counts of fraud and former lawyer Michael Cohen pleaded guilty to eight criminal counts.
"Trump Hell Hour," the site wrote in all-capital red letters and asterisks, along with "Manafort: Guilty," and, "Cohen: I'm Guilty." The headlines linked to an NBC News story.
The Drudge Report also wrote the headline, "Cohen says he violated campaign law at direction of 'candidate' …" referring to Trump, as well as "Manafort 'evaluating all options,'" while linking to other stories.
Manafort's verdict and Cohen's plea agreement came down almost simultaneously late Tuesday afternoon.
An earlier version of The Drudge Report appeared to have the headline "Trump Hell Day" instead of "Trump Hell Hour."
Manafort was convicted of five counts of tax fraud, two counts of bank fraud and one count of failing to file reports of foreign bank and financial accounts. In addition, a mistrial was declared in seven counts of bank fraud and bank fraud conspiracy, and three counts of failing to file reports of foreign bank and financial accounts.
Cohen pleaded guilty to eight criminal counts—five counts of tax evasion, one count of excessive campaign contribution at the request of a candidate or campaign, one count of unlawful corporate campaign contribution from June 2016 to October 2016 and one count of false statements to influence lending.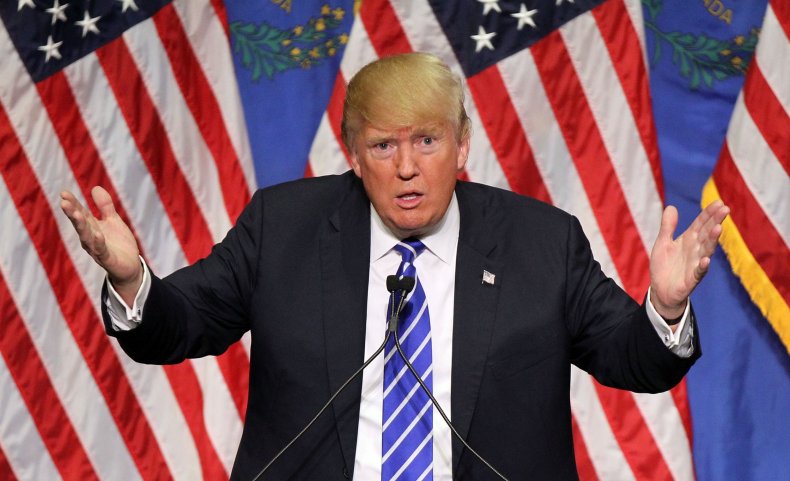 Trump in June praised The Drudge Report and called its creator and editor Matt Drudge "a great gentleman."
"He really has the ability to capture stories that people want to see," Trump said.
The president also applauded Drudge for posting a headline highlighting the strong U.S. economy.
"It was the number one story on Drudge, 44-year low unemployment," Trump said. "I saw that in very big letters and … that makes me very proud."
The news aggregation site that draws more than 2 million viewers per day has consistently posted headlines that put Trump in a positive light.​
But The Drudge Report has turned on Trump at times. After Trump failed to criticize Russian President Vladimir Putin during their joint press conference in Helsinki last month, the site posted the headline, "Putin Dominates in Hel."
Drudge also took a shot at Trump in May after the president sent a tweet suggesting that journalists' credentials could be revoked.
"I fear the future result of Trump's crusade on 'fake news' will be licensing of all reporters," Drudge wrote. "[Dems already floated this in the senate pre-Trump.] The mop up on this issue is going to be excruciating…"