Koi-Gate: Japanese PM Abe and Donald Trump Dump Boxes of Food in Palace Fish Pond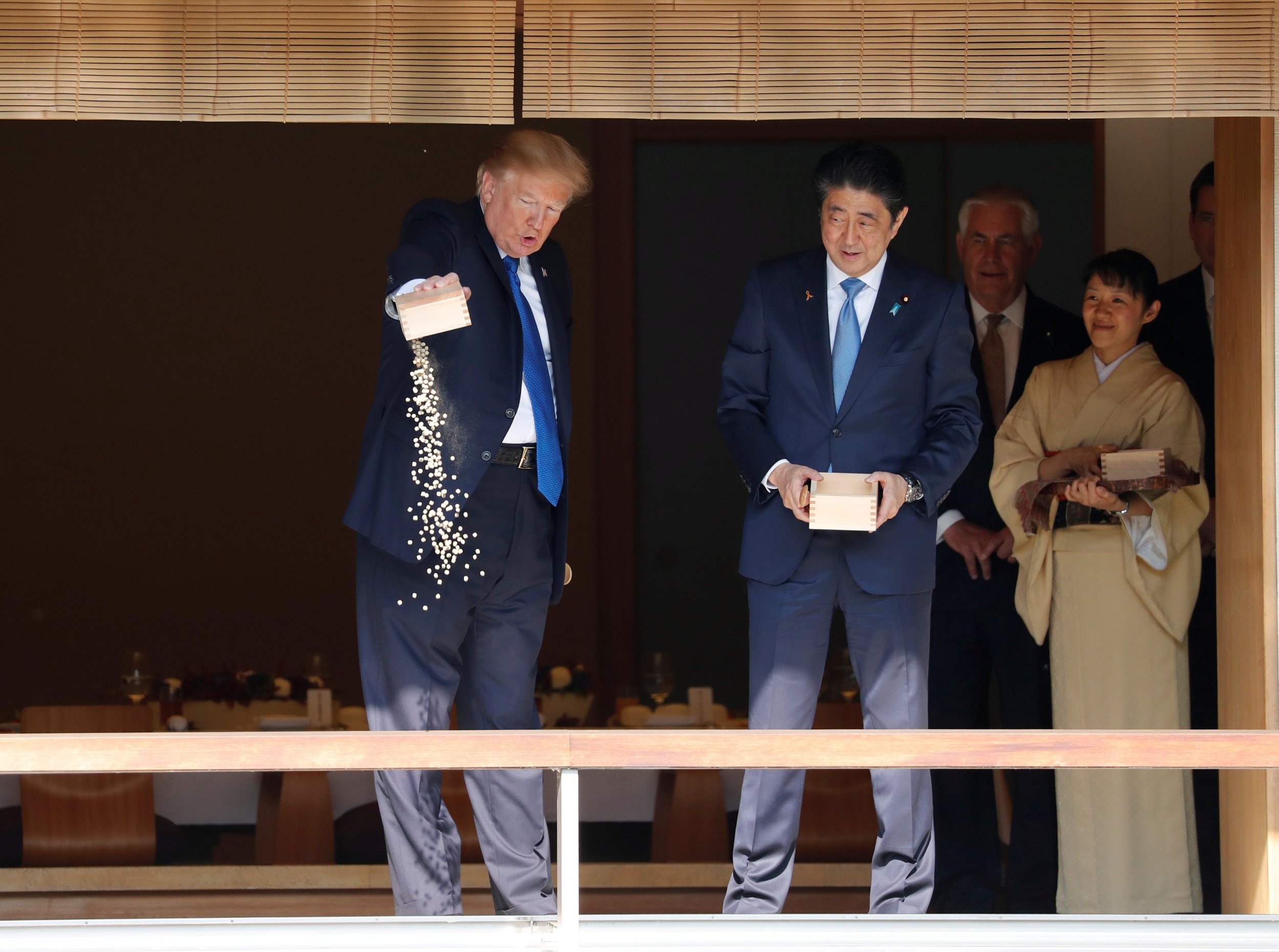 President Donald Trump elicited laughs when, grinning broadly, he emptied an entire box of fish food into a palace koi pond in Japan.
After a meeting with the Japanese Emperor Akihito and his wife Empress Michiko Tuesday, Trump was shown the famed koi carp of Akasaka palace in Tokyo standing alongside Japanese PM Shinzo Abe.
The two men spooned food to the colorful carp from wooden boxes from a palace balcony. But Trump was accused of allowing his brasher instincts to take over when he upended his entire box into the pond, as Secretary of State Rex Tillerson lauged.
Critics were quick to point out that overfeeding carp can make them ill, while others saw the move as evidence of the president's impatient contempt for protocol.
But other observers leapt to Trump's defense, pointing out that Abe had upended his box first.
In a speech to Japanese business leaders Monday morning, the president had struck a confrontational note, and berated Japanese businesses for what he described as unfair trade practices with the U.S.
"We want fair and open trade. But right now, our trade with Japan is not fair and it's not open," said Trump.
Trump is visiting Japan as part of a 12 day trip to Asia, his first as president. He will also visit South Korea, China, Vietnam and the Philippines.
On a low key first day in Japan Trump played golf with Abe and lunched on hamburgers made of American beef.
Trump is in Japan for the first leg of his 12 day Asia trip, his first to the region as president. He will also visit South Korea, China, Vietnam and the Philippines.