President Trump and Melania to Spend Easter at His Mar-a-Lago Property With Family
President Donald Trump will spend his second Easter as president at his Mar-a-Lago club, closing out the November to April social season in Palm Beach.
The president is expected to fly from Ohio, where he'll be making remarks on his infrastructure plan, to Florida early Thursday evening and will arrive back at the White House on Sunday, in time for Monday's traditional Easter egg roll on the South Lawn.
The president will join First lady Melania Trump and son Barron, who spent the week at Mar-a-Lago.
Donald Trump Jr. is also in Florida, and was seen at a Palm Beach CrossFit gym he's been known to frequent. Trump Jr.'s wife, Vanessa, was also nearby on the beach with her children, despite filing for divorce this month.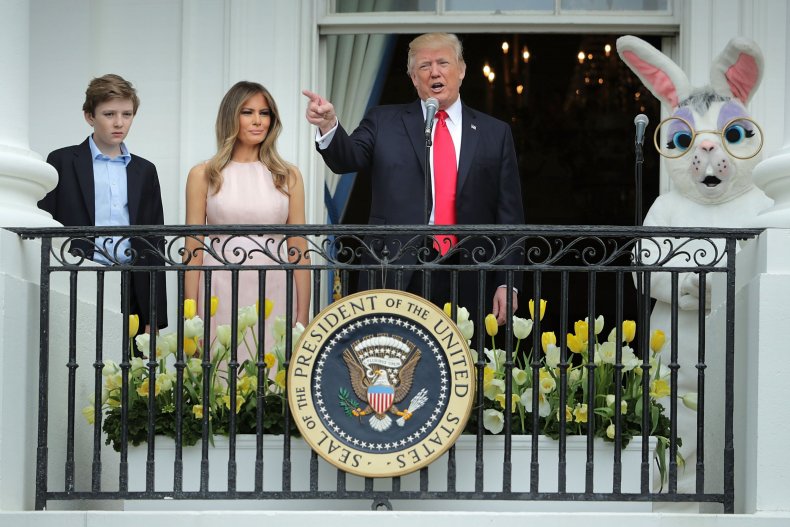 Trump typically attends Easter Sunday mass at the Episcopal Church of Bethesda-by-the-Sea, where he was married to Melania in 2005. Last year, churchgoers were required to go through metal detectors but were reportedly surprised to see the president show up five minutes before the morning service began.
Mar-a-Lago also hosted an Easter brunch and egg hunt last year, that Trump attended with his children and grandchildren.
The visit will cause road closures and delays in the Palm Beach area beginning Thursday morning. All forms of travel, including pedestrian, will be prohibited near the golf club and marine security zones will be put in place. A 30-mile no-fly zone will also be in effect with some exceptions: A local church, NewSound, has been given permission by the Federal Aviation Administration to use a helicopter to scatter Easter eggs.
Last year, Trump ended his visits to Mar-a-Lago after Easter and returned again in November for Thanksgiving. During the summer months, the president prefers to visit his property in Bedminster, New Jersey.
Trump will return to Washington D.C. on Sunday with Melania to prepare for Monday's Easter egg roll, The White House's 140th.
Left off the schedule of events is any reference to a Passover Seder attended by the president or his family. The Jewish holiday begins Friday at Sundown. Last year, the White House hosted a staff Seder but the president opted not to attend. President Barack Obama hosted and attended staff Seders every year of his presidency.