Trump Insults Obama With Best Eclipse Ever Twitter Meme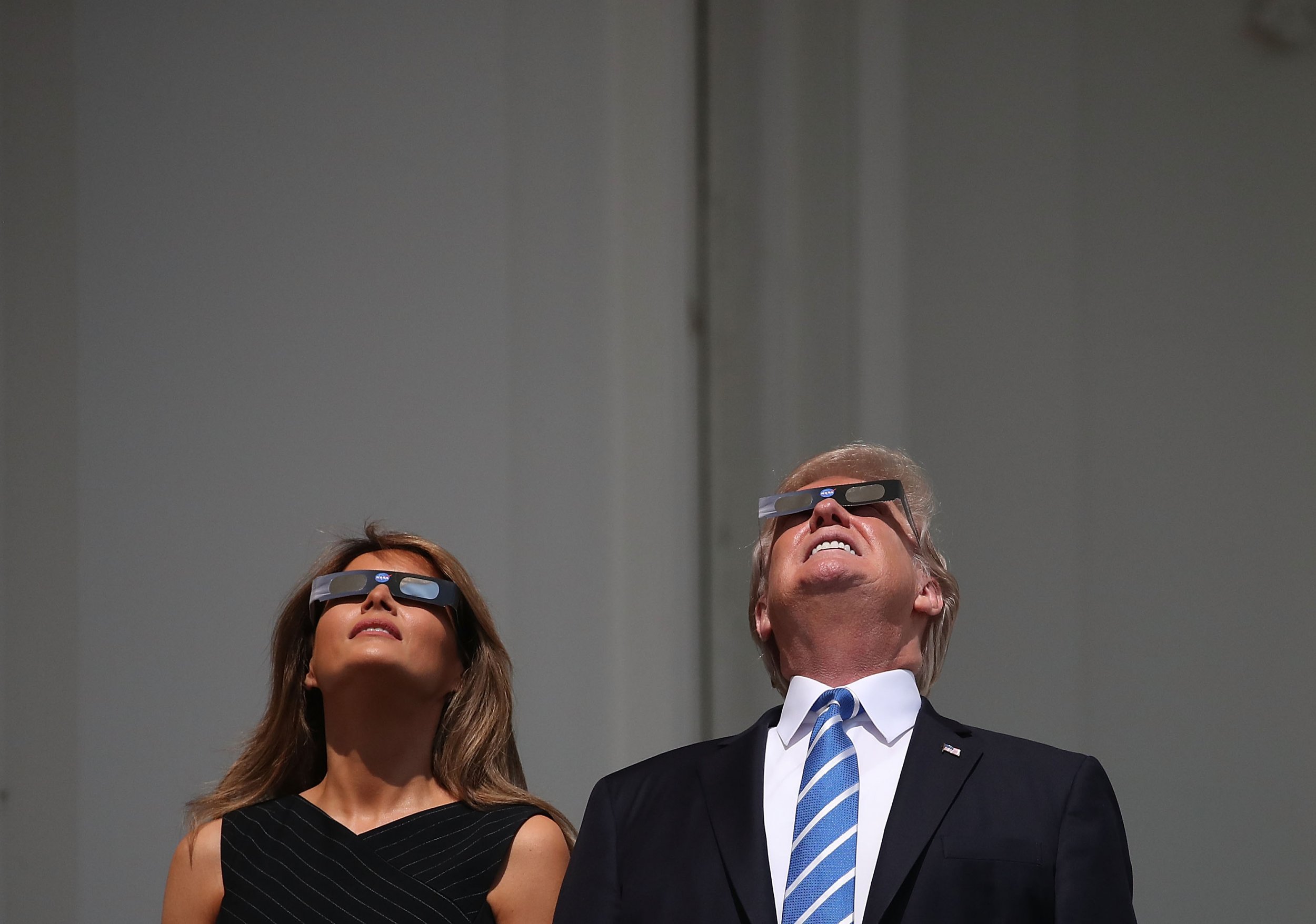 President Donald Trump may have glanced up at the sun Tuesday without the recommended glasses, but he could apparently see well enough Thursday morning to post a meme about the solar eclipse. In the latest of his near-daily Twitter rants, Trump retweeted an image showing a colorized portrait of him moving in front of a black-and-white picture of Barack Obama. The caption read, "THE BEST ECLIPSE EVER!"
Within minutes, the meme had more than 2,800 retweets and 7,300 likes. But while Trump likely thought the photo manipulation was accurate because he was taking center stage over his predecessor, social media users quickly pointed out that the meme's scenario meant Obama was the sun.
"This is actually correct," read a comment by Ed Krassenstein, who was behind one of the tweet's top replies. "The Darkness of Trump has overtaken the brightness of Obama. The Sun is what gives us life and energy!"
Haaretz called the image a "race-baiting photo" and noted it was shared by a user named Jerry Travone, whose profile says he's a YouTube actor, political junkie and proud Trump supporter who likes to "push back against liberalism." Others pointed out that, even if Trump was correct in saying he was overtaking Obama as an attention-getter, the total solar eclipse he referenced lasted for only about three minutes.
Obama has been planning a return to politics this fall, during which he'll fundraise and campaign for Democratic candidates, as the Hill reported earlier this month. Trump has long been obsessed with the former president, spreading rumors about the authenticity of his birth certificate as far back as 2012. It's probably not helping that their ratings are at nearly opposite ends of the spectrum: As Newsweek reported August 4, polls show Trump with about 36 percent approval and 58 percent disapproval; at this point in Obama's presidency, he had 56 percent approval and 37 percent disapproval.
Political implications aside, eclipse memes have become a new internet genre over the past few days. One of the most famous versions is a video showing one woman holding up a light-colored pug puppy as a black pug puppy moves in front of it. It's been shared thousands of times and must be labeled extremely cute.