Trump Economic Adviser Says Britain, Europe to Blame for Stock Market Woes, U.S. Has 'Regained Control' of COVID
White House economic adviser Larry Kudlow said that unlike in Britain and Europe, there are no concerns over stock markets in the U.S.
"There's some worries that Britain might shut down," he told reporters at the White House on Monday. "It's coming out of London. I can't verify it. It's not my job, but I read the reports like everybody else and I think that's a great concern."
"The USA is in a much better position, thankfully. We've regained control of the virus, both the cases and the fatalities," he added. "But I think people are worried about Britain, and maybe the rest of Europe as well."
The U.K. economy was one of the major economies hit hardest by the coronavirus pandemic. According to the Organization for Economic Co-Operation and Development, the U.K.'s GDP saw a 20.4 percent decline between April to June.
When the U.K. published its second-quarter GDP figures in August, Chancellor Rishi Sunak told the BBC that the U.K. had performed worse than the rest of the economies across the EU because of the nation's focus on services, hospitality and consumer spending.
The U.K. Treasury declined a request for comment from Newsweek.
Kudlow said that while the battle to get the economy back to where it was before the global health crisis is ongoing, the U.S. is "in a self-sustaining, strong, V-shaped recovery."
He stated that unemployment across the country has decreased 8.4 percent and that 10 million jobs have been created in efforts to stimulate the economy.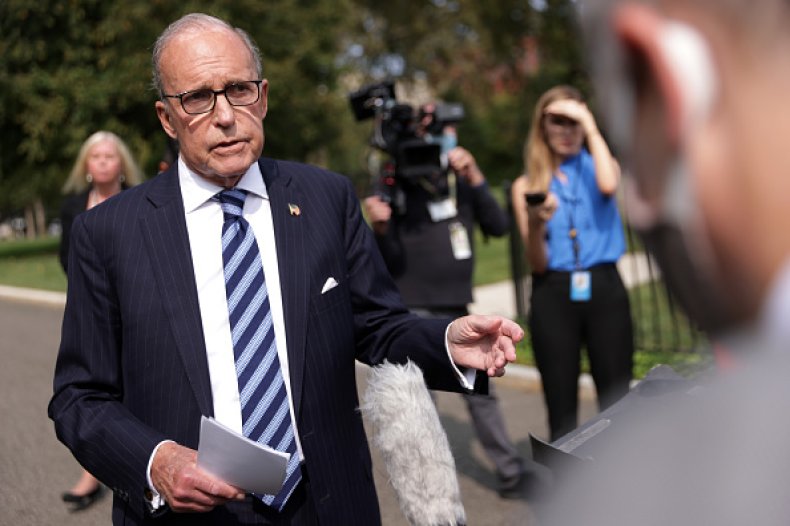 President Donald Trump's adviser also said that a second coronavirus relief package could help the country's economic recovery, but is not necessary.
"There's certain things that can help, but I do not think the recovery is contingent on that assistance package," he told reporters.
Elements he thinks would be worth negotiating include the extension of the Paycheck Protection Program for small businesses and direct stimulus checks to individuals, but highlighted that as long as the economy remains open, it will continue to recover from March.
"As long as businesses keep open and stay open, we're in much better shape than we were, although we've got a lot of work to do," Kudlow said.
Congress has continued to stall negotiations for a second stimulus package. After failed efforts from both House Democrats and Senate Republicans, backers of a bipartisan bill are hoping to finally strike a deal between sides.
The bill has gained the support of Trump who said he "agrees with a lot" of the $1.5 trillion package. However, House Speaker Nancy Pelosi refuses to budge on her $2.2 trillion proposal.
This story was updated on September 22 with the U.K. Treasury's decline of a request for comment.