Donald Trump's Economic Advisers: 11 Businessmen, One Economist, Zero Women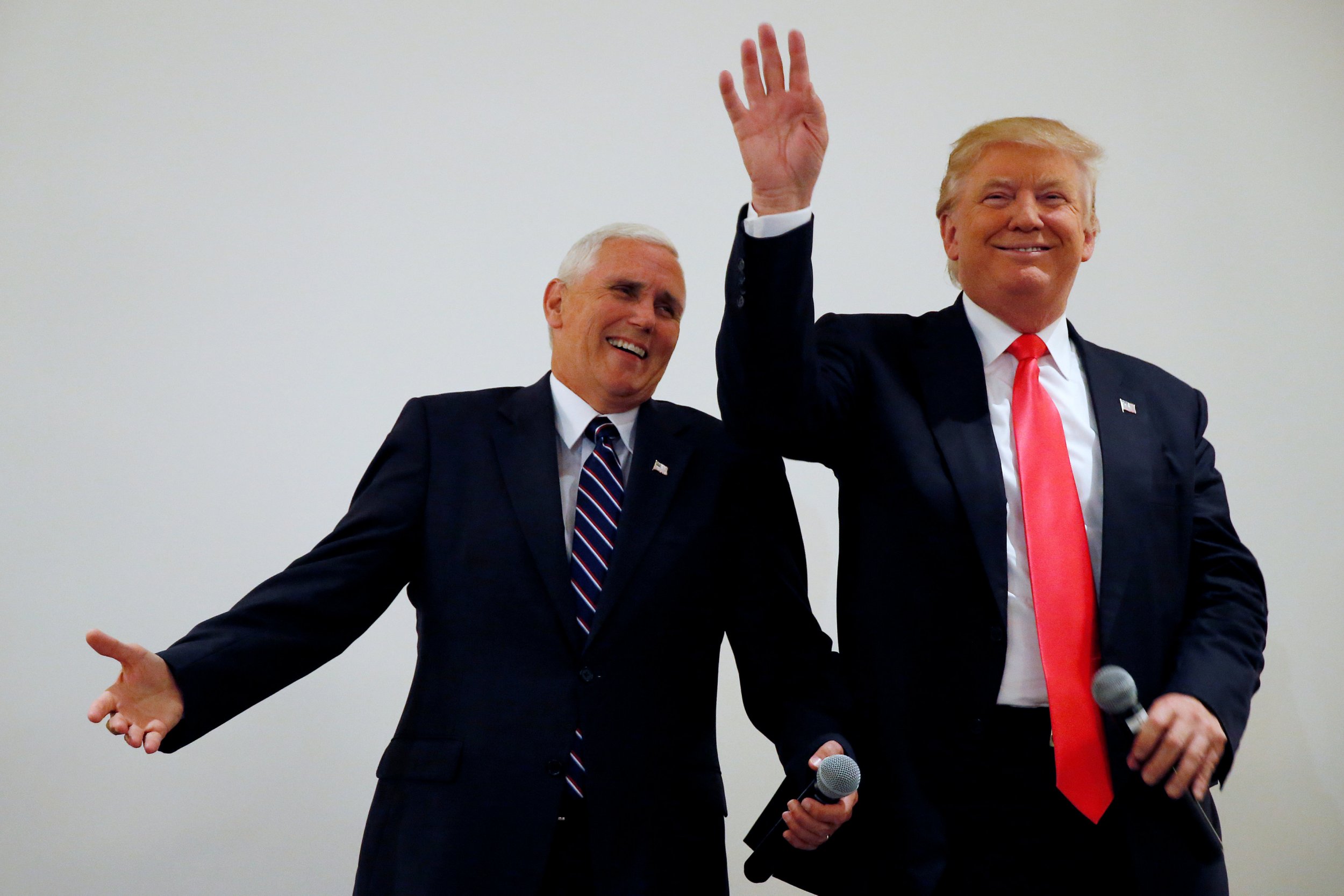 Donald Trump unveiled his economic advisory council Friday morning, three days before he's scheduled to take the stage at the Detroit Economic Club for a speech laying out his ideas for "revitalizing the American economy." Perhaps not surprisingly, given his business background, his roster of advisers is heavy on CEOs and financiers and short on actual economists—just one of the 13 members of the team holds a Ph.D. in economics.
The bulk of the advisory team is millionaire and billionaire investors. They include Steve Mnuchin, the Trump campaign's finance chairman, who heads up his fundraising operation, and fellow hedge fund executives John Paulson and Steven Feinberg. They are interesting selections considering Trump during the Republican primary repeatedly promised to go after the tax breaks that benefit hedge fund managers, suggesting they were "getting away with murder."
Other wealthy bankers and investors on Trump's new council: Steve Roth, Howard Lorber, Tom Barrack, Stephen M. Calk and Andy Beal. Oil and gas billionaire Harold Hamm, a top Trump energy adviser, is also included.
The one Ph.D. economist on the roster is Peter Navarro, a professor of economics and public policy at the University of California, Irvine. George Mason University economics professor Tyler Cowen described Navarro as "a successful but not famous academic" in a column for Bloomberg View.
"In reality, he has been one of the most versatile and productive American economists of the last few decades, and has played a leading role in turning the Republican Party away from what's left of its historical optimism about U.S.-China relations," Cowen wrote.
Stephen Moore, the conservative economic writer and analyst; David Malpass, deputy assistant treasury secretary under President Ronald Reagan; and Dan DiMicco, former CEO of Nucor Steel, round out Trump's advisory team. As others have already pointed out, all 13 members are men.
The state of the economy is poised to be a significant variable in the November election, though one that neither candidate has much control over. The uneven recovery from the 2008 economic crisis and this spring's sluggish economy have given Republicans a cudgel for attacking President Barack Obama and the woman he hopes will be his successor, Democratic presidential nominee Hillary Clinton. In his release Friday morning, Trump said his speech in Detroit on Monday will "focus on empowering Americans by freeing up the necessary tools for everyone to gain economically" and "will stand in stark contrast to Clinton's same, stale big government policy prescriptions that have choked economic growth in America."
New economic numbers out Friday morning, however, give Clinton reason to smile. The Labor Department reported higher-than-expected job growth in July, with the economy adding 255,000 jobs last month. Coming on the heels of strong growth in June, it's prompting hope that the U.S. economy is back on the right track. And the better the economy going into November, the stronger Clinton's argument to stay the course, rather than risking the future on a wild card like Trump.
The Trump campaign, meanwhile, is built on painting the gloomiest picture possible of current affairs. In response to the news of July job growth, Trump's senior policy adviser, Stephen Miller, issued a statement saying the U.S. remains "in the middle of the single worst 'recovery' since the Great Depression. We have the lowest home ownership rate in 51 years. The number of workers who work part-time because of poor business conditions increased by 5.8 percent last month. 102 million people are either outside the labor force or unemployed." And Miller blamed the media and "the Clinton Machine" for trying to portray "an economy that doesn't exist for most Americans—it's an economy enjoyed by her donors and special interests."