The United States economy grew by a whopping 4.1 percent last quarter, and President Donald Trump took to the podium Friday morning, giving a speech in the White House South Lawn where he took credit for the growth and promised that the high numbers would be sustained throughout his presidency. Leading economists, however, are not so sure.
"This isn't a one-time shot," Trump told reporters. "I happen to think we're going to do extraordinarily well in our next report, next quarter."
"I don't think that's right," Jared Bernstein, a senior fellow at the Center on Budget and Policy Priorities and former chief economist to Vice President Joseph Biden, told Newsweek. "Exports got a boost from farmers who were selling their agricultural products to our trading partners ahead of the tariffs, and government spending that we put on the national credit card is producing growth as well. But the underlying trend is closer to 2.5 percent."
Josh Bivens, director of research at the Economic Policy Institute, agreed that growth at this level is not sustainable in the long run. "Economic growth is determined by the labor force and productivity and no one thinks productivity is going to rise more than 1.5 or 2 percent and no one thinks the labor force can grow faster than 1 percent," he told Newsweek.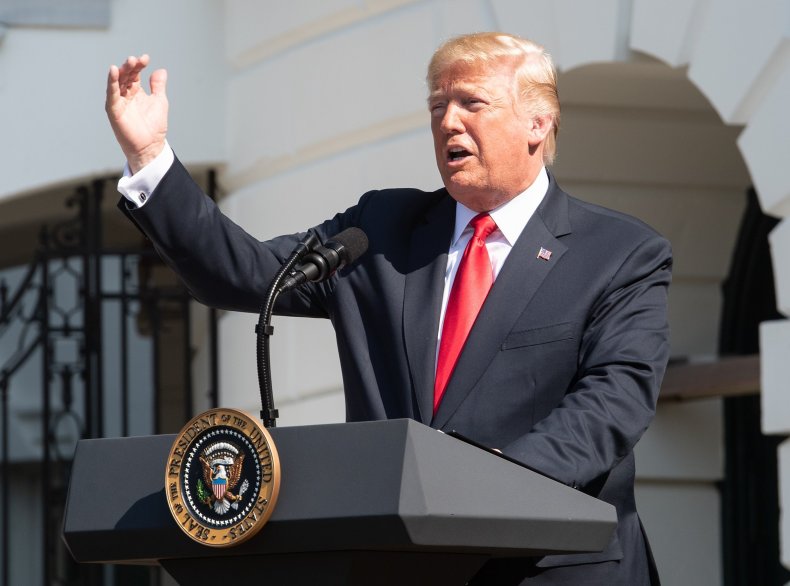 Bivens pointed out that this level of growth is not as unusual as Trump says it is. "We've had six months of growth right around 3 percent," he explained. "That has happened plenty of times before, and it's settled back down."
"Back in 2014 there were a couple of quarters with 4.5 and 5 percent growth," agreed Bernstein. "Any quarterly GDP report can be an outlier, you have to average out the dips and pops over the long term to see if there's a pattern of sustained growth."
Trump credited the increase in growth to his tough trade policy and increased tariffs on American allies. "I'm honored to see the trade deficit shrink so much," he told reporters. Exports grew by 9.3 percent in the second quarter of 2018, while imports only grew by 0.5 percent, shrinking the trade deficit by about $50 billion.
"We're on track to hit the highest annual average growth rate in over 13 years and I will say this right now, and I'll say it strongly, as the trade deals come in one by one, we're going to go a lot higher than these numbers and these are great numbers," Trump said.
"He got that one upside down," explained Bernstein. "The trade war is likely to slow overall growth a bit due to its disruption of trade flows. It's widely recognized that this spike in exports was farmers trying to avoid the impact of the tariffs, so it doesn't seem that this is the success of his actions."
Soybean exports, for example, increased nearly 50 percent year-over-year in the second quarter. It seems unlikely that it was the demand that drove those exports, but instead a fear of increasing prices.
In the third quarter of 2018, the Trump administration has had to administer a $12 billion bailout to farmers hurt by the trade wars. "The math is simple. You tax soybean exports at 25 percent, and you have serious damage to U.S. farmers," said John Heisdorffer, a president of the American Soybean Association (ASA), in a statement.
The president also credited his $1.5 trillion in tax cuts for boosting the economy, but economists worry that while excessive borrowing will superficially boost the economy, it cannot be sustained without mounting repercussions.
"One quarter's GDP estimates hardly indicate that the economy is experiencing the sustained, broad-based growth that tax cut proponents promised would happen," wrote the Center for American Progress in a statement. "Indeed, as the wage data show, the economy's gains have not trickled down to regular workers. In fact, President Trump's policies have only made it harder for them to get ahead."
Deficit watchdog group, Committee for a Responsible Federal Budget, agreed with that sentiment. "This rapid growth is largely the effect of a one-time sugar high and is not representative of likely growth over the course of the next year, let alone the next decade," they wrote in a statement. "Most analysts continue to estimate that real GDP will grow by about 3 percent this year and by 2 percent or less annually over the next decade."
Senator Martin Heinrich, ranking member of the Joint Economic Committee added in a statement that this increase in GDP does not make a difference in America's growing levels of inequality. "The Republican tax law benefits corporations and the wealthiest among us, all while working families continue to see little or no change in their wages," he explained.