White House Economist Warns Coronavirus Price Gougers Exploiting Medical Supplies Shortage That The Government 'Is Going to Come for You'
White House economist Peter Navarro has issued a warning to "brokers" looking to exploit the medical supply shortage amid the coronavirus outbreak: "We're gonna come for you."
Speaking at a White House press conference on Sunday on the government's efforts to address the spread of COVID-19, Navarro, who serves as assistant to the president for manufacturing and trade policy and as director of the Office of Trade and Manufacturing Policy, said he had received a number of "disquieting" calls about "brokers" stockpiling medical supplies only to resell them at exorbitant prices.
"Brokers are offering millions of items, whether they're goggles, masks, whatever," Navarro claimed.
The White House economist said buyers could "go through three different brokers tracing to a warehouse in L.A. that's allegedly got ten million masks."
However, he said, "they want to charge seven times what they cost. That's price gouging."
Navarro suggested that the government would be going after anyone caught selling medical supplies at such costs, offering a warning "message to the hoarders."
"If you've got any large quantities of material that this country needs right now, get 'em to market or get 'em to us. We'll pay you a fair price," he said. "But if you don't do that, we're gonna come for you and make sure that doesn't happen in this country."
Navarro said that cracking down on brokers selling high-priced medical supplies would be a "good use of the Defense Production Act," which authorizes the president to requisition property and to force industries to expand production of basic resources and dedicate raw materials to national defense efforts.
Trump has so far rejected growing calls to directly use the DPA in response to the coronavirus outbreak.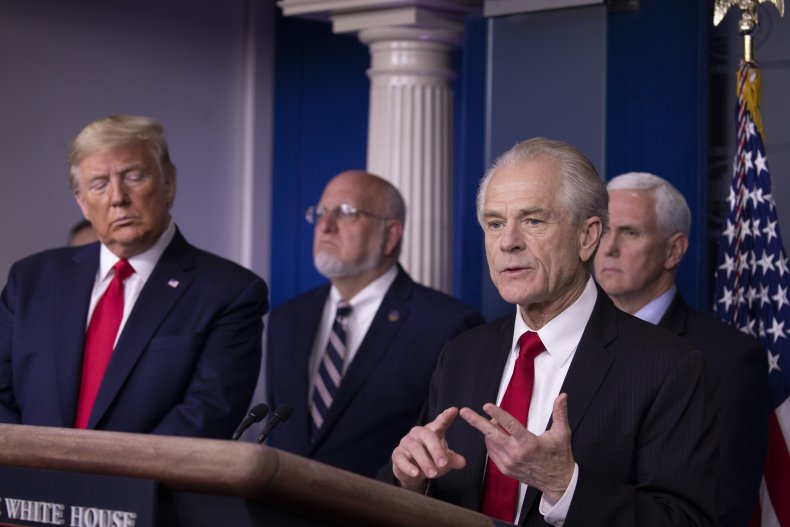 At the same press conference on Sunday, the president said that he has used the act as leverage when negotiating with companies called on to produce supplies to help address the outbreak.
However, he said that he was concerned about potentially "nationalizing" industries, though that is not what the act sets out to achieve.
"We're a country not based on nationalizing our business," Trump said. "Call a person over in Venezuela," he added. "How did nationalization of their businesses work out? Not too well."
Despite Trump's resistance, hospitals have called on the president to invoke the act and force the production of much-needed medical supplies.
While private companies have risen to the challenge to speed production, healthcare providers have repeatedly warned that supplies are running dangerously low.
"We urge that the Defense Production Act be fully employed," American Hospital Association CEO Rick Pollack told reporters in a call on Saturday, according to The Hill.
Pollack said the situation had become so desperate that "we have people that are making masks at home and donating them to the hospital."
During Sunday's briefing, Trump said the U.S. would be ramping up its efforts to combat the coronavirus outbreak in other ways, including deploying the National Guard to states most affected by the outbreak.
As of early Monday morning, there had been 35,224 confirmed cases of coronavirus identified in the U.S., with 471 cases resulting in death, according to an online tracker maintained by the Johns Hopkins University. Globally, there have been over 350,000 confirmed cases, with over 15,300 deaths, and 100,000 recoveries.
World Health Organization advice for avoiding spread of coronavirus disease (COVID-19)
Hygiene advice
Clean hands frequently with soap and water, or alcohol-based hand rub.
Wash hands after coughing or sneezing; when caring for the sick; before, during and after food preparation; before eating; after using the toilet; when hands are visibly dirty; and after handling animals or waste.
Maintain at least 1 meter (3 feet) distance from anyone who is coughing or sneezing.
Avoid touching your hands, nose and mouth. Do not spit in public.
Cover your mouth and nose with a tissue or bent elbow when coughing or sneezing. Discard the tissue immediately and clean your hands.
Medical advice
If you feel unwell (fever, cough, difficulty breathing) seek medical care early and call local health authorities in advance.
Stay up to date on COVID-19 developments issued by health authorities and follow their guidance.
Mask usage
Healthy individuals only need to wear a mask if taking care of a sick person.
Wear a mask if you are coughing or sneezing.
Masks are effective when used in combination with frequent hand cleaning.
Do not touch the mask while wearing it. Clean hands if you touch the mask.
Learn how to properly put on, remove and dispose of masks. Clean hands after disposing of mask.
Do not reuse single-use masks.
White House Economist Warns Coronavirus Price Gougers Exploiting Medical Supplies Shortage That The Government 'Is Going to Come for You' | U.S.