Trump Promises Relief for Poor, but Proposals Benefit Rich Most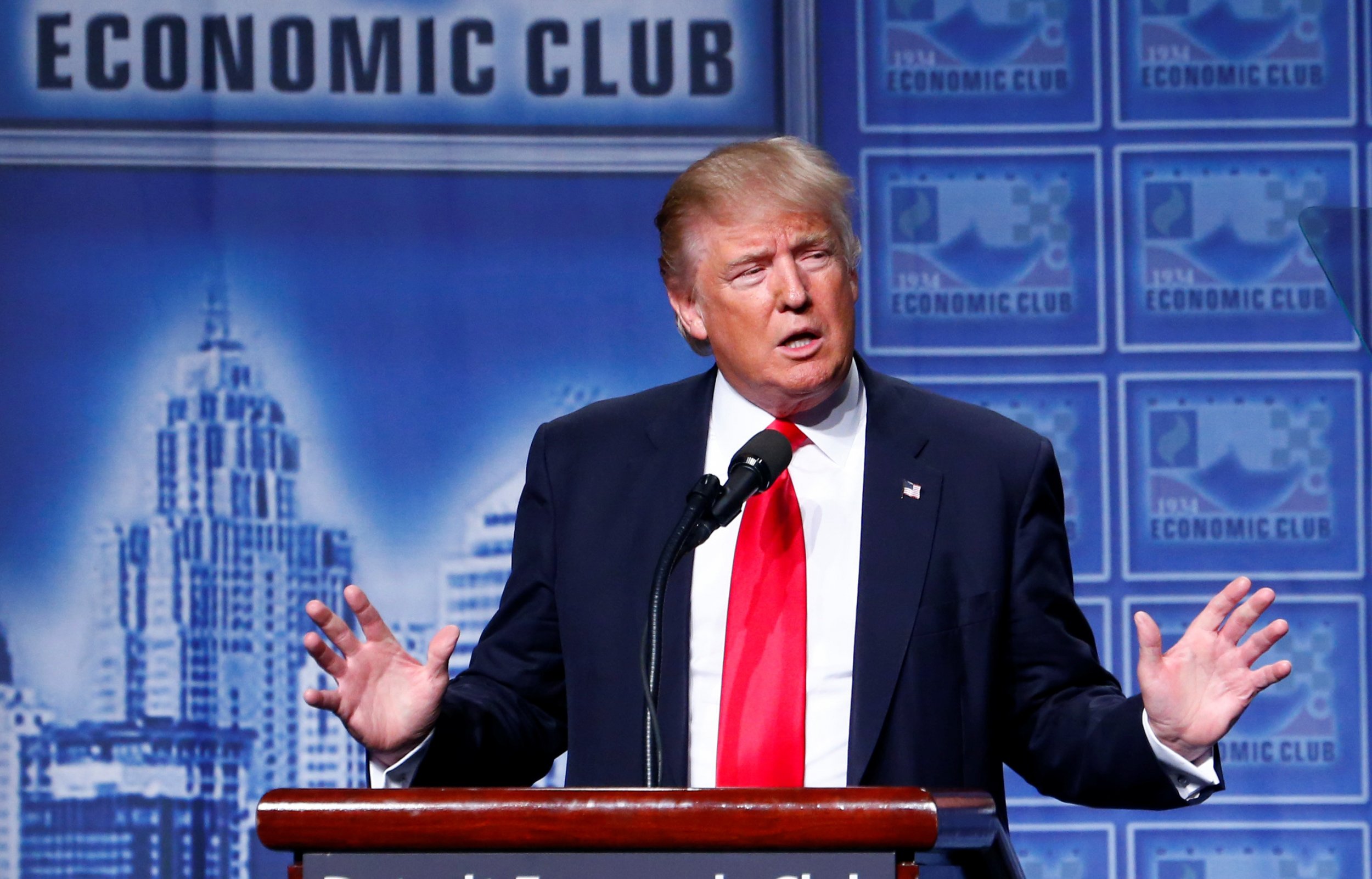 Donald Trump on Monday afternoon used the blighted city of Detroit as the backdrop for a speech laying out his economic vision, seeking to hold up the city as a symbol of the failures of Democratic leaders and their policies. But Trump's proposals—most of which he's outlined previously—would bring little direct benefit to the unemployed, to low-income workers or to other victims of the supposed government neglect that he decried in his remarks.
"The city of Detroit is the living, breathing example of my opponent's failed economic agenda," Trump declared in the opening moments of his speech. "Every policy that has failed this city, and so many others, is a policy supported by Hillary Clinton," he said, pointing to the Democratic presidential nominee's proposed tax increases on the wealthy, support for environmental regulations and past endorsements of free-trade deals.
The main new plank Trump outlined Monday—a tax deduction for families' child care costs—would disproportionately benefit wealthy and middle-class Americans, who owe income taxes each year. Almost half of Americans do not make enough money to pay income taxes, and thus they would not reap any benefit at all. The Republican presidential nominee said he also plans to roll out new proposals in the next few weeks to increase child care choice and reduce its costs, plans that he said he's been working on with his daughter, Ivanka. The younger Trump, mother of three children, made an impassioned speech at the Republican convention in Cleveland last month calling for policies to support working mothers and families, which her father has only tentatively embraced.
In addition to his child care tax deduction, Trump promised Monday to get rid of the estate tax—which he labeled the "death tax"—the levy on property transfer to heirs upon a person's death. This idea would also benefit the wealthy, as the tax currently applies to only estates worth more than $5.45 million.
Trump also promised to reduce and streamline the tax rates for workers and businesses, offering an updated version of the tax plan he released last fall, which is now in line with House Republican proposals. His proposed cuts to the income tax—establishing three brackets instead of the current seven, at 12 percent, 25 percent and 33 percent—would slash taxes for Americans across the board, but wealthy individuals would reap the biggest windfall in terms of savings. Businesses also would enjoy big savings with his proposed flat 15 percent tax.
Trump's basic rationale is that of trickle-down economics, popularized by Republican President Ronald Reagan in the 1980s. As the real estate tycoon explained it Monday, "Our lower business tax will also end job-killing corporate inversions, and cause trillions in new dollars and wealth to come pouring into our country—and into cities like Detroit.
"No one," Trump continued, "will gain more from these proposals than low- and middle-income Americans."
Adding to that, Trump doubled down on his promises to walk away from free-trade deals, both existing and pending. That includes NAFTA, the 1994 deal with Canada and Mexico, which he has promised to renegotiate or exit; and the Trans-Pacific Partnership, a 12-country deal with Asian and Western Hemisphere countries that Congress has yet to approve. "Hillary Clinton has supported the trade deals stripping this city, and this country, of its jobs and wealth," Trump said Monday. "She supported Bill Clinton's NAFTA, she supported China's entrance into the World Trade Organization, she supported the job-killing trade deal with South Korea, and she supports the Trans-Pacific Partnership." Trump also reiterated his pledges to get tough with China over its trade and currency policies.
Many economic and trade experts worry those sorts of move could start a new round of trade wars with some of the top exporters to the United States, sending prices of consumer goods here skyrocketing. That would disproportionately hit poor and working-class Americans, for whom things like groceries and clothing represent a higher percentage of their monthly income than for wealthier people. Tom Donahue, CEO of the Chamber of Commerce, a GOP-leaning business group that has repeatedly tangled with Trump this summer, issued a prebuttal to Trump's speech, warning that increasing tariffs on foreign imports, as Trump has proposed, "would cause the loss of up to 4 million American jobs and impose a regressive consumption tax on the typical American family of more than $2,000 annually."
Trump, however, promised Monday that such policies would bring back trillions of dollars and millions of jobs to the United States, particularly in Michigan, whose economy has been hit hard by the decline of the U.S. manufacturing sector. He pointed out that the automobile sector, in particular, has been hurt by low-cost foreign competition. That message has proved to have some resonance with voters in Rust Belt states, not only in Michigan but also in places like Indiana, Pennsylvania, Ohio and Wisconsin. This is raising hopes that Trump may be able to snatch some states that have gone Democratic in recent presidential years, like Michigan.
Detroit, however, is a different story. Trump was heckled repeatedly throughout his speech on Monday, stopping at least a dozen times while he waited for shouting protesters to be escorted out of the Detroit Economic Club. The heavily Democratic city is over 80 percent African-American. And a McClatchy-Marist poll released last week showed Trump winning just 2 percent of the African-American vote nationally. Making up that ground elsewhere in Michigan will be a tall order.