Trump's Economic Bravado Fails to Convince Americans of a Swift Recovery: Poll
Despite President Donald Trump's confidence of a swift improvement in the U.S. economy, most people believe it will take more than a year for it to fully recover from COVID-19, according to a recent poll.
Trump has long touted the state of the economy pre-pandemic as an achievement, insisting that he built it once and will do so again. He previously suggested that third quarter GDP figures would be positive, welcoming the fact they are due for release just days before the election.
In remarks made over the weekend, Trump said the "economy is going to set records. And if stupid people aren't elected next year, we're going to have one of the greatest years that we've ever had."
However, despite these assurances, results from the August FT-Peterson US Economic Monitor showed the majority of those asked think it will take more than a year for a recovery to be completed.
Of 1,001 people asked nationwide, 66 percent said they think it will take at least a year. Most said between one and two years, at 31 percent, while 21 percent said two to five and 14 percent said more than five years.
The lowest response was 3 percent for within three months. Some 9 percent said between three and six months and 22 percent said between six months and one year.
Newsweek has contacted the White House and the Trump campaign for comment.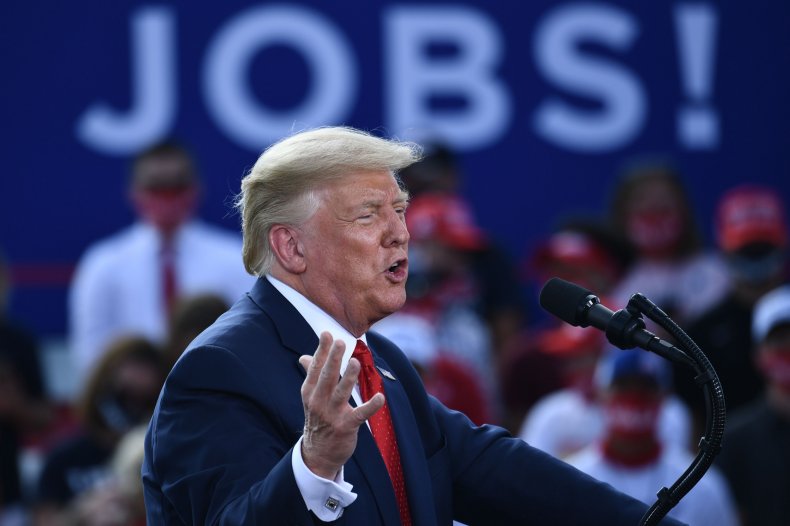 The economy had long been a point on which Trump led in the polls, despite trailing Democratic presidential candidate Joe Biden in terms of the general election polling on most other issues.
Biden, however, has gained on Trump, with surveys on this point now putting them closer to being equally trusted, and has taken aim at the point in a bid to boost his standing.
The Democrat has directly challenged Trump on the issue, suggesting he "can't turn the economy round."
Trump has also faced a lack of faith that his policies are boosting the economy, with separate polling recently suggesting many people think his actions are making things worse.
Nearly half, 48 percent, of those asked in a CBS/YouGov poll conducted from July 21 to 24 said the Trump administration was worsening the situation.
The COVID-19 crisis has spurred a major economic downturn, with U.S. GDP plunging more than 30 percent in the second quarter.