Trump Education Secretary DeVos Says Department She Led 'Should Not Exist'
Betsy DeVos, the widely criticized former education secretary under Donald Trump, said during a keynote address on Saturday that the department she once led should not exist.
DeVos on Saturday spoke at the "Moms for Liberty" summit in Tampa, Florida. Lasting three days, the event featured numerous prominent right-wing figures and claimed to instruct attendees from 30 states on how to lead so-called "parental rights movements," according to the Florida Phoenix. The goal of these movements is to ultimately form conservative majorities on local school boards.
"I personally think the Department of Education should not exist," DeVos said during her keynote, prompting attendees to stand up and cheer, according to the Phoenix.
During her keynote, DeVos argued that, in place of the federal Department of Education, state governments and local school boards, like the ones of the summit aims to stack with conservative voices, should be given full control over schools.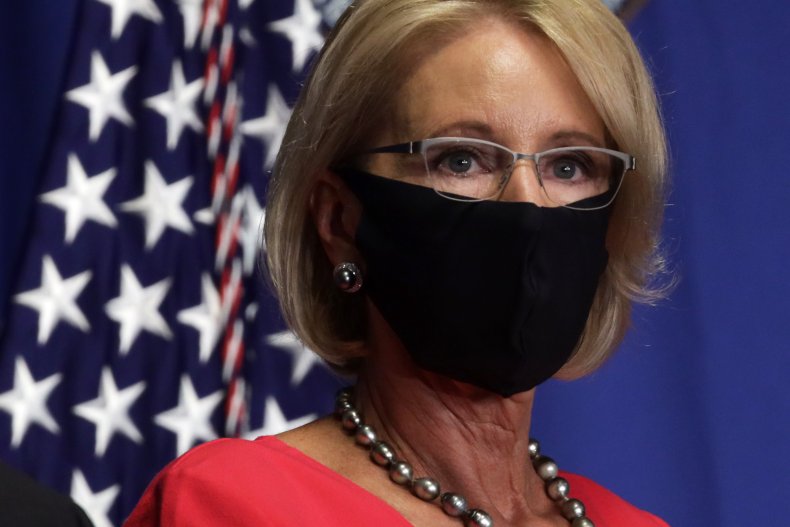 DeVos was among the numerous controversial cabinet appointees made during the Trump administration. As a longtime advocate of charter schools and school voucher programs, many criticized DeVos as a choice to lead a department she had arguably worked to undermine. During her tenure in the role, she continued to advocate for charter schools as "education freedom."
She ultimately departed the position before the end of the Trump administration, the second cabinet official to resign in the wake of the January 6 capital riots, after Transportation Secretary Elaine Chao.
Moms for Liberty is among the numerous "parental rights" group formed during the COVID-19 pandemic, largely in opposition to measures like mask and vaccines mandates for students. Florida, under the leadership of GOP Governor Ron DeSantis, has introduced numerous measures to curb the authority of public schools under the guise of parental rights. This has included bills that ban mask mandates, ban the teaching of critical race theory, and the infamous "Don't Say Gay" bill, which limits the ability of faculty to acknowledge gender identity and sexuality topics.
Among the other sessions on offer at the Tampa summit were ones "focused on legal defense of parental rights over school-board authority," according to the Phoenix, as well as methods to combat "gender ideology, in our schools," "social and emotional learning," and "restorative justice."
Moms For Liberty co-founder Tiffany Justice, who spoke with DeVos during her address, insisted that the group supports teachers, despite referring to teachers' unions as the "K-12 cartel."
Newsweek reached out to the White House for comment.