Donald Trump's 2005 Remarks Put GOP Senate in Jeopardy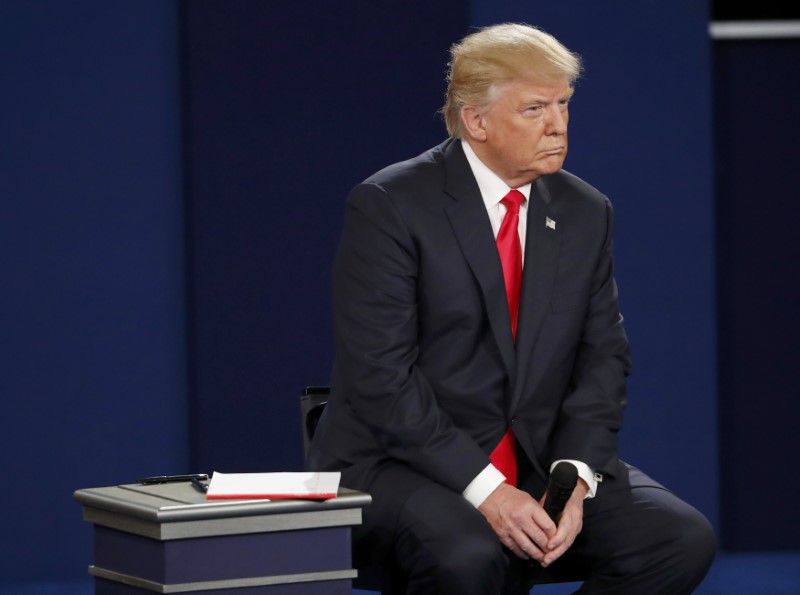 One of the surprises of this election season has been that GOP Senate candidates have proved remarkably buoyant even as Donald Trump's scandals have dragged down the party's chances of taking the White House. However, the taint of the latest Trump imbroglio—the release of a video on which he boasts of treating women in a manner that seemingly amounts to sexual assault—may be too much for them to slough off. It could end up handing Democrats control of the Senate in addition to the presidency.
Republican lawmakers have roundly criticized Trump's remarks since The Washington Post published the 2005 video Friday evening. On it, Trump is recorded joking in crude terms with then-Access Hollywood host Billy Bush about kissing women and grabbing their genitals, uninvited. Several Republicans in competitive Senate races have pulled their support for Trump altogether, including incumbents Kelly Ayotte in New Hampshire, John McCain in Arizona and Rob Portman in Ohio, as has U.S. Representative Joe Heck, who is running for the open Senate seat in Nevada.
A number of other senators—Richard Burr of North Carolina, Marco Rubio of Florida, Pat Toomey of Pennsylvania and Ron Johnson of Wisconsin, as well as Representative Todd Young, who is running in Indiana—haven't yet gone that far.
Democrats and their allies are signaling it doesn't matter how much Republicans now try to distance themselves from Trump; they are going to tie these candidates to the GOP presidential nominee and his remarks, regardless. Not 24 hours after Trump's comments came to light, the liberal group MoveOn.org posted ads on Facebook, YouTube and Twitter that used snippets of the 2005 video to attack Ayotte, McCain, Portman, Toomey, Burr and Heck. "Defeat Trump-Ayotte," the one targeting New Hampshire voters reads, "Vote Clinton-Hassan," referring to Democrat Maggie Hassan.
The line Democrats are repeating is "Too little, too late." After McCain rescinded his endorsement of Trump over the weekend, his Senate challenger, Ann Kirkpatrick, issued a statement dismissing the move. "For more than a year, McCain stood by Donald Trump, pledging his support more than 60 times," Kirkpatrick said. "He missed the chance to show political courage and lead. He failed that test. Now, it's too late, John McCain."
Such attacks may succeed where other attempts to tie Republicans to Trump have failed because they play to women, a voting group the Democratic Senate contenders need to better woo in order to have a shot at winning. Trump is facing a historic gender gap in the presidential race, losing to Hillary Clinton among women by 20 percentage points or more, according to the latest polls. But with a couple of exceptions—the Florida race between Rubio and Representative Patrick Murphy, most notably—Democrats seeking Senate seats have not been able to build on that same advantage with female voters, even though Democrats are running women in several of those races. A CBS News poll conducted just before Trump's 2005 comments surfaced showed Pennsylvania Democratic candidate Katie McGinty leading Toomey by only 4 percentage points among women, for example.
"You will see, in the average Senate race, women voting about 10 points for the Democrat and, in a close race, men voting about 8 or 10 points…for the Republican," veteran Democratic pollster Celinda Lake said during a panel in Washington, D.C., last week hosted by Politico. Clinton, however, is performing far better than that against Trump, particularly among married women and older women of the baby boom era. "Democrats, in the last eight years, have had trouble with older voters, and what's protected them a little bit is older women, who have been voting more Democratic," she said. "This strength that Hillary Clinton has with baby boomer women is something that Democrats, if they're going to win in Senate races, have to follow."
Thanks to Trump, they now have their best opening yet to mobilize those women. In addition to the extensive news coverage of the 2005 video over the weekend, the Republican nominee has recently attacked a former Miss Universe over her weight gain, and other footage was unearthed of Trump objectifying his own daughter. It was all capped off by record-setting viewership for Sunday night's debate, in which Trump hosted three women who have accused Bill Clinton of sexual assault and dismissed his own comments as just "locker room talk."
On the flip side, there is a growing risk for Republicans that their supporters, disgusted by Trump but still staunchly opposed to Clinton, will just stay home on Election Day. That could be devastating to the GOP's hopes of holding on to Congress. In the Senate, the party holds a slim 54- to 46-seat lead, meaning Democrats need to win back just four seats if Clinton wins the White House (a Democratic vice president would break the tie).
While Republicans have pulled comfortably ahead in Ohio, Republican incumbents in North Carolina and Missouri are looking unexpectedly vulnerable, and Democrats also have a slight edge in the open race to replace a retiring Republican senator in Indiana. In Pennsylvania, New Hampshire, Illinois, Wisconsin and Florida, Republican incumbents are fighting for their lives.
There's even a risk, albeit much smaller, that a large-scale voter boycott of Trump could cost Republicans the House. In that chamber, the party has a 59-seat advantage, meaning Democrats would need to flip 30 seats to win control. Such shifts have happened in the past, but it will be more difficult this time. After the last redistricting, most House districts were redrawn to keep the GOP incumbents safe, leaving fewer competitive swing districts where Democrats have a shot.
Some analysts point out that voters also have a countervailing tendency that could work against Democrats' chances of winning both the White House and Congress in November: They like divided government. Given that Clinton is so unpopular, that may be even more of a priority this election.
"If these tapes make it apparent Clinton will win in November, it will change the perspective of voters," New Hampshire Institute of Politics Executive Director Neil Levesque observed over the weekend. "In this circumstance, the question may be whether voters would want a check and balance on a President Clinton."