Trump, Egypt's el-Sissi in White House Lovefest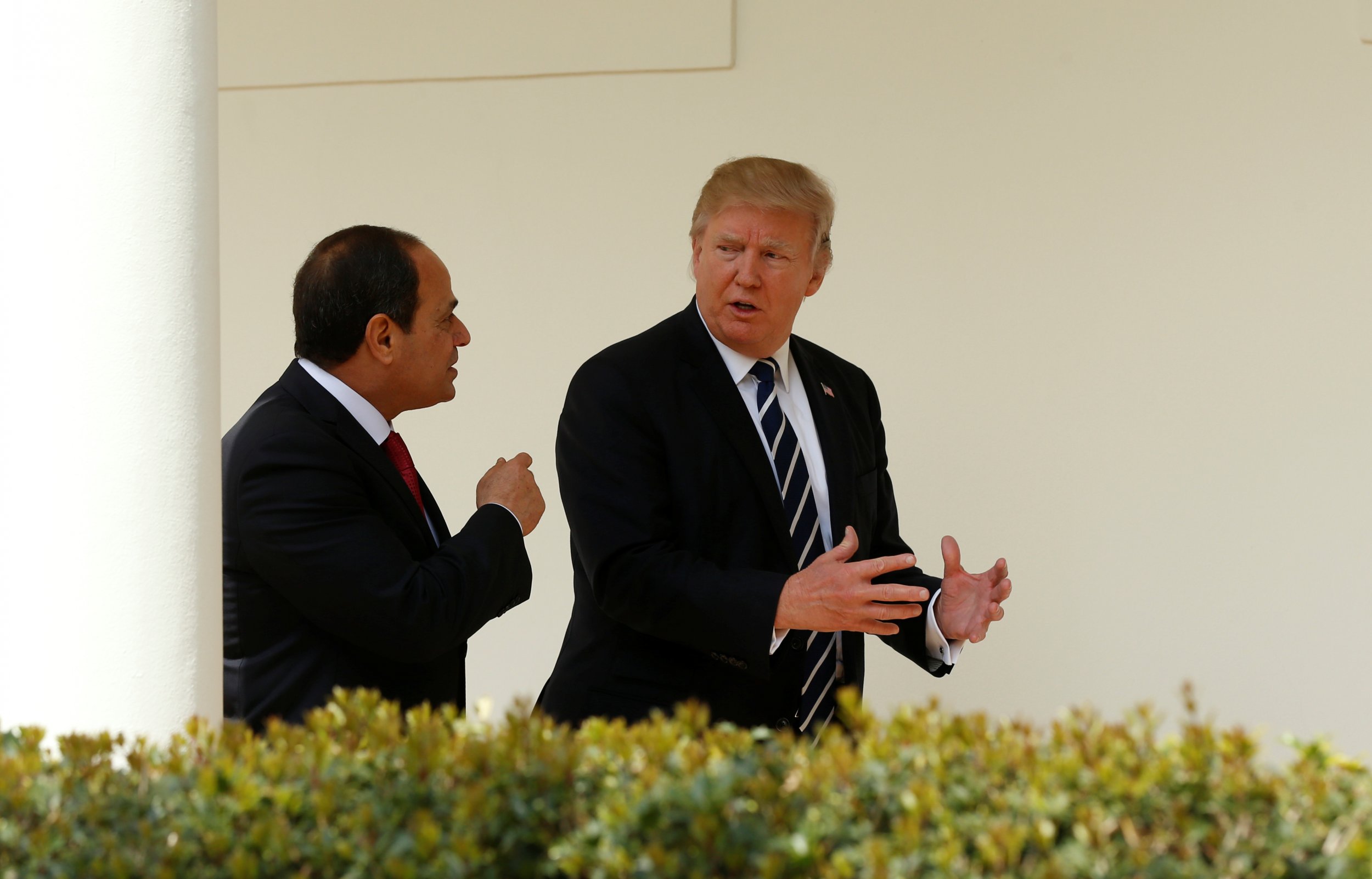 In a dramatic symbolic break with the Barack Obama era, President Donald Trump welcomed Egyptian President Abdel Fattah el-Sissi to the White House on Monday, declaring that the military dictator "has done a fantastic job," despite widespread complaints over his human rights abuses and political crackdown.
The Obama White House did not afford el-Sissi this honor: It is his first visit to the White House and the first visit by an Egyptian leader in more than eight years. By contrast, Trump enthusiastically shook el-Sissi's hand twice in front of photographers in the Oval Office—a gesture he denied to German Chancellor Angela Merkel just last month.
Related: What Egypt's el-Sissi wants from Trump
"I just want to let everybody know in case there was any doubt that we are very much behind President el-Sissi," Obama said, as the two sat next to each other. "He's done a fantastic job in a very difficult situation. We are very much behind Egypt and the people of Egypt."
When el-Sissi took office in 2013, he ended the brief reign of the Muslim Brotherhood, which came to power in 2011 after Hosni Mubarak, who had led the country since 1981, was overthrown—one of many regional leaders who fell during the Arab Spring. While the Obama administration kept foreign and military aid flowing to Egypt, it denied el-Sissi a White House meeting. Such meetings are status symbols for leaders around the world—proof to a leader's citizens of their importance and ability to curry favor with the U.S.
Trump and el-Sissi, who spent his career in the Egyptian military, vowed to work together to fight terrorism. El-Sissi praised Trump as a "strong" leader and vowed that he would "always be beside" the American president in the fight against militants. El-Sissi made an allusion to the Israeli-Palestinian conflict, calling it "the problem of the century" and vowing to help Trump solve it. The president has asked his son-in-law and counselor, Jared Kushner, to take the lead role in America's efforts to end that decades-long standoff (Kushner is in Iraq this week), while Egypt continues to honor the peace treaty it signed with Israel in 1979 (the two nations never developed robust economic and cultural relations, but military and intelligence officials maintain close ties).
The meeting with el-Sissi comes eight years after Obama delivered a major speech in Cairo, directly addressing the Muslim world in an effort to build better relations with its billion-plus citizens. Obama used the dramatic venue to emphasize America's connections to Islam and to note his own childhood in Indonesia, where he lived with his mother and heard the call to prayer. Trump, who had advocated a ban on Muslims entering the U.S. before later modifying his position, made no such overtures in his meeting with the Egyptian leader. Instead, he emphasized his closeness to el-Sissi, noting that they had met during the campaign and that their conversation, scheduled to be quite short, lasted much longer than anticipated.
El-Sissi arrived at the West Wing shortly before noon, where he was greeted by the president. The two met in the Oval Office and then were involved in a larger meeting with their staffs in the Cabinet Room. Among the topics on the agenda, in addition to fighting terrorist organizations, were trade and economic aid. El-Sissi will also meet separately with Secretary of State Rex Tillerson. There will be no joint press conference.