Parents of Baby In Viral El Paso Photo With Trump Were Supporters of the President
The family of a baby whose parents were killed shielding him from the El Paso gunman on Saturday met with Donald Trump during the president's visit to the University Medical Center, where survivors are being treated.
The infant, Paul Anchondo, was discharged from the hospital this week only to be brought back for Trump's visit with victims of the mass shooting. Paul's uncle, Tito Anchondo, said he wanted to meet Trump face to face "to see if he's genuine" in his condolences.
"I want to see his reaction in person," Tito, whose late brother, Andre, was Paul's father, told NPR. "I want to see if he's genuine and see if my political views are right or wrong and see if he feels maybe some kind of remorse for statements that he's made."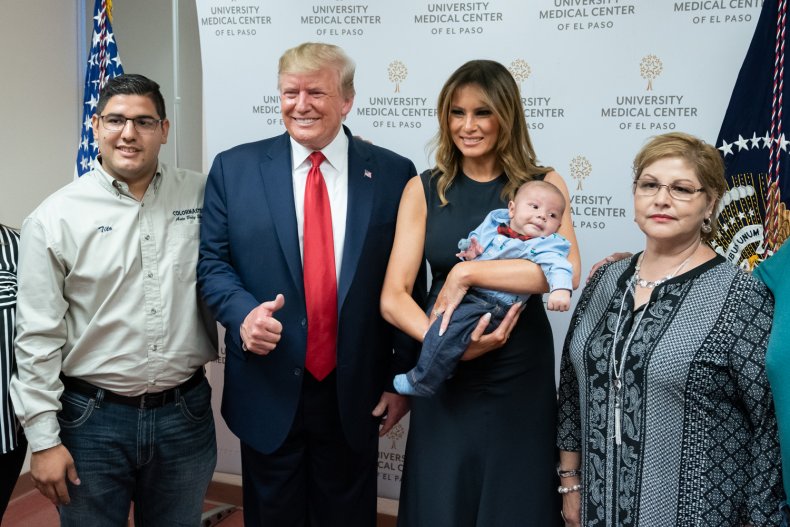 Andre Anchondo and his wife, Jordan, were shopping at Walmart when the gunman opened fire. According to a GoFundMe page set up in the wake of their murders, Andre was shielding Jordan from incoming fire, while she was protecting Paul. The couple also have two young daughters, Skylin and Victoria.
Tito, who raised the possibility of adopting his now-orphaned nephew, said he was volunteering information about his political views with the understanding that, especially as a Hispanic in El Paso, they might not be warmly received.
"People need to know what our feelings are as a family. My brother was very supportive of Trump," he told NPR. "We've always been Republican conservatives in our family. Yes, maybe President Trump has said one or two things that we may not agree with. But in the big scope of everything, I don't think he's been a bad president, in my opinion."
He characterized some of the president's comments as having been "in bad taste" and said he can understand why people are linking Trump's anti-immigrant rhetoric to a xenophobic manifesto allegedly posted by gunman. But, overall, he believes the public is "misconstruing" the president's ideas.
On Wednesday, Tito appeared in a photo next to President Trump and first lady Melania Trump, along with Paul and another Anchondo family member. While the image has received criticism over accusations of opportunism on the part of the president, Tito maintains it was his own decision to be there.
"I do want to speak to the president honestly. I just want to have a human to human talk with him and see how he feels."
Beyond any politicalization of the meeting, Tito emphasized his lone concern in the wake of the tragedy: "I've got to stay strong for my family."