Trump Heading Into 2020 Election With Similar Black Unemployment Rate to Obama
President Donald Trump is heading into the November election with a similar Black unemployment rate to President Barack Obama had in the four months leading up to the 2012 presidential vote.
New data released by the Bureau of Labor Statistics on Friday showed the overall U.S. unemployment rate fell from 11.1 percent in June to 10.2 percent in July, with nonfarm payroll employment rising by 1.8 million last month.
According to the federal agency, marked job increases were recorded in the government, retail trade, hospitality and leisure, health, and service sectors as a result of coronavirus lockdown measures being rolled back.
"These improvements in the labor market reflected the continued resumption of economic activity that had been curtailed due to the coronavirus (COVID-19) pandemic and efforts to contain it," the Bureau of Labor Statistics said in a release.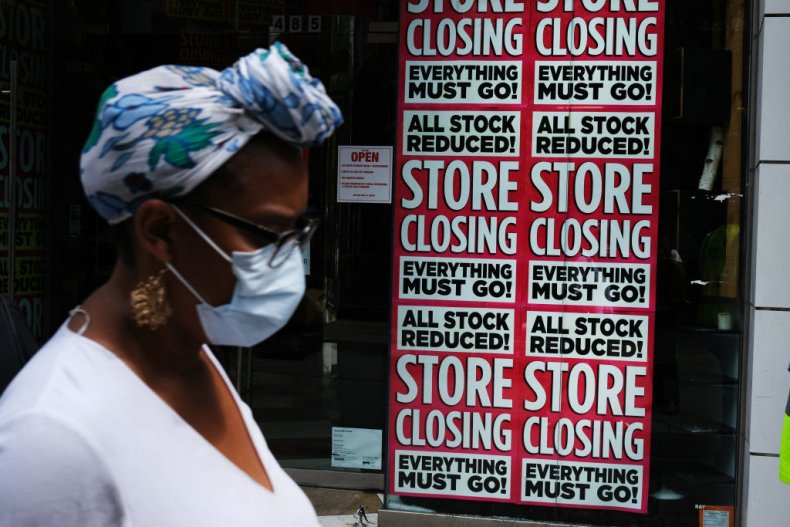 The employment recovery was not felt by every community. The Bureau of Labor Statistics said jobless rates decreased among America's white, Asian, and Hispanic communities, while unemployment in the Black community remained level at 14.6 percent in July.
Reacting to the report, Atlantic Council Senior Fellow Nicole Goldin said: "One troubling factor remains steady as the jobless rate fluctuates from month to month—persistently higher than average unemployment among Black, Hispanic, young, and female Americans.
"The US economy was marked by intergenerational, racial, and gender inequality before the pandemic, and today's report does nothing to alter that reality."
Four months before the 2012 election, Black unemployment stood at a marginally better 14.2 percent under the Obama administration, which was dealing with an economic slowdown and the aftermath of the financial crisis at the time.
The U.S. unemployment rate in July 2012 stood at 8.2 percent, down slightly on the financial crisis peak of 10 percent unemployment in October 2009.
By the time voters went to the polls in November, the jobless rate had only fallen by 0.5 percentage points to 7.7 percent, according to Bureau of Labor Statistics data.
"The nation's job market continued to heal in July, but still has a long way to go. With the gain in payrolls of 1.8 million jobs, this year's jobs deficit has declined to 12.4 million. That's a huge number," Bankrate.com's senior economic analyst Mark Hamrick said.
"As a historical benchmark, we're reminded that a jobless rate of 10.2 percent remains above the 10 percent peak of the Great Recession a decade ago."