Trump Election Fraud Panel Leader Sought To Weaken Federal Voting Rights, Documents Show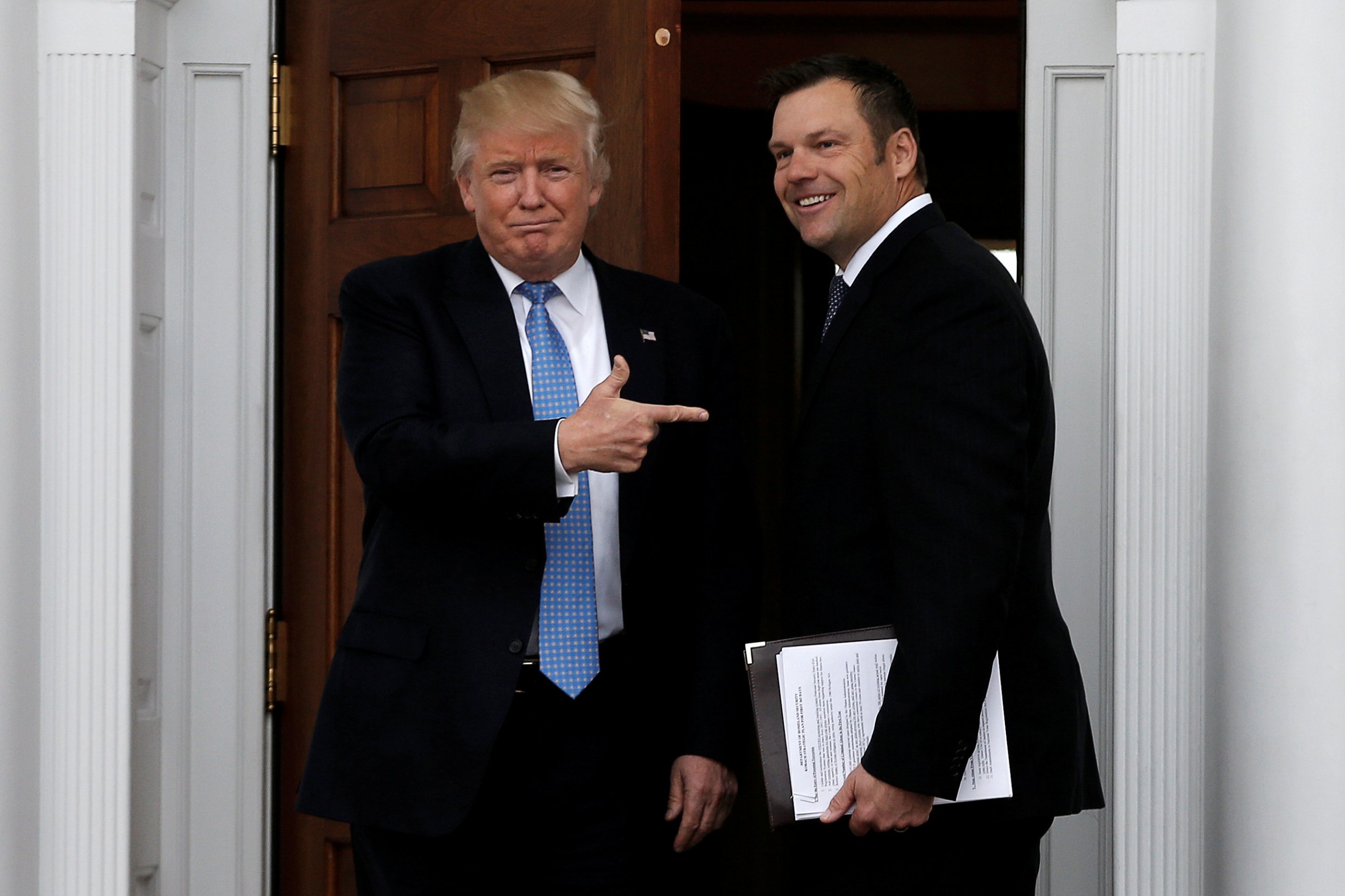 The de facto head of President Donald Trump's voter fraud commission drafted a proposal for the administration to amend the National Voter Registration Act with a proof of citizenship requirement to join the rolls, documents unsealed by a federal judge show.
Though heavily redacted, the two single-page documents that Judge Julie Robinson opened late Thursday shed light on Kansas Secretary of State Kris Kobach's efforts to expand the controversial requirement he implemented in his home state, and possibly even his motives on the commission.
One document—the same one Kobach was photographed carrying into a meeting with President-elect Trump in November—is his strategic plan for the Department of Homeland Security in the first 365 days. The entire document is blacked out except for the final section, "Stop Aliens from Voting," and one point beneath it, "Draft Amendments to National Voter Registration Act to promote proof-of-citizenship requirements."
The American Civil Liberties Union (ACLU) demanded the document and others pertaining to the act as part of its existing lawsuit against Kobach, claiming that his Kansas law effective in 2013 requiring voters to show proof of citizenship violates the act's "minimum amount" of requirements to register.
A federal court issued a preliminary injunction on the law in 2016 ahead of the election. Kobach appealed and tried to keep the documents under wraps.
"We're really grateful that the court has rejected secretary Kobach's months-long effort to hide this information because the public has a right to know of the secretary's efforts to lobby to make it more difficult for individuals to vote," ACLU staff attorney Orion Danjuma told Newsweek.
In the other document, a list of five amendments to the act, Kobach seeks to replace the language, "may require only the minimum amount of information necessary to—" register to vote, with, "may require any information that the state deems necessary to—" register. He also adds, "Nothing in this section shall be construed to prevent a state from requiring documentary proof of citizenship from any applicant."
Kobach imposed the Kansas law on his belief that noncitizens were voting. Little evidence of that has surfaced. The ACLU argued that the statute in the act would have to be rewritten in order for Kobach to have grounds to bar noncitizens from registering.
"He wants to nullify the effect of current federal registration law and give himself a blank check to impose any barriers on voter registration that he wants," Danjuma said of Kobach.
That means people would not be able to get on the rolls without providing a birth certificate, U.S. passport, or other document evincing citizenship.
Research shows that up to seven percent of Americans do not have a birth certificate or U.S. passport and that people without access to such documents proving citizenship are disproportionately minority citizens.
The proof of citizenship requirement blocked more than 35,000 potential voters, or almost 14 percent of all new registrants, from participating over a two-year period, according to an ACLU's lawsuit filed in 2016.
Trump convened his Presidential Advisory Commission on Election Integrity in May to come up with evidence that millions of noncitizens voted in the 2016 election. Danjuma said it's likely that Trump handpicked Kobach as the commission's vice chairman, below the chairman Vice President Mike Pence, because Kobach took issue with the act and sought to amend it.
"He is now in the perfect position to extend what has been a disastrous voter registration law in Kansas across the country," Danjuna said, "And that's why that role is so dangerous and why anything that he says in that capacity should be taken with a pound of salt."
Kobach and his spokeswoman did not immediately respond to requests for comment.
In a Friday morning email to The Kansas City Star, Kobach said that his proposal to Trump and the voter fraud commission's work were not related.
"The document was written long before the commission existed and reflects the opinion of only one member – which is that the federal government should not stand in the way of a state that wants to stop noncitizens from voting," Kobach wrote.