Trump's Election Odds Worsen After Tax Returns Released, Bookmakers Say
Donald Trump's chances of winning the 2020 presidential election have worsened since the revelation about his tax returns was published on Sunday, according to bookmakers.
An investigation by the New York Times claimed the president had paid no federal income taxes in 10 of the previous 15 years and just $750 in federal income taxes in the two most recent years of the newspaper's probe—2016 and 2017.
The Times has not released the records it obtained in order to protect its sources.
Among the report's findings was that Trump's golf courses lost massive amounts of money, which helped lower his tax bill.
Trump responded to the story, calling it "fake news."
After the report broke the president's odds of re-election worsened, according to betting website Oddschecker.
A spokesperson told Newsweek: "Trump's odds lengthened slightly (meaning his chances decreased) from +110 to +120 since the story about his tax returns broke, meaning his implied probability drifted from 47.60 percent to 45.50 percent.
"Simultaneously, Joe Biden's odds shortened from -120 to -130, which in turn boosted his implied chance from 54.50 percent to 56.53 percent."
The spokesperson added: "These may seem like relatively insignificant shifts in the market but a 3.23 percent swing in 12 hours is worthy of attention, especially in the context of the wider market.
"These changes see the gap in odds-implied probability now at 11.03 percent in Joe Biden's favor, the largest lead he has held over Donald Trump in over a month.
"However, the two have yinged and yanged somewhat in recent weeks and Trump cannot and will not be ruled out, even with a double-digit deficit and just five weeks to go until the election."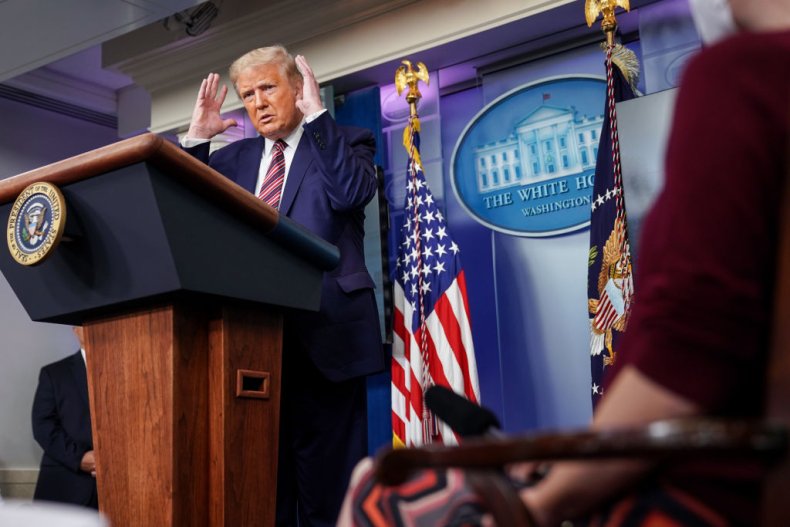 The claims in the Times' article contradict the image the self-proclaimed billionaire has sought to paint of himself as a shrewd businessman.
Among them were suggestions of loss-making businesses, as well as lavish lifestyle expenses such as plane trips and $70,000 in "hairstyling" for TV, which were written off as business expenses.
'Life of luxury'
The report comes at a critical juncture in the election campaign, with just weeks to go until November 3 and the Democratic presidential candidate Joe Biden, ahead in many polls.
Indeed, the president's political opponents immediately moved to capitalize on it.
Democratic Senator Elizabeth Warren tweeted: "He knows better than anyone that there's one set of rules for the wealthy and giant corporations and another for hardworking Americans—and instead of using his power to fix it, he's taken advantage of it at every turn."
Democratic Congressman Adam Schiff wrote: "Trump lives a life of luxury, and lets working families pay the taxes."
However a lawyer for the Trump Organization, Alan Garten, claimed the story was "riddled with gross inaccuracies" and insisted the president has "paid tens of millions of dollars in personal taxes to the federal government."
GOP consultant Alex Conant told the Associated Press (AP): "Donald Trump needs this election to be about Joe Biden as a choice.
"This keeps the focus squarely on Trump's character and the chaos going into the most important night of the campaign, the debate."
Joe Trippi, a Democratic strategist, told AP: "This clearly plays straight into that contrast that Biden has opened up.
"You move a few points of working class voters, and you're talking about Biden winning in places like Ohio."
However, others point to the fact that there are now very few undecided voters, and ballots are already being cast in many states, as evidence that the latest tax revelations are unlikely to have a decisive impact on the election result.