Trump Says Election Results Could Take 'Years' Because of Mail-In Voting
President Donald Trump said voters would potentially not know the results of the 2020 election for "years" or "months" if Nevada were allowed to go ahead with its plans for mail-in voting.
The commander-in-chief told Fox & Friends on Wednesday morning that the U.S. Postal Service was "not equipped" to handle the processing of millions of ballots, adding to his attempts to dismiss the idea of voting by mail amid the pandemic.
Trump has previously made the unsubstantiated claims that a mail-in voting system would increase the likelihood of voter fraud in the coming 2020 presidential election. There is little voter fraud in states where large mail-in voting operations are already in place.
Posting about Trump's stance on the Postal Service's ability to handle mail-in voting, former presidential candidate Hillary Clinton said: "I fear Republican sabotage of the USPS, including slowing mail delivery, is a Trump strategy to make voting by mail more difficult this fall."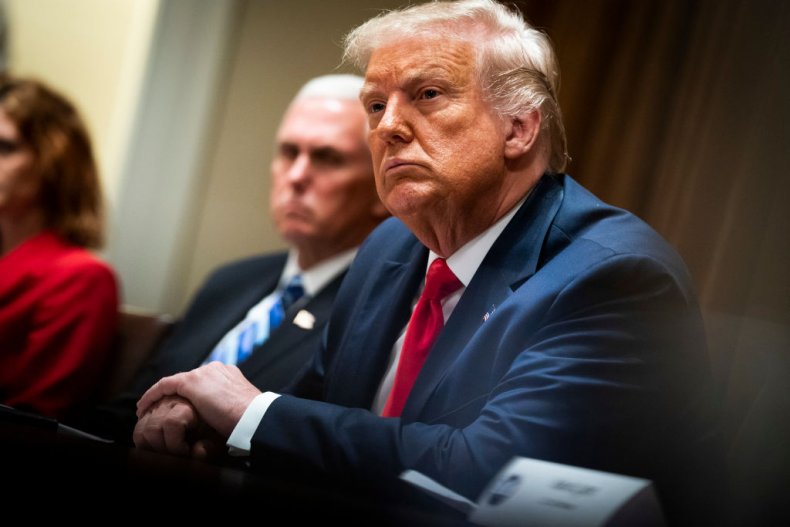 Asked to respond to the tweet, Trump told Fox & Friends this morning that Clinton hadn't accepted the results of the 2016 election.
He added: "Well, as you know, the Postal Service for 40 years has had big problems, and they're not equipped to handle a governor where they say millions of ballots, by the way, will be posted in a couple weeks.
"You can't do it. It doesn't work that way. It's a very complex process."
After noting that his campaign had filed a lawsuit against Nevada's mail-in voting plans, Trump added: "If it doesn't work out, you're not going to know the November 3 election results. It could be for months, and months, actually it could be for years."
The president claimed the 2020 results could potentially take "years" to be revealed as a result of mail-in balloting after his campaign filed a lawsuit against Nevada on Tuesday over its plans to send mail ballots to registered voters in the state.
His reelection team's lawsuit claims that the measures set out in Nevada's AB4 bill, which was signed by Nevada Governor Steve Sisolak on Monday, could "confuse" voters and deter them from the polls so close to election day.
"AB4 forces the [Republican National Committee] to divert resources and spend significant amounts of money educating Nevada voters on those changes and encouraging them to still vote," the lawsuit also argued.
Under the AB4 bill backed by the Nevada Assembly and Senate last week, all registered voters will be able to receive mail-in ballots as authorities seek to curb the spread of COVID-19.
Newsweek has contacted the Nevada governor's office for comment and will update this article with any response.