Trump: Electric Chair Would Be Used if He Faced Clinton Spying Accusations
Former President Donald Trump has criticized the coverage of allegations that former Secretary of State Hillary Clinton's campaign spied on his presidency, claiming that if the roles were reversed, the electric chair would "come out of retirement."
A court filing from Special Counsel John Durham on Friday alleged operatives linked to Clinton's campaign were paid to "infiltrate" servers that belonged to Trump. The alleged goal was to link Trump to Russia, according to the filing, and Trump's championed the filing as being "indisputable evidence" that Clinton engaged in a scandal "far greater" than Watergate.
On Monday, Trump criticized the media for not covering the story as significantly as he thinks they should, calling the lack of coverage a scandal "in itself."
"Can you imagine if the roles were reversed and the Republicans, in particular President Donald Trump, got caught illegally spying into the Office of the President?" Trump said in the statement. "All hell would break loose and the electric chair would immediately come out of retirement."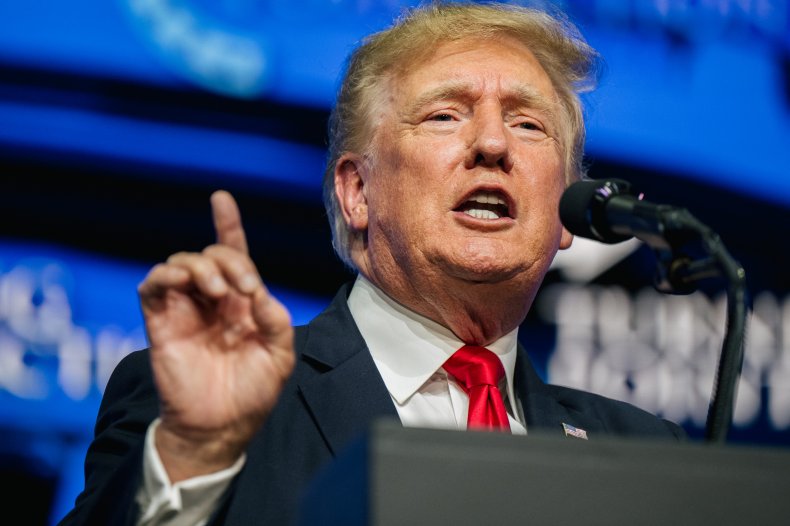 The motion, filed on Friday, centered on potential conflicts of interest when Michael Sussman, a former Clinton campaign lawyer, had a meeting with the FBI about an alleged communications channel between the Trump Organization and the Russian bank Alfa Bank. Sussman was charged with one count of making a false statement to a federal agent and Friday's filing alleged Sussman conveyed the allegations to the FBI on behalf of the Clinton campaign and a tech executive.
"Tech Executive-1 tasked these researchers to mine Internet data to establish 'an inference' and 'narrative' tying then-candidate Trump to Russia," Durham wrote in the filing. "In doing so, Tech Executive-1 indicated that he was seeking to please certain 'VIPs,' referring to individuals at Law Firm-1 and the Clinton campaign."
Trump celebrated the filing as being a vindication of claims he's made for years about Clinton's alleged spying on his campaign. On Saturday, he said those involved should be criminally prosecuted and in a "stronger period of time" in America, the crime would have been "punishable by death."
No one on Clinton's team has been charged with a crime in Durham's investigation, but several prominent Republicans, including Trump, have used the filing as proof a crime was committed. Trump also cited the filing to try to build credibility for his claim that the 2020 presidential election was "stolen" from him.
In a statement on Monday, Trump asserted he was "proven right about the spying and I will be proven right about 2020!"
While some Republicans have backed away from the battle over the 2020 election, Trump has attempted to keep the conversation focused on how he's the rightful winner of the presidential election.