Trump Encourages Floridians to Vote by Mail After Saying Practice Leads to 'Massive Cheating'
President Donald Trump encouraged all Floridians to vote by mail Tuesday, just a week after he told Axios interviewer Jonathan Swan that mail-in voting on a large scale results in "massive cheating."
"There is no way you can go through a mail-in vote without massive cheating," Trump said during the July 28 interview, which aired on HBO Monday. He referred to recent efforts by state leaders to encourage vote-by-mail during the coronavirus pandemic as a "new phenomenon" and clarified, "It's new in terms of the kinds of millions and millions of ballots. They've never done anything like this."
On Tuesday, the president's opinion appeared to have shifted—at least for Florida voters.
"Whether you call it Vote by Mail or Absentee Voting, in Florida the election system is Safe and Secure, Tried and True. Florida's Voting system has been cleaned up (we defeated Democrats attempts at change), so in Florida I encourage all to request a Ballot & Vote by Mail," Trump tweeted.
During the Axios interview, Trump repeatedly drew a line between absentee voting and mail-in voting. While he said he supported absentee voting, he said mass mail-in voting efforts could not be trusted.
The president said some governors were sending out "millions" of ballots and said he was aware of at least one deceased individual who received one, as well as one dog.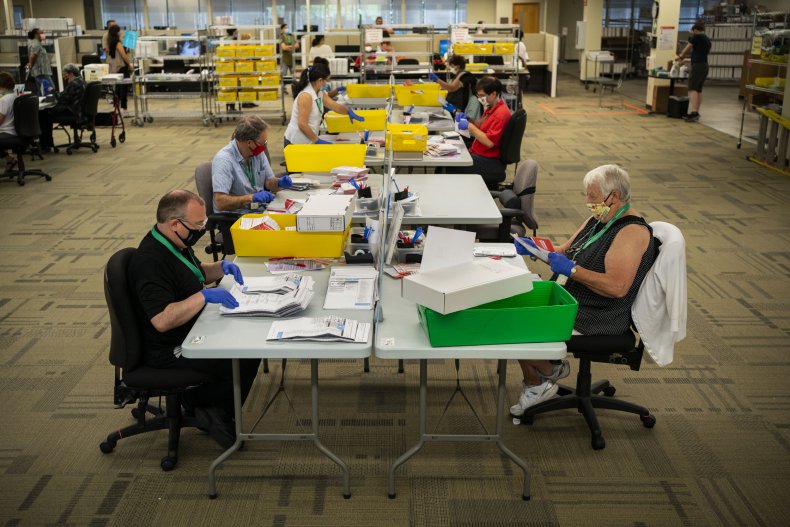 "Nobody even knows where they're going," he said of the ballots. "You look at some of the corruption having to do with universal mail-in voting. Absentee voting is okay; you have to apply, you have to go through a process. Absentee voting is good."
Voters must typically request an application for a mail-in ballot, but some state leaders took measures earlier this year to send those applications directly to all registered voters in light of the continuing threats posed by the coronavirus pandemic. A handful of other states decided to mail ballots directly to their registered voters, which Trump condemned most recently when Nevada Governor Steve Sisolak, a Democrat, announced his plans to do so. Trump called the move "illegal" on Monday and said he would file a lawsuit seeking to reverse the decision.
"The president has always said that absentee voting for a reason is different than mass mail-out voting like what Nevada is seeking to do, which leads to mass fraud," White House Press Secretary Kayleigh McEnany said during a Tuesday news briefing when asked about the president's encouragement for Florida voters. "He's been unmistakably clear that, when you have this mass mail-out voting like what Nevada wants to do, the consequences are real."
Trump frequently expresses doubt in mail-in voting as a legitimate practice and has said that ballots cast by mail instead of in-person are more likely to result in fraudulent election results, though his views are largely unsubstantiated by voting research. Earlier this year, Trump said he thought it was unlikely a Republican would ever again ascend to the presidency if vote-by-mail practices were more widespread.
Trump did not mention any other states in which he trusts the mail-in voting system in his tweet about Florida. Newsweek reached out to the White House for further comment but did not receive a response in time for publication.