Trump Endorsement Could Shake Up Ohio Senate Race, Poll Finds
Donald Trump's endorsement could change the dynamic of Ohio's Senate race, according to a new survey.
Emerson Polling found that a majority of voters in the Republican primary, 62 percent, said Trump's support for a candidate would make them more likely to vote for them. Nearly 40 percent of voters said they were undecided on which candidate they'd support.
Leading the crowded GOP field was Mike Gibbons and Josh Mandel, who garnered 22 percent and 15 percent support from likely voters, respectively. Hillbilly Elegy author J.D. Vance was shown in third place with 8 percent support, while Jane Timken and Matt Dolan each had 6 percent support.
The former president has issued more than 50 endorsements for federal office but has yet to formally step into the race to fill retiring Senator Rob Portman's seat.
Trump has touted his picks as the "strongest" in political history as he looks to demonstrate his influence over the Republican Party as it aims to regain control of Congress in the 2022 midterm elections. But reports indicate some party leaders, like Senate Minority Leader Mitch McConnell, are quietly working to thwart Trump's election efforts.
Portman has already endorsed someone to take his spot on Capitol Hill. The retiring senator has tapped Timken, an attorney and former chair of the Ohio Republican Party.
"I believe Jane Timken is the best candidate to advance conservative Republican policies to help Ohio workers and families," Portman said in a statement. "Jane is smart and hard working, and understands the needs of Ohioans."
Former Trump aides have flocked to Ohio ahead of the May 3 Republican primary, but they are split when it comes to candidates.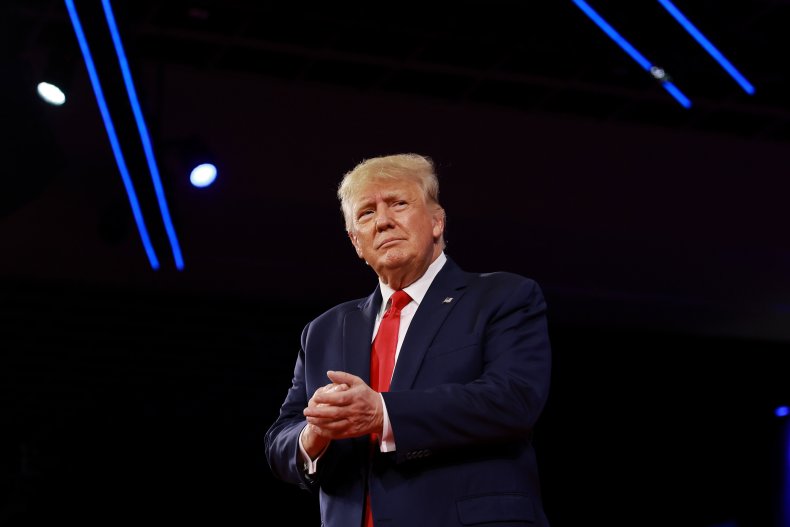 Kellyanne Conway said last week she was also backing Timken, calling her a "true MAGA champion." Conway, who served as a special advisor during the Trump administration, has joined Timken's team as a strategist.
Meanwhile, Trump's 2020 campaign manager Bill Stepien has joined Gibbons's campaign.
Trump already shook up the Ohio Senate race once. Earlier this month, it was reported that Trump talked Bernie Moreno into dropping out of the race. Moreno, a Trump supporter, said the two agreed it was the best decision.
"I asked for a private meeting with President Trump this afternoon to discuss the state of the Ohio Senate race," Moreno said in a statement. "I am a businessman, not a politician. Business leaders recognize patterns before they happen. After talking to President Trump we both agreed this race has too many Trump candidates and could cost the MAGA movement a conservative seat."
Newsweek reached out to Trump's Save America PAC for comment.
The Emerson poll was conducted between February 25 and February 26. The group surveyed 410 Republican primary voters with a margin of error of 4.8 percentage points.