Republican former President Donald Trump has endorsed Mark Finchem, a Republican Arizona Secretary of State candidate who has previously identified as a member of Oath Keepers.
Finchem has long repeated the baseless claim that an unprecedented nationwide conspiracy of voter fraud "stole" the 2020 election from Trump. If he becomes Arizona's Secretary of State, Finchem will become the state's top official overseeing elections in the swing state.
"It is my great honor to endorse a true warrior, Representative Mark Finchem," Trump wrote in his September 13 endorsement. "Mark was willing to say what few others had the courage to say. In addition to his incredibly powerful stance on the massive Voter Fraud that took place in the 2020 Presidential Election Scam, he is strong on Crime, Borders, our currently under siege Second Amendment, and loves our Military and our Vets."
In the past, the Trump campaign paid over $6,000 to Finchem for "legal consulting" during Arizona's ongoing election recount. Finchem isn't a lawyer.
Finchem also supports the long, ongoing Maricopa County election audit. Before the audit, he organized an 11-hour hearing for former Trump campaign attorney Rudy Giuliani in which Giuliani pushed baseless claims about election fraud in the state.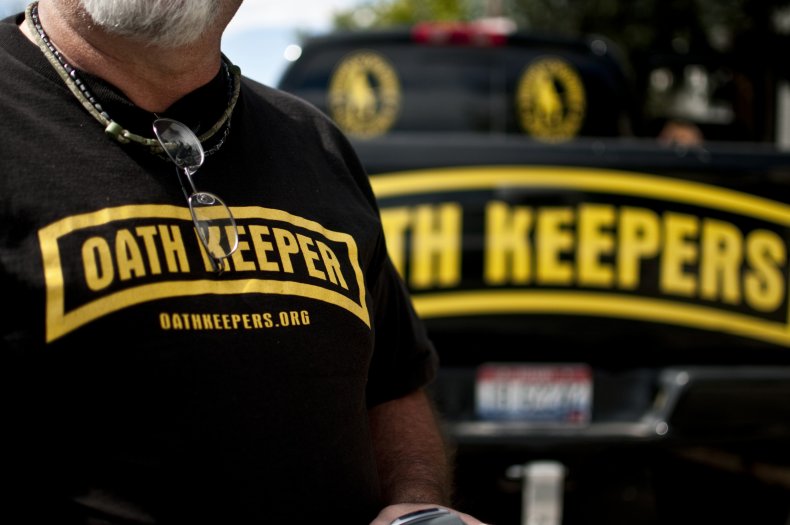 In a 2014 questionnaire that Finchem filled out during his candidacy for the Arizona House of Representatives, he said he was a member of the Oath Keepers. The Oath Keepers are "one of the largest anti-government extremist groups in the far-right patriot militia movement," according to NPR.
"I'm an Oath Keeper committed to the exercise of limited, constitutional governance," Finchem wrote in the 2014 questionnaire, published on the Arizona news website InMaricopa.com.
"I stand against policies that expand the role of government in our lives which include Common Core, Medicaid expansion, extinguishment of long-standing water and land-use rights," he added.
It's unclear whether Finchem still associates with the group. However, his Twitter account for his state legislative campaign, which has been inactive since 2016, states, "Protect State Sovereignty, Join Oath Keepers!"
In 2021, Finchem was targeted for a recall effort by a group called Rural Arizonans for Accountability. The group mentioned his affiliation with the Oath Keepers. It called the Oath Keepers "a domestic terrorist organization and radical anti-government militia movement."
In May 2021, Finchem's lawyers wrote a cease-and-desist letter to the organization. The letter called the Oath Keepers "a non-partisan association."
However, the FBI describes the Oath Keepers as a "loosely organized collection of militia who believe that the federal government have been co-opted by a shadowy conspiracy that is trying to strip American citizens of their rights."
In 2014, members of the Oath Keepers were involved in a stand-off with federal authorities at the Bundy Ranch in Nevada. Finchem has empathized the group's stated aims of ending federal control over state lands.
Finchem has served as the Arizona coordinator of the Coalition of Western States. The organization opposes the "bureaucratic terrorism" of the U.S. Bureau of Land Management, which oversees federal lands.
Legal authorities have arrested at least 16 Oath Keepers for their alleged involvement in the January 6 Capitol riots, WUSA reported.
The day before the riots, Finchem spoke at a rally organized by Ali Alexander, a top organizer of the Stop The Steal movement who has said Finchem was like "a brother" to him.
In his speech, he said that voter fraud stole the election from Trump, adding that Democrats knew the election was stolen. Trump's former Secretary of State and head of election cyber security have both said there's no evidence that fraud stole the election from him.
On Finchem's website for his Secretary of State campaign, he wrote, "On November 3rd, 2020, the unthinkable happened: Americans witnessed real-time reallocation of votes from one candidate to another, broadcast on national television."
Newsweek contacted Finchem's office for comment.