Trump Endorses 'MAGA' Candidate For Arizona Governor, Slams Incumbent GOP Gov. Doug Ducey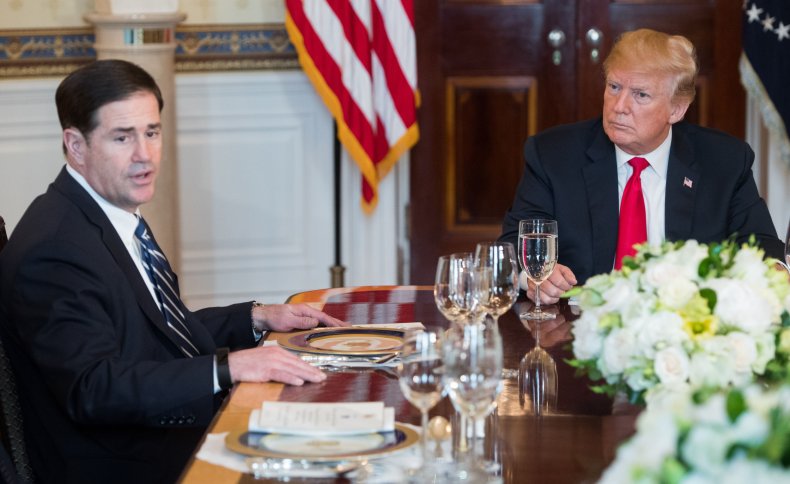 Former President Donald Trump has endorsed a "MAGA" Republican after GOP Arizona Governor Doug Ducey said he would not support "decertification" of the 2020 presidential election.
Trump said Tuesday he was backing GOP candidate Kari Lake, a former television news anchor, while slamming Ducey and praising Lake for her commitments to "Election Integrity" and "the MAGA movement." On Friday, Ducey tweeted that the 2020 outcome would not be decertified after the results of a controversial audit in Maricopa County once again confirmed that Trump had clearly been defeated by President Joe Biden.
"Kari Lake is running for Governor in the Great State of Arizona," Trump said in a statement. "She is a fantastic person who spent many years working as a highly respected television anchor and journalist. Because of this, few can take on the Fake News Media like Kari. She is strong on Crime, will protect our Border, Second Amendment, Military, and Vets, and will fight to restore Election Integrity (both past and future!)."
"She is against Covid lockdowns, Cancel Culture, and will end "woke" curriculum in our schools. She will do a far better job than RINO Governor Doug Ducey—won't even be a contest!" he added. "Kari will make her wonderful family, and the MAGA movement, very proud. Kari Lake has my Complete and Total Endorsement. She will be a great Governor for the incredible people of Arizona!"
Since resigning as a news anchor at Phoenix Fox station KSAZ and announcing her candidacy earlier this year, Lake has led protests against COVID-19 mask mandates and worked to foster an association with Trump while endorsing his false claims of having won the 2020 election.
Recent polls have shown that Lake is leading the field among Republican candidates, while the top-polling Democratic challenger and her possible opponent in the general election is Arizona Secretary of State Katie Hobbs, an outspoken opponent of Trump and his repeated voter fraud claims.
Ducey has served as Arizona governor in two consecutive terms since 2015 and is not eligible to run for a third-straight term under state law. Although his political future is unclear, the governor has already announced he will not run for an Arizona U.S. Senate seat in 2022.
Trump soured on Ducey after losing Arizona and has indicated he would not endorse his hypothetical Senate candidacy, despite having endorsed the governor in 2018 and appearing with him during 2020 presidential campaign stops. In June, the former president said Ducey "could not get the nomination after failing to perform on the Voter Fraud in Arizona."
Although no evidence of massive fraud was uncovered by the Maricopa County audit, which was conducted at the behest of a state Senate controlled by pro-Trump Republicans, the former president and some of his loyalists have claimed otherwise. Ducey made it clear that there would be no way to reverse the election's outcome even if the exercise had resulted in evidence.
"There will be no decertification of the 2020 election — the audit does not call for one, and even if it had, there is no lawful way to decertify," Ducey tweeted Friday. "As we have every step of the way, Arizona will follow the law."
Newsweek reached out to Ducey's office for comment.