Trump Says He Is an 'Environmentalist,' Calls Biden's Climate Ally AOC a 'Disaster' Who 'Wants All Fossil Fuel Out'
President Donald Trump claimed that he was an "environmentalist" on Thursday as he called Democratic Representative Alexandria Ocasio-Cortez a "disaster" who wanted to end the use of fossil fuels.
Reacting to the New York lawmaker's appointment to former Vice President Joe Biden's climate change policy panel, Trump told the Washington Examiner that the move would impact the presumptive Democratic nominee's rating in Texas and other swing states.
The president also issued an attack on Biden's mental state, saying that the former vice president had "absolutely no idea" what was happening.
Speaking to the Washington Examiner in Pennsylvania, the president said: "AOC is a disaster. She wants all fossil fuel out. She wants everything out. She wants wind, okay? Which is expensive—kills all the birds."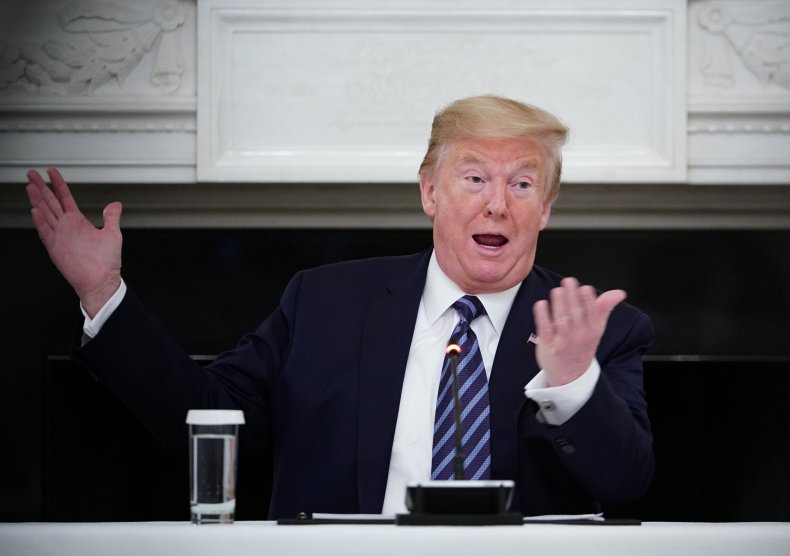 He went on to claim that he was an "environmentalist" before calling wind power a "disaster" that "doesn't work and it's very intermittent."
"So he picked Bernie Sanders and Ocasio-Cortez. If you can believe that, he lost Texas," the president said of Biden. "He lost Pennsylvania. He lost North Dakota. And he lost Oklahoma. And he lost every other state where fuel is important — like about most of them."
In a personal attack against Biden, Trump said: "First of all, if you asked him who he named, he wouldn't even know it. Okay. Nobody — he doesn't even know. He didn't put them there. Somebody did and Joe has absolutely no idea what's happening."
Later asked what he thought of the Democratic Party possibly limiting the number of people attending their convention in-person, Trump replied: "I think it's a good move when you have Biden as a candidate. I think it's a good move for them. Let them save money."
The commander-in-chief also told the Examiner that the former vice president "doesn't know he's alive" in a further attack on the presumptive Democratic nominee's mental state.
Newsweek has contacted representatives of Alexandria Ocasio-Cortez and Joe Biden for comment. This article will be updated with any responses.
President Trump lashed out at his Democratic rival as a series of polls showed him trailing the former vice president nationwide.
According to the Real Clear Politics polling average, Biden was 4.5 percentage points ahead of Trump among American voters as of May 12.
The latest poll from CNN and SSRS found a five-point gap between Biden and Trump, a smaller lead than the Democratic nominee enjoyed when the same poll was conducted in early April.
Polls of key battlegrounds have been mixed over the last few months, but have also lent Biden a slight advantage in some swing states.
However, a poll of voters across six battleground states published by Change Research and CNBC last week put President Trump two points ahead of Biden.