Donald Trump on Climate Change: Fuel Economy Rollback Skewed Data to Justify Controversial Halt to Obama-era Rules, Study Finds
A Trump administration proposal to roll back fuel economy and greenhouse gas emission standards in the auto industry is deeply flawed, a new study led by a team of top economists has found. The administration's proposal, the study said, relied upon an economic analysis that discarded at least $112 billion in benefits to keeping a higher standard of emissions.
"This is an insane rollback from the perspective of the future competitiveness of the U.S. auto industry," said Antonio Bento, the study's lead author and professor at the Sol Price School of Public Policy and the Department of Economics of the University of Southern California. "It makes us less and less competitive internationally, and down the road we would lose the share of the international market we would otherwise have if we were to move towards car electrification."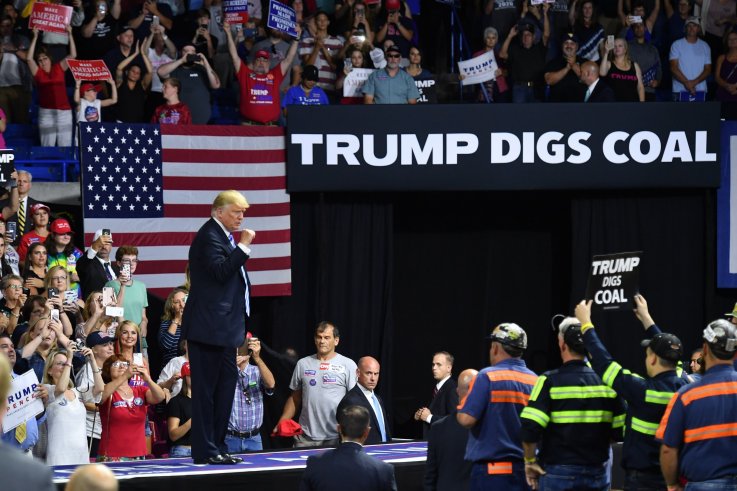 Bento told Newsweek that the model used to evaluate the rollback was "inconsistent with basic economic theory and internally full of flaws, generating many results that did not make good sense." The model, he explained, was intended to determine the cost of compliance, but did not include how consumers make choices in purchasing cars.
The Trump administration, specifically the Environmental Protection Agency (EPA) and the National Highway Traffic Safety Administration (NHTSA), announced the rollback of the Obama-era fuel efficiency standards earlier this year, citing billions of dollars in savings for car manufacturers. This month, Trump said he would also seriously consider ending subsidies for electric vehicles.
The president said the proposal would boost U.S. oil consumption significantly by increasing the appeal of gas-fueled cars and that it would prevent auto accidents by encouraging drivers to purchase newer, safer cars instead of relying on used vehicles. The White House said ending these regulations would prevent about 12,700 automobile deaths over the next 10 years.
But Bento's study found that the changes would be unlikely to prevent deaths or save as much money as the administration had predicted. If consumers began foregoing used cars for new automobiles, "all the prices in the markets would start adjusting," said Bento. The model the administration uses does not take that into account.
Bento said there are two possible explanations for the flawed analysis. The first, more optimistic reason is that administration officials were asked to rush out the results and did not have time to adjust their models for accuracy. Officials likely assumed, he said, that oversight at the EPA would fix these models, but that did not occur.
Bento said the more pessimistic possibility is there may have been an understanding that the model was flawed and administration officials hoped these rollbacks would pass anyway.
Bento told Newsweek that he doesn't know if the administration was aware of the basic flaws in their analysis. But, "I am suspicious," he said. "If you want a cost-benefit analysis to fail, you have two ways to do it: One way is to scale up costs and another is to scale down benefits. It's interesting that they figured out a way to scale up costs with all these safety effects that are wrong and scale down benefits by lowering evaluations of the social cost of carbon."
The analysis of the proposal came two weeks after the Trump administration quietly released a climate change paper stating that "more immediate and substantial global greenhouse gas emissions reductions" were necessary to stave off the incredibly detrimental and expensive effects of climate change.
Donald Trump on Climate Change: Fuel Economy Rollback Skewed Data to Justify Controversial Halt to Obama-era Rules, Study Finds | U.S.