House Speaker Kevin McCarthy's bid for an impeachment inquiry into President Biden, which he announced on Tuesday, could be complicated by a Donald Trump-era Department of Justice ruling requiring this to first be approved by a floor vote.
The speaker claimed House Republicans had "serious and credible allegations into President Biden's conduct," which he argued amounted to a "culture of corruption." The GOP launched a number of committee investigations into the Biden family's business dealings, with a particular focus on alleged influence peddling by Hunter Biden, after seizing control of the House in the November 2022 midterms. However they have struggled to uncover conclusive evidence showing Hunter's business dealing had influenced his father's policies, and until Tuesday McCarthy had been cautious about launching a full inquiry.
Some Republicans are desperate to hit back after Donald Trump was subject to two impeachment votes during his time in office, over alleged abuse of power and "incitement of insurrection" respectively. He was acquitted both times, due to the absence of the two-thirds Senate majority needed to convict, but several GOP Senators did back the second impeachment attempt following the January 6 2021 Capitol Hill riot.
In January 2020 the Department of Justice's Office of Legal Counsel ruled the House can't launch an impeachment inquiry unless this is approved by a majority vote in the chamber. At the time then-speaker Nancy Pelosi was attempting to launch an impeachment investigation into whether Trump abused his power by putting pressure on Ukrainian President Volodymyr Zelensky to investigate his political opponents.
In his ruling Steven Engel, then head of the Office of Legal Counsel (OLC), said: "We conclude that the House must expressly authorize a committee to conduct an impeachment investigation and to use compulsory process in that investigation before the committee may compel the production of documents or testimony.
"The House had not authorized such an investigation in connection with the impeachment-related subpoenas issued before October 31, 2019, and the subpoenas therefore had no compulsory effect."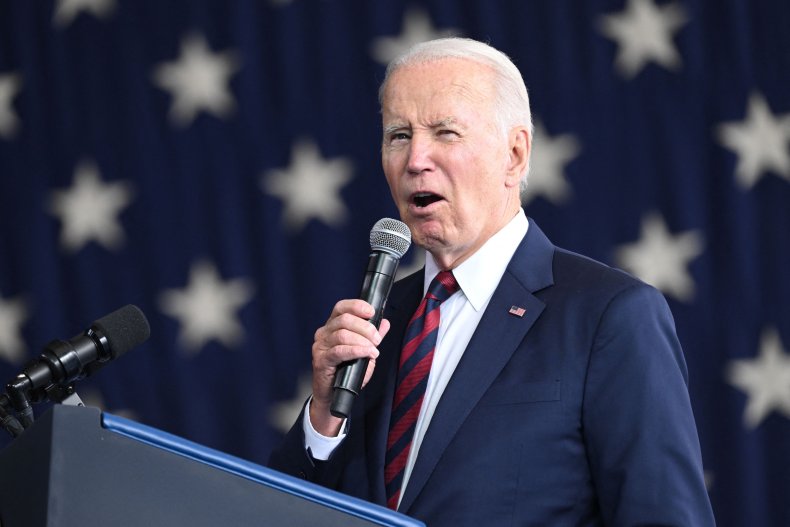 Pelosi did later get the House to vote on holding an impeachment inquiry, but Speaker McCarthy has yet to table any such motion. According to Politico without a vote Biden "may have grounds assert executive privilege" and frustrate the investigation, which the publication compared to efforts Trump used "to jam his own inquiry."
Newsweek has reached out to Speaker McCarthy by telephone and voicemail message, along with the White House press office by email.
However, speaking to Newsweek, Neama Rahmani, a former federal prosecutor and president of the Los Angeles-based firm West Coast Trial Lawyers, said the OLC ruling isn't legally binding on the House though it could be politically troublesome.
He said: "The OLC provides legal guidance to the DOJ and the executive branch. It is not binding on Congress, a co-equal branch of government. If there is a constitutional dispute between the president and legislature regarding impeachment, the judiciary steps in to resolve it.
"So legally, the OLC opinion does not affect the House's ability to initiate impeachment proceedings. But politically, it's a bad look for House Republicans to take an entirely inconsistent approach to that which they took during the Trump administration. Hypocrisy has never stopped politicians before, though."
Thomas Gift, founding director of University College London's Center on U.S. Politics, told Newsweek attempting to impeach Biden could backfire on the GOP.
He said: "The real risk for House Republicans is being perceived as over-reaching. There's no doubt launching an impeachment inquiry will energize the right-wing base. But for moderates and swing voters, many are going to ask: 'Okay, so let me get this straight: whipping up a violent mob at the US Capitol isn't an impeachable offense, but having a deadbeat, drug-addicted son is?'
"Without more evidence tying Hunter Biden's business dealings to his father, this looks like an impeachment in search of a crime. Kevin McCarthy knows it, which is why the only reason he's pursuing it is that he's being held hostage by the right flank of his party. The MAGAverse views this as payback for Trump's two impeachments. They're more than happy to 'weaponize' impeachment because, they'll say, Democrats did it first."
To impeach the president an impeachment inquiry must be followed by votes in both the House and the Senate. To pass a majority of the House, and two-thirds of the Senate, must vote to remove the president from office. As there are a slim majority of Democrat-aligned lawmakers in the Senate this will almost certainly fail as long as the vote is along party lines.
Update 9/14/23, 2:55 a.m. ET: This story has been updated with comment from Neama Rahmani.