Trump Welcomes Erdogan, Another Strongman, to White House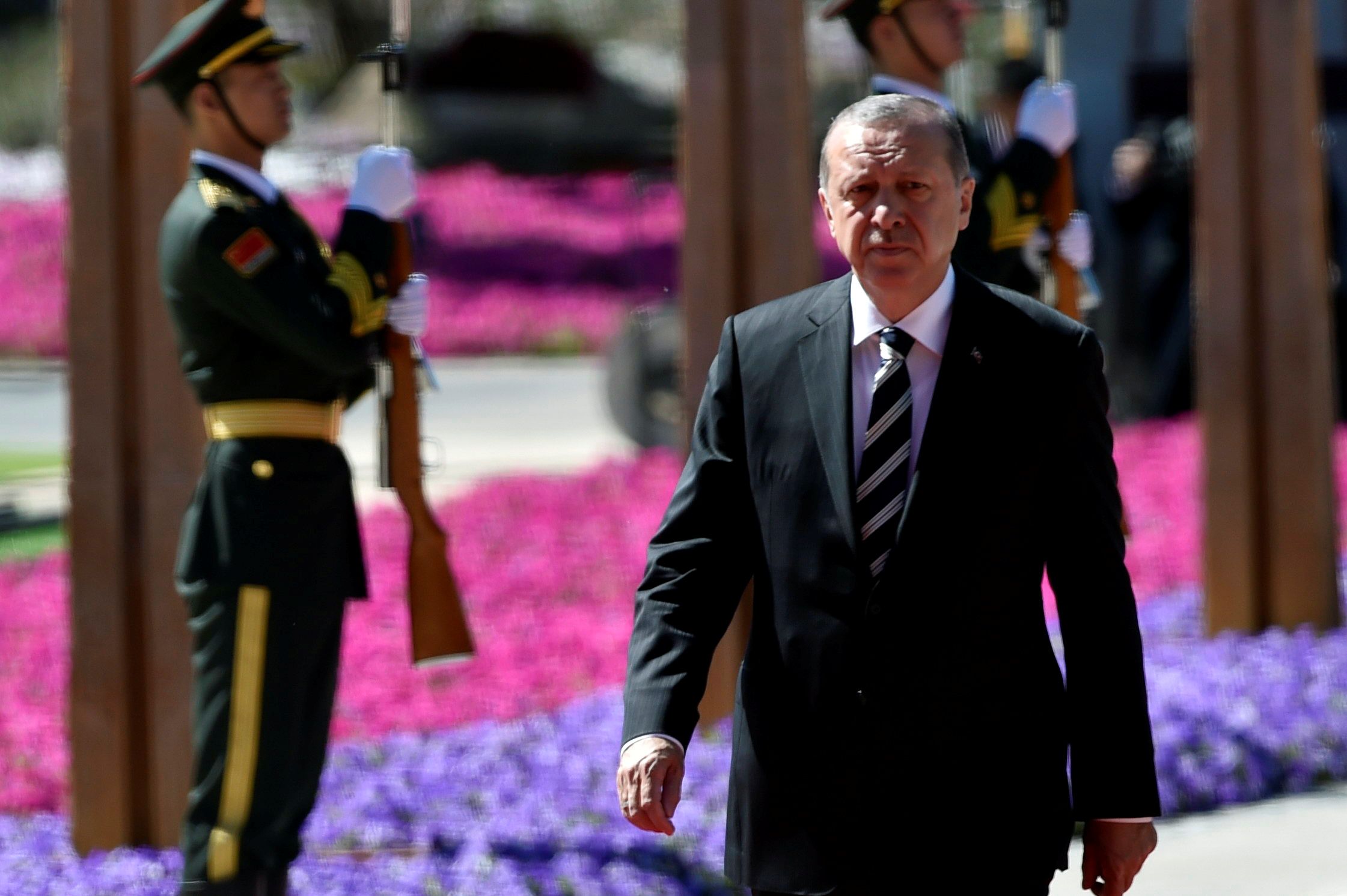 On the surface, Turkish President Recep Tayyip Erdogan's visit to the White House Tuesday is not looking likely to go well. Turkey and the United States face some seemingly irreconcilable—and deepening—differences over Syria and over Turkey's domestic politics, and few experts on the bilateral relationship expect the Trump administration to meet Erdogan's public demands on either front.
Related: Turkey warns U.S. of blowback from decision to arm Kurds in Syria
Behind the scenes, however, there are a number of things the transaction-minded U.S. president can offer the Turkish government to soothe its anger over America's support of Kurds in Syria and refusal to extradite a chief rival to Erdogan from the United States. The White House, meanwhile, is already giving Erdogan something he wants almost as badly—international legitimacy.
"It's hugely symbolic," Soner Cagaptay, director of the Turkish Research Program at the D.C. foreign policy think tank the Washington Institute, says of Erdogan's visit. Under fire for a contested referendum that vastly expanded his executive power, as well as his government's crackdown on dissidents and civil society after an attempted coup last summer, Erdogan is desperate for affirmation from abroad, Cagaptay says. He notes that in Erdogan's speech following the constitutional referendum, which has been tainted by claims of fraud, the longtime president implored foreign leaders to recognize the results, "an exceptionally unusual" move for a Turkish politician.
Erdogan received a major boost from Donald Trump when the U.S. president congratulated the Turkish leader on his referendum victory during a phone call shortly after the election. Human rights and civil liberties defenders were aghast, given the outstanding questions swirling around the election results. But it fits Trump's pattern of embracing strongmen, warts and all. The president has already hosted Egyptian President Abdel Fattah el-Sisi, who has led a crackdown against his political opponents, and has extended a White House invitation to Philippines President Rodrigo Duterte despite that leader's record of extra-judicial killings as he cracks down on drug crime in his country. In Turkey's case, the White House visit may be why Erdogan and officials in his government have reacted relatively meekly to the latest flashpoints in the U.S.-Turkey relationship.
The most prominent of their conflicts is over Syria. Last week, the Trump administration approved U.S. military plans to arm Kurdish rebels, known as the YPG, who are fighting ISIS in Syria. Turkey, which is battling its own Kurdish separatist movement, has objected, fearing the idea of Kurd-controlled territory on its border. But while Turkish leaders have suggested Erdogan will try to convince Trump to abandon the plan, few expect that to happen. Instead, "there is a compromise that can be struck," suggests Alan Makovsky, a former staffer on the House Foreign Affairs Committee, who spoke on a Bipartisan Policy Council panel Monday. "Basically, the U.S. says leave YPG alone, you can have your way with the PKK," the armed Kurdish separatists operating in Turkey. "We'll help you with more intelligence against the PKK…maybe even equipment for fighting the PKK."
Trump can also soften the rejection of another Turkey priority—extraditing Turkish Imam Fethullah Gulen, an Erdogan rival who lives in exile in suburban Pennsylvania. Erdogan blames Gulen and his Hizmet movement for fomenting the failed coup in July 2016, and has demanded the United States extradite him. A Department of Justice spokesman would say only that it is continuing to review the matter and would "make any decisions about extradition on the basis of the facts and relevant U.S. law." But Middle East policy experts say the Turkish government has failed to provide the necessary evidence that Gulen had a direct hand in the coup. "We still have due process of law in the United States and the extradition of a resident…would require compelling proof in his complicity," says Representative Gerry Connolly, a co-chairman of Congress's Caucus on U.S.-Turkey Relations. "I've told that to the Turkish ambassador—we're not going to do this as a matter of friendship or alliance or history."
There are other things, however, the White House could do to reassure Erdogan. "I think behind the scenes, the administration may voice its commitment to try and bring Gulen networks under closer scrutiny in the U.S.," says Cagaptay, whose latest book, The New Sultan, looks at Erdogan's leadership of Turkey. And while the Turkish president is not known for mincing words, he's also got the same transactional mindset as his White House host, experts say. Erdogan "really wants a deal, he wants to start with Trump on a good footing," says Cagaptay. And if Turkey is willing to cooperate in the U.S. fight against ISIS in Syria, the president isn't likely to let human rights or rule of law concerns stand in the way of cutting that deal.