Trump Escalates Attack on McConnell As He Tests Presidential Waters in Iowa
Former President Donald Trump escalated an ongoing feud with Senate Minority Leader Mitch McConnell, cycled through his baseless election fraud claims, bashed President Joe Biden on immigration and formally endorsed Senator Chuck Grassley, as he tested the presidential waters in Iowa on Saturday night.
"Mitch McConnell should have challenged that election because even back then, we had plenty of material to challenge that election. He should have challenged the election. [Senate Majority Leader Chuck] Schumer would have. McConnell didn't have the courage," Trump told his supporters at the Iowa State Fairgrounds in Des Moines.
Holding a rally in the early presidential nominating state years ahead of 2024 is about establishing a rapport with voters and laying the groundwork for a potential campaign. It was his first visit back to the state after losing to Biden last November.
For nearly two hours, Trump espoused his usual rhetoric uninterrupted, covering issues from the border wall to Afghanistan to infrastructure to voter fraud to his personal grudges, prompting chants of "Trump won" and "we love you" from the crowd.
"The Republicans have to stay strong. You have to fight back, bring our country back," he said, calling the Democrat-led infrastructure and spending proposals a "socialist transformation bill, an open borders bill, and an American energy destruction bill."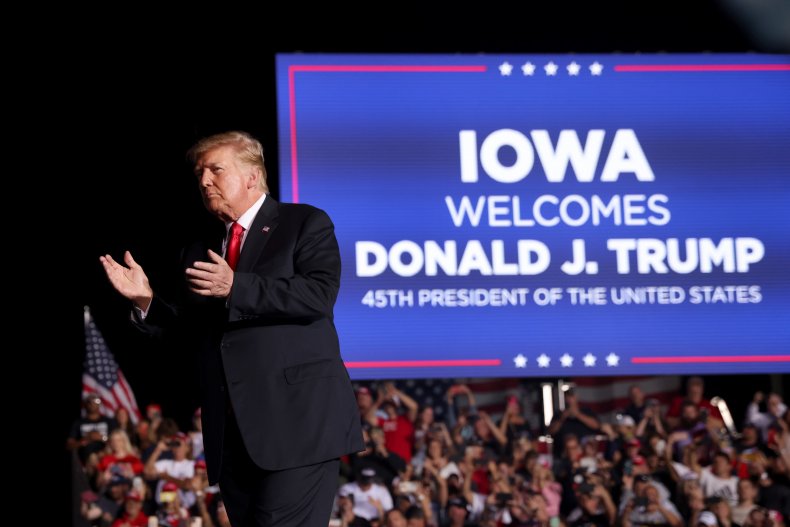 Calling on supporters to turn out en masse for the 2022 midterms, Trump said, "We must send the radical left a message they will never forget."
He went on to falsely call 2020 a "stolen" election, accusing Biden of cheating and the establishment of orchestrating a conspiracy to oust him from office. Trump and his allies have not presented any real evidence for his widespread voter fraud claims, but Iowans have asked Grassley about it at town halls.
Trump endorsed Grassley after the Republican Iowa senator spoke alongside Governor Kim Reynolds ahead of him. "I'm thrilled to announce tonight that Senator Chuck Grassley has my complete and total endorsement for reelection," he said. "Look at this, he's young!"
Trump also teased a potential new slogan for 2024, stopping short of officially announcing a bid for reelection. "It was supposed to be Keep America Great but America's not great right now. So we're using the same slogan Make America Great Again and we may even add to it," he said. "Make America Great Again, Again."
Trump is more popular in the state now than when he held office. According to the latest Des Moines Register/Medicom poll, about 53 percent of Iowan voters have a favorable view and 45 percent have an unfavourable view of the former Republican president.
He ended the rally with a campaign-style pledge: "Together we will make America powerful again. We will make America wealthy again. We will make America strong again. We will make America proud again. We will make America safe again. And we will make America great again."
Newsweek reached out to McConnell's office for comment.