Trump Escalates Voter Fraud Claims After Arizona SOS Urges Him to 'Accept' Loss
Former President Donald Trump escalated his baseless voter fraud claims in Phoenix on Saturday, saying that Democrats can't win any elections without cheating—after Arizona Secretary of State Katie Hobbs urged the Republican to get over his 2020 election loss.
Hobbs, a Democrat, encouraged Trump to "take your loss, accept it and move on" Friday night, a day before the former president spoke at the "Rally of Save Our Elections" event organized by Turning Point Action, a conservative group.
"Nothing that's going on here is going to change the outcome, and, really, this is nothing more than being a sore loser," she told CNN.
As the state Senate continues a months-long audit of the ballots in Maricopa County, Trump opened his speech at the rally by claiming there's "no way Democrats win elections without cheating."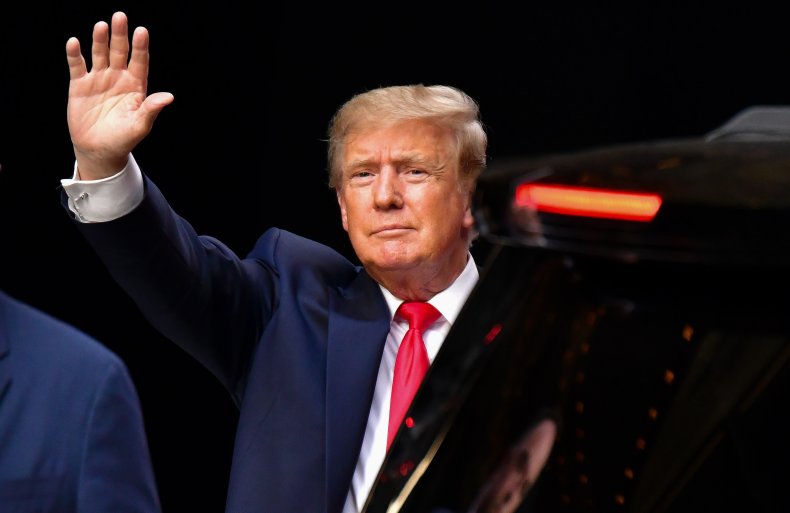 Pushing back against Hobbs, Trump told the crowd that he would accept losing an election.
"If I lost the election, I'm okay with it. Seriously," he said. "I'll start building buildings. I'll keep myself busy, but they stole it from us."
The former president continued to push his voter fraud conspiracy theory throughout the address, thanking Republicans who have indicated support for his effort to overturn the election and condemning those who have fought against it, including former Vice President Mike Pence.
Trump also repeated several specific allegations that were rejected by courts in dozens of failed lawsuits seeking to overturn President Joe Biden's win. Among them, that "74,000 mail-in ballots were counted with no clear record of them being sent"—a claim that Maricopa County election officials have dismissed as misinformation.
On January 6, a mob of pro-Trump supporters attacked the U.S. Capitol following a rally in which Trump pushed baseless voter fraud claims. Some Republicans, including Senator Minority Leader Mitch McConnell, broke from Trump following the insurrection, but others have sought to align with the former president in an effort to capture his loyal base.
Arizona GOP Representative Andy Briggs drew loud applause from the crowd earlier in the day when he suggested that Trump could be reinstated before 2024—a false claim that supporters have continued to promote online.
"In 2024, if not sooner, Donald J. Trump will be back in the presidency," he said.
Officials in Maricopa County, the most populous in the state, concluded a formal audit of the results without uncovering any discrepancies in November. But GOP state senators have pushed forward with their own review. Audits and recounts in key battleground states have only reaffirmed Biden's win, even in areas where the election was overseen by pro-Trump Republicans.
Newsweek reached out to Hobbs' office for comment.