#TrumpEulogies Trends As George Conway Tweets Trump Boasted About Himself at Father's Funeral
The hashtag #TrumpEulogies was trending on Twitter on Thursday after George Conway, a vocal critic of the president and Kellyanne Conway's husband, brought up a time when Trump praised himself at his own father's funeral, among other instances.
"On June 29th, 1999, Trump gave a eulogy at his father's funeral .... [Trump] used the time to talk about his own accomplishments and to make it clear that, in his mind, his father's best achievement was producing him, Donald," tweeted Conway, quoting from a 2017 Rolling Stone story and adding #TrumpEulogies.
Conway, a lawyer who is married to counselor to the president Kellyanne Conway, came up with the hashtag after seeing the hashtag #TrumpObits.
MSNBC producer Kyle Griffin shared a report from Wednesday that former Trump Organization Barbara Res claimed that Trump lied about almost getting on a helicopter that crashed and killed five people.
Trump biographer Tim O'Brien quote tweeted Griffin's post and added that two Trump casino executives were among those who died, then made up a Trump-like comment.
"We are gathered here today to honor me, because you're dead and I'm not," O'Brien tweeted with the hashtag #TrumpObits.
Conway quote tweeted O'Brien and wrote, "I think Tim is offering this hashtag #TrumpObits—or should it be #TrumpEulogies?—as an invitation and a challenge." Conway then brought up that Trump did exactly as O'Brien suggested at his father's funeral.
"I will always remember the deceased as someone who appreciated all the tremendous things I did for him. #TrumpEulogies," Conway tweeted, suggesting that as something Trump would say.
O'Brien liked Conway's observation and tweeted, "George is right. It should be #TrumpEulogies."
The Trump biographer then quoted former Trump Organization adviser Alan Marcus recounting that Trump's eulogy for his father began with Trump saying he was having the greatest year of his career when his brother informed him of the news.
​"The funeral of Fred Trump wasn't about Fred Trump; it was an opportunity to do some brand burnishing by Donald, for Donald," O'Brien quoted from a Politico story on the president's funeral problem. "Throughout his remarks, the first-person singular pronouns—I and me and mine—far outnumbered he and his."​
Conway remarked: "Wow. Real #TrumpEulogies."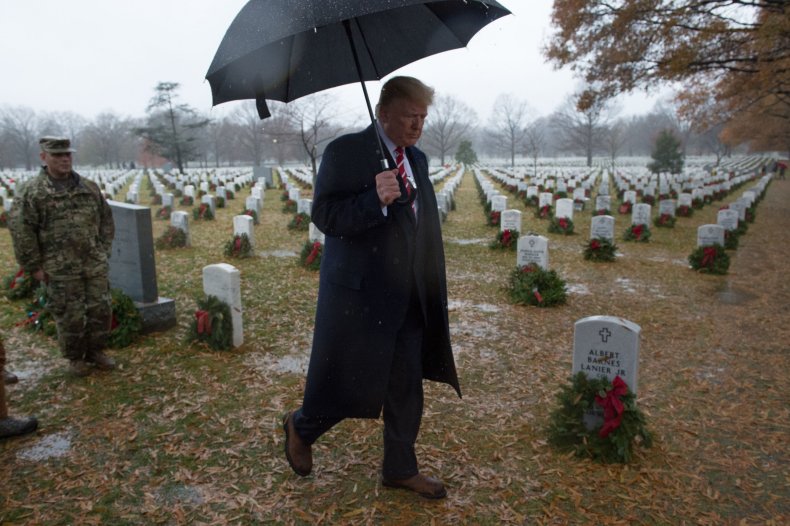 Twitter users came up with their own takes on self-serving eulogies they could see the president uttering and Conway retweeted some of them.
​"After he died, he said to me 'Sir, Thank you for everything you've done.' And he was crying, and this is a big dead guy, but he was crying," a Twitter user wrote with the hashtag.
Conway retweeted it and commented, "​[chef's kiss]."
"In all seriousness, this may be the funniest tweet ever," the lawyer tweeted.