Trump in Europe: British PM Theresa May's Husband Buys New Suit to Impress Melania
British Prime Minister Theresa May's husband, Philip May, has bought a new suit in a bid to impress first lady Melania Trump on her visit to Britain with President Donald Trump.
As May and Trump hold talks throughout the week, Philip will be expected to entertain Melania during the visit.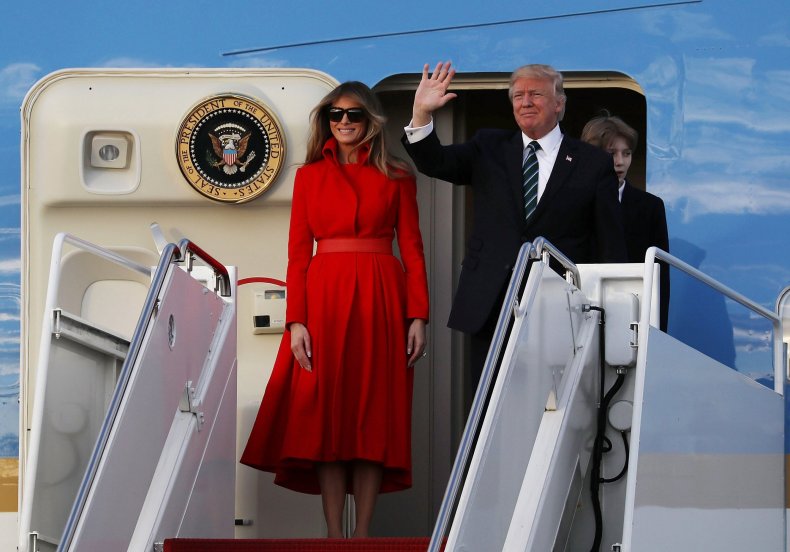 Speaking to the Sunday Times, May said her husband was "looking forward to meeting Melania," adding that he "has been out and bought a new suit."
She said this will be the pair's first time meeting each other. "They were both at the G20 but because of timetables and so forth, he wasn't able to meet her there."
It is still unclear what the 60-year-old investment relationship manager has planned for the 48-year-old model.
What has become increasingly clear is that neither of the Trumps are likely to see much of London during their visit.
Last week, Downing Street revealed an itinerary that appeared to keep the U.S. leader out of Britain's capital, which has raised suspicions that May is trying to shield Trump from widespread protests planned over the visit.
Trump is expected to meet with both May and the Queen before spending two days in Scotland.
He is only expected to spend one night in London at Winfield House, the U.S. ambassador's official residence in Regent's Park, on Thursday, when he arrives in the city.
After that, the president is slated to attend a gala dinner at Blenheim Palace in Oxfordshire before participating in talks with May at the Chequers country home in Buckinghamshire.
Then, on Friday, he meets the Queen at Windsor Castle before making his way to Scotland for the rest of the visit.
U.S. Ambassador to Britain, Woody Johnson, rejected claims that the president might be trying to "avoid" protests, which had been planned months ago, when the president's plans to visit Britain were first announced.
Read more: President will avoid 'Baby Trump' blimp, London protests during U.K. visit
"No, the president is not avoiding anything," he said at a press conference, according to The Guardian. "The president is merely trying to get as impactful a trip as he can get in a 24-hour period," he asserted.
Johnson said he was "aware" of protests planned over the course of Trump's visit, including a giant "Trump baby" balloon that is expected to fly over Westminster during the trip.
A spokesperson for May has said it is not unusual for talks between world leaders to be held in places where protesters can be kept at bay.
"Prime ministers frequently make use of Chequers for meetings with foreign leaders, the spokesperson told the Guardian, adding: "It offers a more informal setting for important bilateral discussions."
The spokesperson said that the prime minister was "looking forward to making sure the president has a chance to see and experience the U.K. beyond London and the south-east."