A member of President Trump's evangelical advisory board suggested that the activist group Black Lives Matter can't achieve its goals of racial justice because they have "a few lesbians" in positions of leadership.
Bishop Harry Jackson, a Maryland-based African American pastor who serves on Trump's evangelical advisory council, made the remarks last week while speaking on "The Jim Bakker Show," a program hosted by the veteran televangelist.
"We can't have social justice, we need biblical justice," Jackson told the audience. "It matters whose allegiance or whose definition of justice you are going to use to bring justice to the culture," Jackson said. "It matters that Black Lives Matter has, at the head, a few lesbians who are against the patriarchal society—you see, black people can say this; white folks, you have a hard time saying this about Black Lives Matter."
He added: "Black lives matter is true— there does need to be a value of human life. But by destroying biblical foundations you can never arrive at God's justice."
Jackson is no stranger to making controversial comments about LGBTQ people and has criticized other civil rights groups, like the NAACP, for supporting marriage equality. He also called LGBTQ families "discombobulated, Frankenstein structures," GLAAD noted.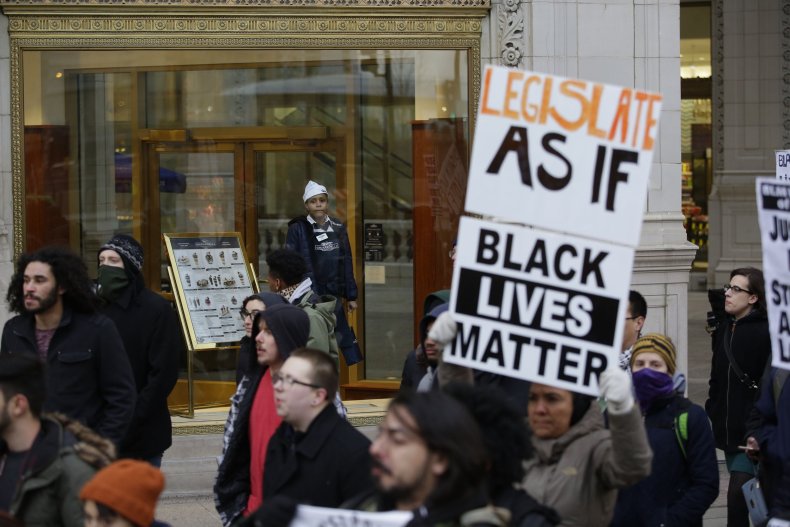 Trump backers like Jackson are not typically shy about critiquing Black Lives Matter, or other left-leaning groups, but his comments run contrary the message upon which the president ran as a candidate. Back in 2016, Trump promised a more gentle approach to LGBTQ issues than America had seen from previous Republican administrations. During his pitch to voters after accepting his nomination at the Republican National Convention that year, he vowed to protect LGBTQ citizens from "violence and oppression."
The president succeeded in wooing many evangelicals to his side during the campaign, however, and critics argue that he has paid greater attention to those staunch Christian backers than he has the concerns of LGBTQ Americans.
Trump did not recognize Pride Month in June of last year and ended the terms of members belonging to a federal advisory council on HIV and AIDS in December. In March of this year, the president moved to ban transgender troops who "may require substantial medical treatment, including medications and surgery " from serving in the military.
Meanwhile, Trump's Department of Health and Human Services created the Division of Conscience and Religious Freedom which will protect medical professionals that choose not to treat certain people on grounds of religious or moral objection. His justice department has also taken steps to protect employers that discriminate against LGBTQ people, and the president has nominated a litany of judges with long track records of opposing marriage equality.
The White House did not immediately respond to a request for comment about Jackson.